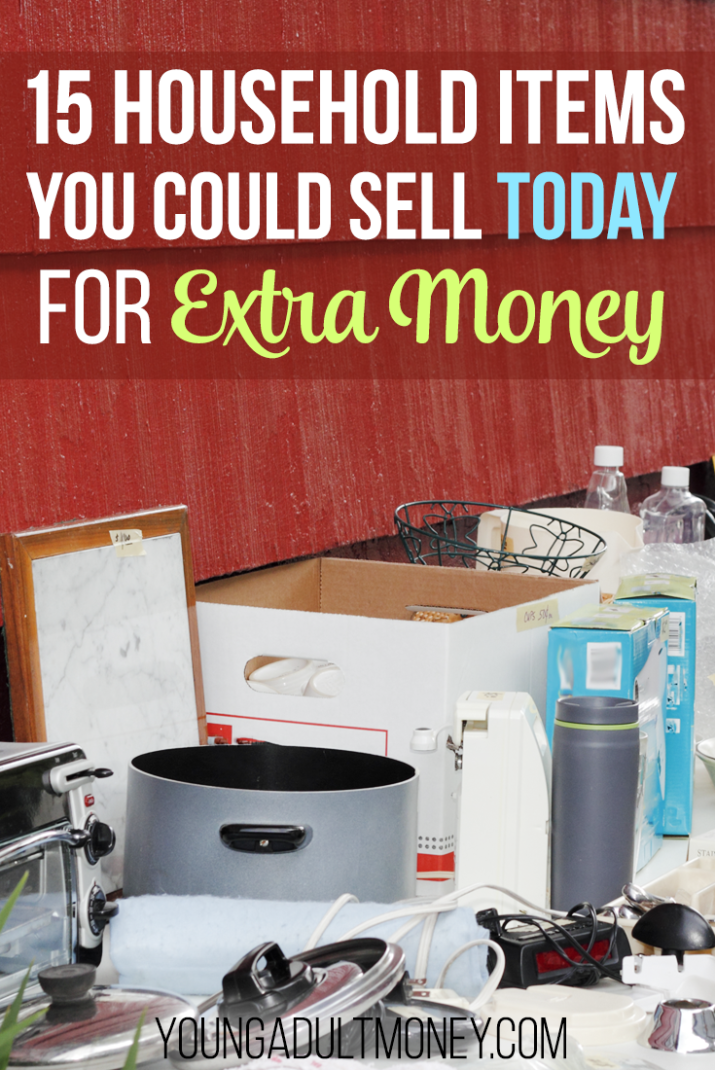 Have you ever looked around your home and considered what all of your personal belongings are actually worth? The number may be surprising.
People tend to underestimate the value of their possessions and overestimate how difficult it is to sell anything.
Selling items around your household can be a great way to earn quick cash to use to stock your emergency fund, pay off debt, or meet your savings goals.
Selling household items will not only pad your pockets. It will teach you to live more minimally and you'll become more conscious of your future purchases.
Interested? Here are 15 household items you can sell today for extra money.
1) Clothing and Designer Accessories

We all are guilty of holding onto clothing and accessories, even if we haven't worn it in forever. If these items are in good shape, you might be able to make few bucks off of them.
You can sell them to consignment shops, or sell items on Poshmark, an app that allows you to upload a photo of the item and will send you a pre-paid shipping box. Poshmark takes a small commission on whatever you sell, and you keep the rest.
2) Gift Cards

Do you have unused gift cards laying around? Maybe you forgot about them, or maybe they are for companies and services you won't use. Either way, consider selling them for a portion of the value.
Raise.com is a website that allows you to resell your gift card for a discount. Simply create an account and list your card. Once it's sold, you don't even have to ship anything. The buyer gets all the gift card information electronically.
3) Jewelry

Jewelry is a common gift to inherit or be given, and many of us simply have too much or items that aren't our style. Instead of holding onto valuable, but unused jewelry, consider selling it for cash.
If you're selling something particularly valuable, like gems, silver or gold, or diamonds, make sure you have the item appraised first to ensure you're getting a fair price for the value.
4) Electronics

Televisions, laptops, computers, and tablets are all worth money. If it runs well and is relatively new, you can expect to make a few hundred dollars at least. Even old school box televisions and desktops can be sold for parts, making it worth the attempt to sell. Gizmogul is a good site to sell your old cell phones for money.
Before you sell any electronics, be sure to wipe them clean of any documents or personal information that might have been saved there.
5) Furniture

In the past, I have sold a lot of furniture for much more money than I would have anticipated. New furniture is very expensive, so many people are quick to snatch up a good deal on a sofa, entertainment center, or table.
If you have the means to transport large furniture, you can also charge extra for delivering it to the seller, increasing your profits. Free and easy to use websites like Offerup and Craigslist make selling furniture a breeze.
6) Books

If you hang onto books you've already read, or have a surplus of old textbooks you no longer need, you can quickly turn them into cash by selling them. You can sell them either locally, through Craigslist or garage sales, or online on Amazon or Half.
If you're a book collector, do some research to see what your valuable first edition or signed books might be worth.
7) Toys and Baby Items

For anyone with children, you know how quickly baby items and toys can consume your house. These items are expensive to purchase new, and babies outgrow clothes and toys quickly, so many new parents are turning to buying gently used items for their children.
My friend purchases nearly every baby item used, including toys, clothing, clean cloth diapers, and even a stroller. Because babies grow so quickly, she scored great deals on items that were barely used. Many other parents choose to go this same route because it is more practical and affordable. If you have kids, you likely have friends who would be willing to buy baby items from you, resulting in an easy sell.
8) Sporting Goods

Take a gander into your garage, and you're bound to find items that could be sold. Items such as soccer gear, bicycles, trailers, golf clubs, and life jackets all sell well on OfferUp and Craigslist.
Now is the perfect time to do a garage clean out and be honest with yourself and your hobbies. While hobbies are healthy and necessary, if you don't get out kayaking as much as you would like, for example, but own a kayak, is it really worth it to keep? Could you save money by renting a kayak when you needed it?
9) Instruments

Do you have any un- or underused instruments lying around? Instruments in decent shape are always in demand, especially from parents who are enrolling their children in band or orchestra.
You can sell these items on Craigslist or OfferUp, but don't forget you can also sell to music stores and websites like Reverb.com.
10) China and Kitchenware

How many sets of pots, silverware, and china do we really need? Maybe you received fancy china for your wedding, only to find you've never used it, or maybe you moved in with roommates or a significant other and have too much kitchenware. Instead of holding onto them, sell them instead.
Whole china sets in good or new condition sell particularly quickly on Craigslist and Facebook. But even mismatched silverware sets can be sold for a fair price.
11) Antiques

Antiques' value depends on their condition, place in history, and your willingness to part with them. But keep in mind, they don't have to be in mint condition to make some money off of them.
If you're looking to sell antiques, it's best to get items appraised so you and potential buyers can know its worth. You can sell them to antique dealers, auctions, or even eBay.
12) Tools

Tools are incredibly expensive to buy brand new, so if you have tools to sell, you're sure to find a buyer. Larger tools like table saws, drill presses, and sets can be sold for hundreds of dollars.
13) Appliances

Maybe you have an extra refrigerator in your garage you can sell, or you upgraded to a bigger coffee maker. Both large and small appliances are in high demand on resell websites. Refrigerators, washer and dryers, and dishwashers can yield you hundreds of dollars, and you can expect a few dollars for smaller appliances.
Even if an appliance isn't working, you can still sell it for parts. Of course, always be honest about its working condition. Many people are happy to buy a broken dryer for cheap and fix it up themselves or use it for parts.
14) Backyard Equipment

Think about everything you keep in your backyard and use to maintain it. Likely, there is a surplus of items you can sell. Whether it be play sets, garden pots, lawnmowers, or patio furniture, your backyard items can be a large source of money if you're willing to part with things.
One tip is to sell these items seasonally. For example, if you are in an area with harsh winters, don't try to sell a lawnmower in November. Wait until spring when people are typically looking to buy such items.
15) Holiday Decorations

Like yard equipment, holiday decorations sell best when you sell before the season instead of after, but they are a hot commodity when the time is right.
Before the holiday season, dig out all of your decorations and decide what you can sell. The bigger items, like Christmas trees, collectibles, and Halloween costumes tend to sell better, but it's worth trying to sell small knick-knacks.

Looking for other ways to make some extra money? Here are some posts that will give you ideas on how to make extra money:
50+ Legitimate Ways to Make Extra Money At Home
How to Make Money on Social Media
How to Start a Blogging Side Hustle
9 Unique Side Hustle Ideas
5 Side Hustles that Make at Least $500 a Month


Have you ever sold household items for money? If you haven't, is there anything on this list that you could sell?