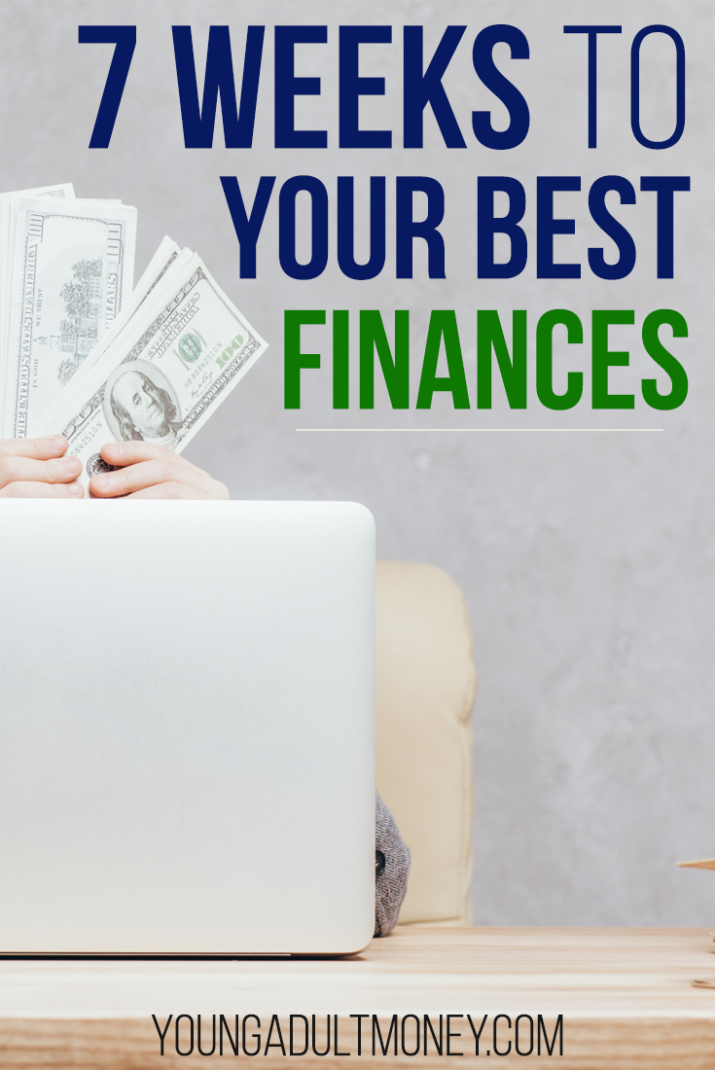 Welcome!
7 Weeks to Your Best Finances is a 7-week series we put together with the intention of helping you improve your finances and put you on a trajectory to your best finances ever.
Over the course of the 7 weeks we hit on all the important topics including budgeting, saving money, making money, and more.
Remember: anyone can improve their finances, it just takes discipline and commitment to make it happen.
Are you ready to transform your finances? Let's get started!
7 Weeks to Your Best Finances
Week 1: Goals & Dreams
In week 1 we explore your goals and dreams. In many cases the status of your personal finances is what allows – or prohibits – you from fulfillng your dreams.
Whether it's a month-long trip to Europe, getting out of student loan debt, buying a million-dollar house, or something else, the first step in achieving your dreams is identifying what they are and how you can achieve them.
How to Connect your Dreams to Reality – Many of us dream, but how many actually pursue those dreams? If you are ready to pursue your dreams then use our simple strategy to get started. Everything you do in life should revolve around your dreams!
15 Personal Finance Goals to Consider – Everyone wants to improve their finances, but how do you go about choosing the right goals to pursue? In this post we give you 15 personal finance goals to consider.
Week 2: Budgeting & Debt
In week 2 we talk about two of the most important areas of personal finance: budgeting and debt. Tracking your expenses and setting a budget is the single best way to improve your finances. You need to know what you're spending money on – and how much – to make an impact.
Debt is a difficult but important topic to address. A lot of people like to ignore their debt – and who can blame them! Debt can pile up and even if you are paying it down it can really bring you down emotionally.
Debt is not a foreign concept to us here at Young Adult Money, and was a huge motivator behind DC starting the blog. We want you to feel in control of your debt – and eliminate it!
10 Tools that Help You Budget – We are big advocates of budgeting, but what tool or tools should you use to start your budget? We give you 10 ideas of tools that can make budgeting just a little big easier for you.
7 Ways to Lower Your Fixed Monthly Expenses – The best thing about cutting fixed monthly expenses is that you end up saving money month-after-month-after-month. We share seven different ways you can lower your fixed monthly expenses.
Week 3: Making More Money at Your 9-5
In week 3 we are focused on helping you make more money at your 9-5. In
Hustle Away Debt
I talk about the "pre-hustle checklist." The reality is that it can be easier making an extra $10k a year at your 9-5 than it is to make it through a side hustle (no one said as rewarding, though!).
If you are going to consistently spend a majority of your week at your 9-5, you owe it to yourself to make as much money as possible. In many cases this may simply be getting paid a fair market rate for your work, or to make it known that you feel like you are ready for a promotion.
The posts this week will give you the skills, tools, and advice necessary to make more money at your 9-5.
10 Things to Focus On if You Want a Raise – Most people want a raise, but aren't sure what to do or what actions to take to make sure it happens. This post tells you exactly what actions to take and what to focus on if you want to make more money at your 9-5.
15 Skills That Will Help You Make More Money – If your goal is to make more money, you have to focus on developing the skills that employers are looking for. Check out this list of 15 skills that will help you increase your earning potential.
Week 4: Making More Money through Side Hustles
Maxed out your earning potential at work but still want to increase your income? Side hustles were made for you. A side hustle is any way to make extra income outside of your 9-5 job. Thousands – if not millions – of people are making extra money through side hustles, and many are even quitting their jobs to pursue their side hustle full-time.
In Hustle Away Debt I discuss what to do before starting a side hustle, how to pick the right side hustle for you, a wide variety of ideas for side hustles, and how to make the most of your side hustle.
In addition to my book, the posts this week will explain the benefits of side hustles, some ideas for unique side hustles, how to make money on your social media accounts, and how to land your first freelance client. Dive into the posts and start making money through side hustles!
9 Reasons You Need to Start a Side Hustle – The upside that comes with side hustles is truly difficult to capture, but in this post we share 9 reasons you need to start a side hustle. #9 is our favorite – it has the potential to change the trajectory of your life!
How to Make Money on Social Media – Nearly everyone spends a considerable amount of time on their social media accounts, so why not make money while you're at it? This post explains how people make money on social media and includes three things you can do to start.
9 Unique Side Hustle Ideas – Not a fan of the "typical" side hustle ideas that you've heard? This post shares 9 unique side hustles that may suit you.
Week 5: Insurance & Rainy Day
One topic that I don't think get's enough attention is saving for a rainy day. We may hear people talk about it, and more likely than not many people think about it from time-to-time, but how many actually take action?
Building and emergency fund and having proper insurance are two of the most important things you can do to prepare yourself for a rainy day, unexpected expenses, or a financial emergency.
This week we discuss both of these topics and provide you with action steps that you can take to alleviate financial stress and be prepared when emergencies do come up.
How to Get Life Insurance Online  – DC shares his experience shopping for and ultimately purchasing life insurance online.  He shows how he went through the process entirely online – no phone calls or agents required.
How to Build an Emergency Fund and Why It's a Priority – Not only does an emergency fund protect us, it gives us peace of mind if and when an emergency happens. Starting an emergency fund is one of the best decisions you can make for yourself and your family. But how do you actually start one? Here is everything you need to know about starting an emergency fund.
Week 6: Investing and Retirement
For many investing and retirement are two topics that there simply is no time, or money, for. Whether it's paying off debt, building an emergency fund, or saving up for a house, there are too many other priorities to be thinking about investments.
But most have heard time and time again that "investing young will pay off later in life." The power of compound interest is undeniable, so what's someone to do?
Starting with small contributions to a retirement account is better than contributing nothing. Even $100 a month will have an impact over time. My advice is get started ASAP – even if it means getting started on a very small scale.
21 Websites to Help You Start Investing Today – Investing can be an intimidating thing to start. With so many options, how do you know what is right for you? Luckily, there are websites and apps that not only are excellent resources to teach you the ins and outs of investing, but that are actually tools to get you started.
Are Millennials Saving for Retirement? The Latest Research – Millennials tend to get a bad rap when it comes to how they manage their money. Are we really as bad as people say we are? Fortunately, there are some positives to millennial's retirement savings. Here is the latest research on how well millennials are saving for retirement.
5 Investing Tax Benefits to Take Advantage Of – Whether you like it or not, our tax code is complex. The benefit of this is that there are a lot of tax advantages for investors. Here's 5 of them that you can take advantage of.
Week 7: Credit & Credit Score
Having a good credit score is an important part of having good finances. It's used in background checks, to pre-qualify you for a mortgage, and more.
Having a good credit score starts with knowing your score. Credit score not as high as you'd like? Thankfully there's many things you can do to improve it.
10 Things to Do to Improve Your Credit Score – The only way to raise your credit score is to commit to fixing it. And in order to fix it, you'll need to do a financial overhaul. This includes reexamining your budget, focus on making more money, build your savings, and pay down debt. It's a long-process, but luckily, there are a number of things to focus on to ensure you are raising your credit score over time.
Subscribe to our email list below to get weekly tips for making more, saving more, and living better.