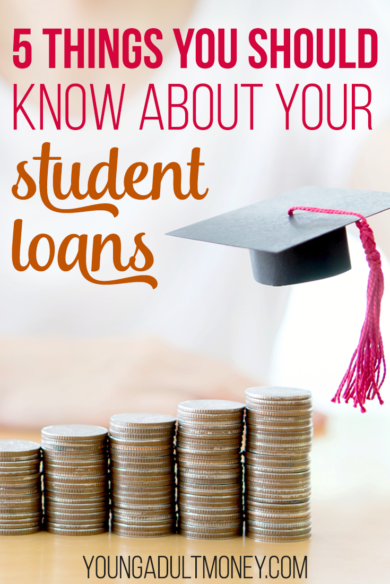 This is a sponsored post on behalf of our friends at Citizens Bank. Despite Citizens Bank's sponsorship, all opinions and/or advice are provided by YoungAdultMoney.com. #sponsored.
College and graduate school can be exhausting.
Which begs the question: Why can't student loans be simple?
Unfortunately, student loans are complicated. The good news is that if you are willing to set aside some time you can understand your loans and repayment options.
My wife and I graduated undergrad with over $100k in student loans. Our student loans motivated me – and continue to motivate me – to learn more about money. I wanted to make the most of our money and make the best choices when it comes to repaying our student loans.
There are a few things I think borrowers should know about their loans. Some of these are simple, others will take more work, but at the end of the day you won't regret understanding your loans and options better.
1) How Much You Have in Student Loans

If you don't know how much you have in student loans, you aren't alone. Many borrowers do not regularly check how much debt they've taken out while they are in school.
There's also many who get their first student loan bill, look at it, laugh, and ignore their loans. (If this is you, I'm glad you are reading this!)
But even those who diligently make their student loan payment each month may not be aware of just how much debt they have. Or perhaps they went to grad school and their loans were in deferment.
The point is there are many reasons why you may not know how much you have in student loans.
If you don't know how much you have in student loans, you can find out by pulling your student loan detail from the following:
Federal Student Loans – Go to the National Student Loan Data System website at https://nslds.ed.gov/nslds to find your federal loans. Once you are logged in you can see your various loans. Clicking on a loan will give you additional information including the loan servicer, interest rate, and the history of your loan including when it went into repayment.
Private and State Student Loans – You will want to pull your credit report to find what private and state student loans you have, if any. You are entitled to a free credit report once a year from each of the three credit bureaus. The website you should go to is www.annualcreditreport.com. We have a post that provides more detail on how to go about this process.
If you haven't looked at the balance of your loans recently (or ever), take a deep breath before doing it. I've been there. The balance can be shocking. Take a deep breath and realize everything will be okay. You have options.
While you are gathering all the info on your student loans, I would recommend grabbing our free student loan spreadsheet. This spreadsheet has a tab that can house all your student loan information, as well as calculators and other useful information and tools.
2) What Type of Student Loans You Have

The type of student loan you have will impact your repayment options. Federal loans have more flexible repayment options (like income-driven repayment), as well as potential opportunities for loan forgiveness. Private loans, on the other hand, may have more favorable interest rates if you refinance (you can get a free rate quote here).
As mentioned above, you can find all your federal student loans at the National Student Loan Data System website at https://nslds.ed.gov/nslds. You can find your private and state student loans – actually all your student loans – on your credit report.
If you do have private student loans, I recommend getting a login to the banks that own your private student loans. There will be more detail available on your loans if you access their dashboard.
3) What the Interest Rate is on Your Student Loans

Just like how knowing the type of student loans you have is important, so is knowing the interest rate on your loans. For example, most student loans will be at a fixed interest rate, but some will be at a variable interest rate that moves higher or lower over time.
You will want to know how high or low the interest rate is on each loan. Obviously the lower the better, as the debt is costing you less. If your goal is to pay off your student loans faster, one strategy is to pay off the loan with the highest interest rate first.
Another strategy that has become popular is to refinance student loans. You can get a free rate quote through Citizens Bank to see if you are eligible and what potential savings you may experience from refinancing.
Keep in mind that refinancing federal student loans through a private company creates a brand new, private, student loan. You will forgo benefits that come with federal student loans such as income-driven repayment plans and potential opportunities for loan forgiveness. That doesn't mean refinancing is the wrong decision, you just should be aware prior to finalizing the refinance.
4) Whether You Would Benefit from Income-Driven Repayment Plans

If you have private student loans, you won't be able to take advantage of income-driven repayment plans. Instead, refinancing and working directly with your lender will be your best option for getting the most favorable repayment plan.
If you do have federal student loans, which is likely since they make up the overwhelming majority of student loan debt, you have the option of using one of the four income-driven repayment plans. Income-driven repayment plans take into consideration your income, family size, and federal poverty level when calculating your monthly student loan payment. The percentage of your income used to calculate your monthly payment (after taking into consideration the factors I just mentioned) ranges from 10% to 20%.
There are four types of income-driven repayment plans:
Revised Pay As You Earn (REPAYE)
Income-Based Repayment (IBR)
Income-Contingent Repayment (ICR)
To learn more about income-driven repayment and whether it would benefit you, read this post. You can also run the numbers in our free student loan spreadsheet, which calculates your minimum required monthly payment for the standard ten-year repayment plan as well as the various income-driven repayment plans.
5) Whether or not Public Service Loan Forgiveness (PSLF) is an option for you

One more thing you should know about your student loans is whether or not Public Service Loan Forgiveness, or PSLF, is an option for you. This is a tax-free loan forgiveness opportunity that the federal government offers for specific federal student loans, on specific repayment plans, for borrowers working for eligible employers.
While diving into all the details is beyond the scope of this post, the basics are that a borrower must make 120 qualifying payments while on a qualified repayment plan while working for a qualifying employer.
One of the most important things to keep in mind is that only borrowers working for certain employers are eligible. Borrowers must work for a 501(c)(3) nonprofit, or any level of government, or other types of not-for-profit organizations that are not tax-exempt under Section 501(c)(3) of the Internal Revenue Code, if their primary purpose is to provide certain types of qualifying public services.
______________________________________________________________________
Student loans are complex and there is a lot to learn and understand. Because you likely have thousands – if not tens or hundreds of thousands – of student loans, the time you put into understanding your loans and picking the best repayment strategy will pay off. Regardless of whether that means looking into refinancing your loans or getting on an income-driven repayment plan, do what makes the most sense for you.
One quick note: If you are behind on your student loans, here's a post we put together outlining your options