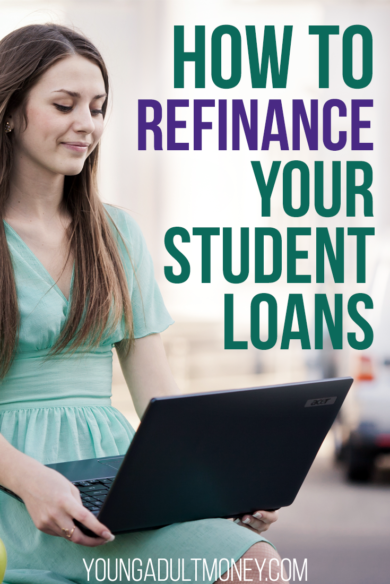 There's no denying that student loan refinancing has become incredibly popular the past few years.
With companies like SoFi receiving hundreds of millions – or in the case of SoFi, $2 billion – in funding, investors and existing companies are seeing student loan refinancing as a big opportunity.
And why not? Student loan refinancing presents a potential win-win for lenders and borrowers. Borrowers have student loan debt at a certain interest rate. The lender is able to take that debt and offer it at a lower interest rate. The borrower saves hundreds or thousands on interest payments, and the lender is able to use the debt in new or existing products.
But there are drawbacks to student loan refinancing, at least for borrowers. Let's go over a couple of them.
Refinancing federal student loans causes you to lose federal benefits

If you refinance federal student loans, you are creating a new, privately-held, loan. The federal loans you have cease to exist.
For some this isn't a problem. They may have planned on paying off their debt faster than ten years and could afford their student loan payment. They may have an emergency fund and have their finances in a good spot. They may not need the benefits that come with federal student loans, whose benefits cease to exist with private student loans.
These benefits include:
Access to opportunities for loan forgiveness
Access to income-driven loan repayment plans
Ability to take advantage of forbearance and deferment
Bottom line is this: before you refinance federal student loans you should both understand your federal student loan benefits and be okay with losing those benefits.
What if you already have private student loans? Or have already refinanced your loans?
If you have private student loans there is little to lose by refinancing. Of course you should do your due diligence and see if the company you are considering refinancing with have the same benefits as the current holder of your student loans. For example, does your current lender offer you the ability to stop making payments for a few months if you get laid off? What about the new company you are considering refinancing with?
At the end of the day it's much easier to make the decision to refinance a private student loan than a federal student loan. Regardless, you should always make sure you are comfortable before making the final decision.
Ready to take control of your student loans?
This book is for you.
Student Loan Solution: 5 Steps to Take Control of your Student Loans and Financial Life
Student loan refinance and student loan consolidation are different

One common misconception borrowers have is that student loan refinance and student loan consolidation are the same. They are not.
Student loan consolidation differs from student loan refinance in a few key ways. First, student loan consolidation does not save you money on interest. It takes the weighted average interest rate of the loans you are consolidating, meaning, you aren't going to save money on interest. Refinancing, on the other hand, should save you money on interest, otherwise there is little or no incentive to refinance.
An additional way they differ is that consolidating your federal loans means that your loans remain federal loans. It doesn't create a private loan like refinancing does.
Read our full post on the difference between student loan refinance and student loan consolidation.
Student loan refinancing cannot be undone

It's extremely important to recognize the fact that once you refinance your student loans you are unable to "undo" it. Once it's done, it's done. This is one area where student loan refinance and student loan consolidation are the same.
I will say this once again: make sure you are 100% comfortable with your decision to refinance your student loans before going through with it. For some it makes a lot of sense. Others will be better off retaining their federal student loans.
Where to Get Rate Quotes on Student Loan Refinancing

If you think refinancing may be a good option for you, gather rate quotes from at least two lenders.
Here's a list of lenders that offer student loan refinancing:

Student loan refinancing isn't going anywhere. If you aren't sure whether it's the right choice for you now, bookmark this post and come back when you are ready to get rate quotes.
Be sure to grab our student loan spreadsheet, which helps you create a "student loan snapshot" and contains a ton of other valuable information about student loans, including a calculator for income-driven repayment.


What questions do you have about student loan refinancing? Ask in the comments!