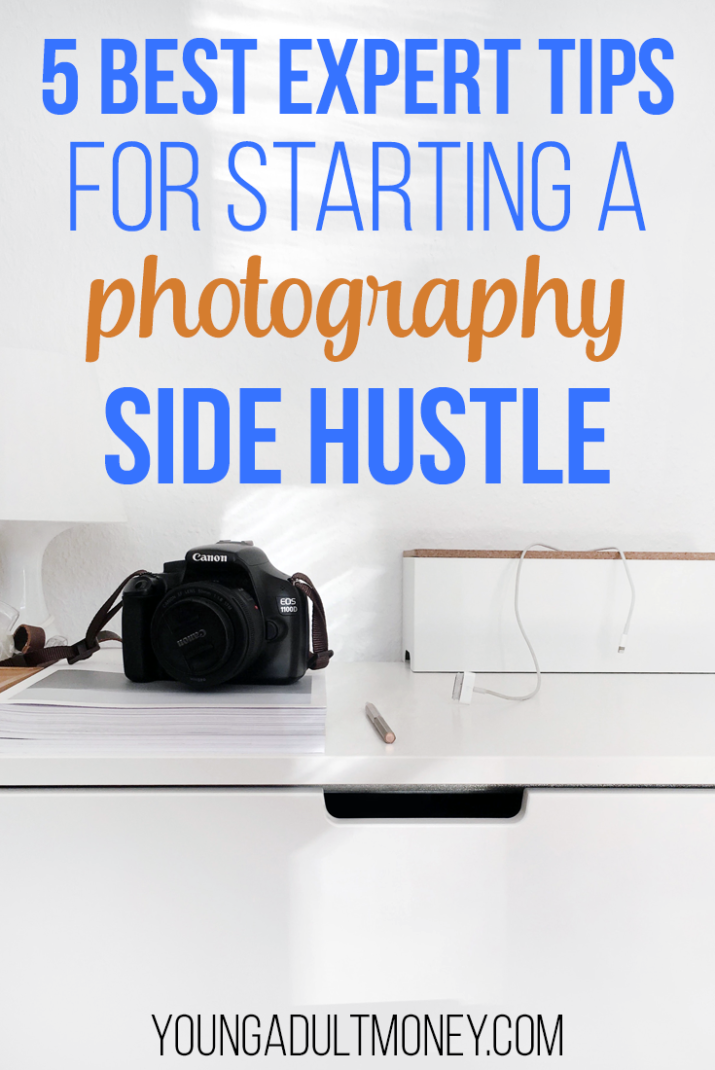 Ready to take your passion for photography to the next level? How about make a little extra income while you're at it?
If you're thinking about starting a photography side hustle, you've come to the right place! Knowing what to expect and how to set yourself up for success is half the battle.
I've asked some amazing photographers to share with us their best tips and expert tricks to launching a photography side hustle. These amazing women are experts in the photography game while juggling 9-to-5's like a boss. Read on to hear what they said!
1) Nail Down Your Signature Style

This one may take some time to fully develop, but it's critical that you know your personality as a photographer. From weddings to family portraits, people have many options to choose from, so you'll need to get good at visually articulating your unique identity. Maybe it's the creativity you bring to shoots, the unique way you manipulate light or your editing style, whatever it is, lean into it!
In the beginning you might be tempted to look at other peoples' work for inspiration, but Chantell Quernemoen, founder of Chantell Lauren Photography, warns against this. "Sometimes people start out by making the mistake of spending a lot of time trying to mimic others' work. Over the years, I have learned that creating stuff that I loved and trusting my own vision pushed myself into work I was truly proud of."
Managing expectations about your style will be another critical part of your business. "Have your subjects check out your work before you book so they're familiar with your style.," says Molly May McMahan, founder of SIX PEAKS. "Explain to them your shooting style so they know what to expect."
Cultivating your signature style may take a lot of experimentation, and that's okay! If you're not sure where to start, try asking your friends how they'd describe your photography. You might hear a theme surface that you can hone in on.
The important thing is to keep playing with it. As Molly says, "practice on your friends. Try new shit. Ask for critiques." Excuse me while I sew that phrase on a pillow…
2) Figure Out Your Personal Finances

Getting serious about launching this side hustle will take some initial investment. You'll need to understand how that investment will impact your budget, so you can be financially prepared. If we're going middle-of-the-road costs with equipment, website, marketing and legal fees (if licensing), then you're looking at anywhere between $1,200 – $3,000 to start.
Hopefully, that number doesn't scare you away from starting your side hustle. It really just takes a few month of planning and preparing your budget for the investment. Try using this budget tracker spreadsheet to see if there are areas you can cut down on expenses, and put that money towards your business.
3) Get the Right Equipment

Here's an area where many beginners go overboard with top of the line cameras, lenses and lighting kits. The best advice here is to start with the basics and grow into it. "You definitely don't always need the best camera or best lens to start out!" says Chantell. "I started with a canon rebel t2i and 50mm 1.8 lens (about $500-$600). It was perfect – I learned to shoot on this for my first year. Getting to know your equipment well will only make your finished product better."
I loved the frank advice that Mandi and Seth Synstelien of Southhill Studios Ltd.Co, gave me: "Don't treat it like a side business; be a master of your craft! Know how to take good pictures, which is knowing composition and knowing your camera inside and out. If you're shooting on auto you shouldn't be charging people for your services."
*Inserts praise hands emoji*
Not sure what you like or need? Try it before you buy it! "There are also awesome places out there you can rent from to try [equipment] out first before pulling the trigger on buying your own," says Molly. Check out National Camera Exchange or West Photo to test drive equipment before making a huge financial investment. "Upgrades to the latest and greatest can always come later," says Chantell.
4) Create a Visually Stunning Website

Before we dive into the fun part of creating your website, I asked professional web designer, Ann Lindquist (annklindquist.com) for her tips on creating a killer website for photographers. She says you need to start with asking yourself these questions:
Are your clients going to need to download the photos from your website? If so, you'll need a lot of hosting space and a secure login capability for people to access and order photos.
Is your site mobile responsive? Think about when people are asking their network for recommendations on photographers – usually when they're out at happy hours or get-togethers. Making sure your website is there for them in those spaces is critical to help market your business.
This goes without saying but your website design needs to be optimized to show off all your hard work! Think beautiful gallery pages, plenty of white space and clean layout. Your photography should do the talking – not a bunch of copy, bells and whistles.
WordPress and BlueHost are a great combination that should set you up with the templates you need and solid hosting capabilities. More on how to set these up here.
While we're on the subject of websites, it's also important to think about the amount of space you'll need on your computer for media. "The sheer amount of hardware space one needs for media production is something I wish we had known sooner. Poor organizational planning equates to lost media," said Mandi. Get a good estimate for how much storage space you'll need and a plan of action for how you'll store and update your files regularly.
5) Research The Legal Stuff

Depending on how much money you estimate making with your side hustle, there are a few legal things to consider. Chantell recommends getting connected with a good accountant to help understand the logistics of taxes, as that can be a little difficult to navigate on your own.
First, you'll want to decide on a name for your business and check trademarks (even if it's as simple as Your Name Photography). The simplest way to check for trademarks is to go to USPTO.gov and perform a TESS trademark search. If search results turn up nothing, that's a good thing! Now you'll just want to perform some google searches to make sure no one else is using a name that is the same or similar. If they are, it may just be easiest to choose a different name.
As far as registering your name, there are a few different options for you to research. You can register your business name or trade name, or register your business as a legal entity (LLC). Many new and small businesses operate under the most basic form of business type – sole proprietorship. According to sba.gov, a sole proprietorship is basically an unincorporated business owned and run by one individual (no partners are involved), with no distinction between the business and its owner.
As far as insurance goes, "It's definitely a great idea to have insurance to protect yourself and to cover any damage or issues with equipment," said Chantell. She recommends talking to your home or renter's insurance agents as a great place to start if you have questions.
BONUS: Market Your Business

Okay, now for the fun part – getting the word out about your business! Don't feel too overwhelmed by this part. Building a client portfolio will take some time, but momentum can build fast. Try starting with these tactics:
Facebook – Create a Facebook Business page and upload your best shots. Create a regular posting schedule and if possible, try creating a few Facebook ads. Once in Ads Manager you'll be able to target specific locations, interests (like weddings), and demographics.
Instagram – Use the Instagram Live feature to document behind-the-scenes work on shoots. Show off your signature style by curating your Instagram page. Instagram is a favorite of Chantell's, "It's a great place to show your work in a simplified and curated way, while getting to interact with other photographers and prospective clients!"
Word of Mouth – Create momentum by building your portfolio with friends and family first. Ask friends if they'd be willing to shoot with you – you'd be surprised at how many people would love the chance to get high-quality photos in exchange for their time. Volunteer your services for local events or artists.
Starting something new can be daunting, especially when there's financial skin in the game. However, you could be close to something incredibly rewarding – for your wallet and your soul. Have confidence in yourself and enjoy the ride!

Related:


Are you thinking of starting a photography side hustle? What are you most excited for? What are you most nervous about? Share in the comments!