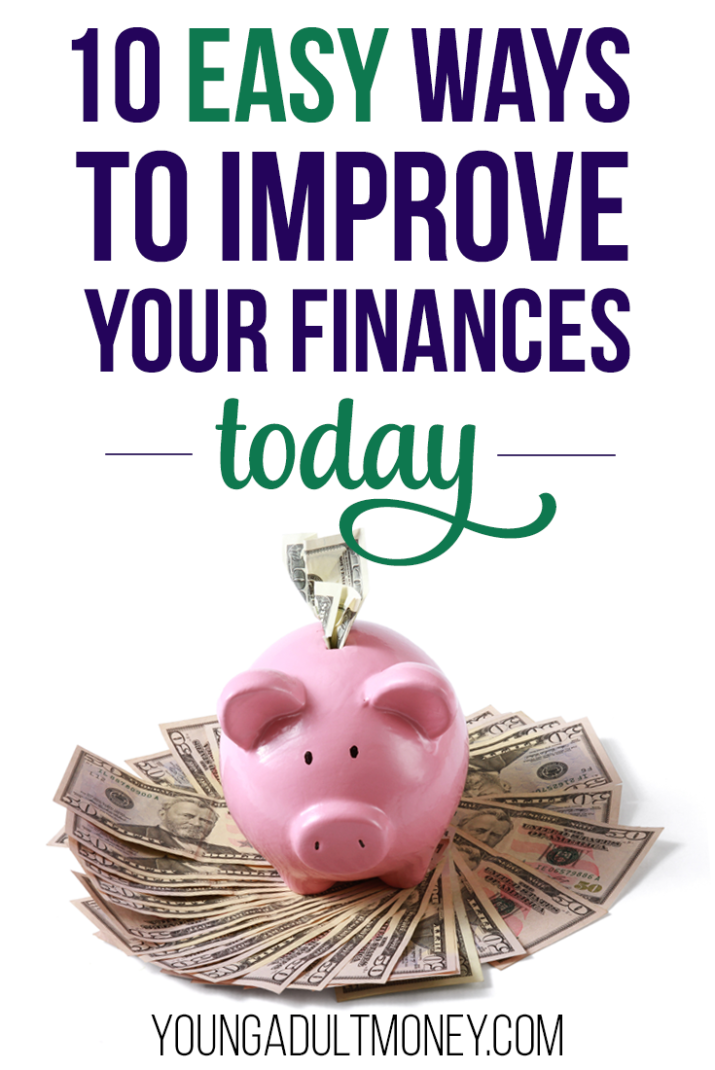 The road to financial dependence can seem long and difficult. It can take years to build a large savings account, pay off debt, or to save enough for retirement.
When you look at the big picture, personal finance can seem downright overwhelming. Luckily, there are small steps you can take every day to better your finances.
You might not feel like these little changes can impact the big picture of your personal finances, but they make more of a difference than you may realize.
Here are 10 easy ways to improve your finances today.
1) Increase Your Retirement Contributions

Many people automatically have their retirement contributions deducted out of their paycheck and don't do much else. But are you actually contributing enough to ensure that you can retire when you would like?
The sheer amount of money required to retire is enough to make anyone shudder, but by upping your contribution gradually, you can easily save more without having much of an impact on your regular budget.
Heck, most retirement accounts even let you automatically set deduction increases. You aren't likely going to miss (or even notice) and extra 1 or 2% of your paycheck. Put that money to good use by upping your retirement contributions instead.
2) Track Your Spending

If you don't already track your spending, now is the perfect time to start. Fortunately, tracking your spending has never been easier. With a variety of free resources, you can find a system that works for you.
Or, if you prefer apps that automatically track your spending, Personal Capital is a great (and free) resource. Or, if you would rather track your spending via spreadsheet, you can download our free expense tracker. You simply enter your data and the spreadsheet does the rest.
3) Start a Side Hustle

Have you ever thought about earning extra money through a side hustle? What's holding you back?
Now is the perfect time to start a side hustle. If you're not familiar, a side hustle is anything you do outside of your regular full-time income to earn extra money. There are so many ways you can earn money through side hustling, so you can choose whatever excites you.
Personally, I started my side hustle of blogging and freelance writing as a hobby. Initially, I didn't expect to earn much money, so I was astonished at what you can actually earn through side hustling. It has turned my financial situation around for the better, and I highly recommend that everyone starts a side hustle today.
4) Prioritize Your Debt

Overwhelmed by your debt? You can improve your finances by taking a few minutes today to prioritize your debt and come up with a repayment strategy.
If you have student loans, you can use our student loan tracker to easily organize your debt and consider which loan you should prioritize first.
5) Organize Your Savings

What are your savings goals?
Many of us have multiple savings goals, including retirement, emergency funds, down-payment savings, or saving for a vacation. But do you organize how you are saving for these?
Come up with a plan of when you need to reach your savings goal and how much you need to save every month in order to achieve it. You can then automatically have money added to your various savings accounts, which will ensure that you are always on track to meeting your savings goals.
6) Slash One Budget Item

This only takes a few minutes, but it can save you significant amount of money each year. Take a quick look at your budget. Are there any items on there you could easily cut out?
Consider what luxuries you are paying for and how they relate to your long-term financial goals. Are they really worth what you are paying for?
In order to become financially successful, we have to constantly challenge our budget and consider what value every expense is providing. For me, that meant cutting out cable because, though I enjoy watching television, it was an expense that wasn't worth it to me.
7) Have a No-Spend Day

No-spend days are a great way to save a little money while keeping yourself in check. It might even be harder than you think.
With a no-spend day, you don't spend money on anything outside of your regular bills. This means saying no to groceries, coffee, shopping, or eating out.
No-spend days are a great exercise to evaluate whether what you're regularly spending money on is actually worth it.
8) Meal Plan

Meal planning is growing in popularity, and for good reason. Not only does meal planning help save you money, but it can save you a significant amount of time during the week.
With meal planning, you plan every single meal of the week and shop for all of your groceries at once. You then come home and prep all of the ingredients you can, making cooking during the week a breeze.
Meal planning is a great way to save money. By shopping for all of your groceries at once, you prevent any last-minute runs to the grocery store. You can find meals that require similar ingredients, which lowers your overall expense.
9) Pack Your Lunch

Eating out a few times a week might seem completely harmless, but the cost can add up quickly. If you do the math, a simple $10 lunch three times a week adds up to $120 a month spent in just lunch.
You can easily lower this cost by brown bagging your lunch every day. Though it isn't as exciting, you can make simple lunch at home for around $2, depending on how much you eat and how fancy it is. That amounts to a huge savings, and as an added advantage, making your own lunch is usually healthier as well.
10) Take Care of Your Health

You might not think that your health correlates significantly to money, but that couldn't be further from the truth. Your health is one of your most important and valuable assets.
Unfortunately, when health situations do arrive, they can be frightening and expensive. Though many health issues are preventable, we often don't realize it until it is too late.
You can start taking care of your health today by making wiser eating choices, exercising, and ensuring you are getting adequate sleep. These small choices we make every day can not only protect our health, but they can save us thousands of dollars in the future.

Related:


Have you done any of these tips to save money? What other ways could you save money today?