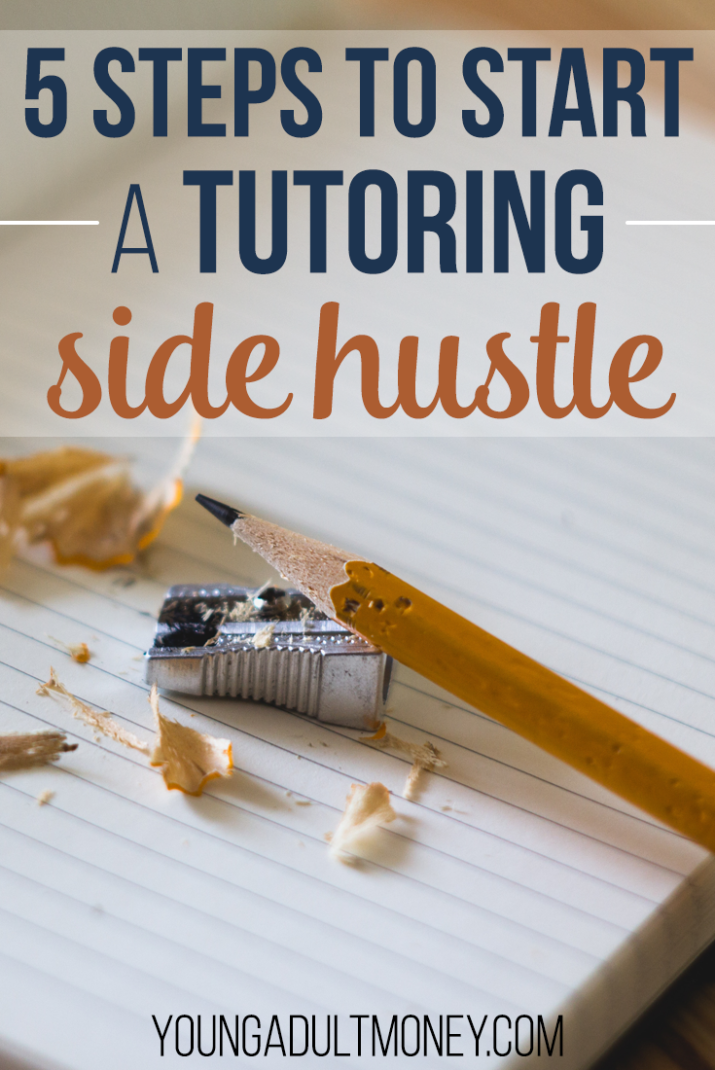 Thinking about starting a tutoring side hustle? Go for it! Tutoring is a great idea for teachers or if you have exceptional knowledge or expertise in one area.
You'll be able to put your skills to use and make a difference in a students' life. What better way to make some extra money?
If you're wondering how to get started, read on for the 5 steps to start a tutoring side hustle. With a little preparation, you can get up and running with little starting cost.
Step 1: Figure Out Your Niche

What are you qualified to teach? What areas did you excel in at school? You can also think outside of the classroom to find your niche. Many tutors find jobs coaching kids in a certain sport or instrument. You can also tutor people on specific tests, and not just school-related exams like the SATs, but on industry-specific exams as well.
What age group would you like to work with? Make sure you're familiar with the general level of subject matter of whichever grade you decide.
What area are you willing to travel to? Driving to a student 30 minutes away every week, may cut into your costs (and motivation)! If you're thinking about hosting your tutoring sessions in your own home, keep in mind that parents will want to see your space and make sure they check out any references first. Going to a library or quiet, public area might be best until you build more of a solid reputation.
Step 2: Understand Expectations

Parents are spending their hard-earned money to see results from your efforts. Not to scare you away from tutoring, but you need to take it seriously. Understand exactly what parents are expecting of you and what you can realistically deliver.
Have a plan for every single session and make sure they're part of a bigger lesson plan. This can be figured out with an initial meeting to determine goals for each student. Be prepared to be able to answer things like what your lesson plans look like, how you'll do invoicing, how you'll do scheduling, if you'll provide any supplies and/or materials, and if you will assign any homework.
Step 3: Determine Your Hourly Rates

Do market research to find out how much tutors are charging in your area. Then, as you gain clients, do the math to figure out how much you actually need to earn to make tutoring worthwhile. For example, if you're goal is to pay off a student loan with income from tutoring, how much extra income do you need a week? Divide that number by your students and subtract any business expenses. That's how much you should be charging. Using this budget tracker can help you determine other areas you can cut back on.
Teachers and tutors who are very knowledgeable can charge a premium for their services. For example, the writer of this blog post has a friend who charges $100 an hour for her tutoring services in middle school science. At that rate, she could work only 10 hours a month and earn an extra $1,000!
Step 4: Get the Word Out

Now that you understand your business, it's time to get the word out! Don't be shy about emailing all of your friends and family, or passing out business cards. Other ideas include:
Posting flyers in your neighborhood
Signing up for NextDoor.com and creating a post about your services
Creating a Facebook ads targeting to your area
Joining a tutoring service (You can make more money by starting your own tutoring business, but can also find more opportunities by joining a professional tutoring service.)
If you want to stand out even more, get a tutoring certification. The National Tutoring Association has a program that allows you to become an NTA-certified tutor. It costs about $25 and you go through an application process, but it may be worth it for the extra credibility it will lend to your service.
Step 5: Stay Organized

Stay organized about each student and about how much money you're making. Not only will this help you be a more efficient teacher, it will also make tax time that much simpler. According to intuit.com, if you're a freelancer or contractor and you received more than $600 from any side job during the tax year, the individual or company that paid you generally must supply you with Form 1099-MISC – as in miscellaneous income. Basically you'll need to report this income on your taxes. For more tips on this subject, read this: How to Pay Taxes for Side Hustles and Extra Income.
Carefully track each hour for each client and be consistent about when you invoice each month. Make sure you send confirmation of payment and keep all receipts!
So there you have it, 5 steps to starting a tutoring side hustle. I hope you found these tips useful and best of luck in setting up your business!


Have you started a tutoring side hustle? What things did you learn? Leave a comment!