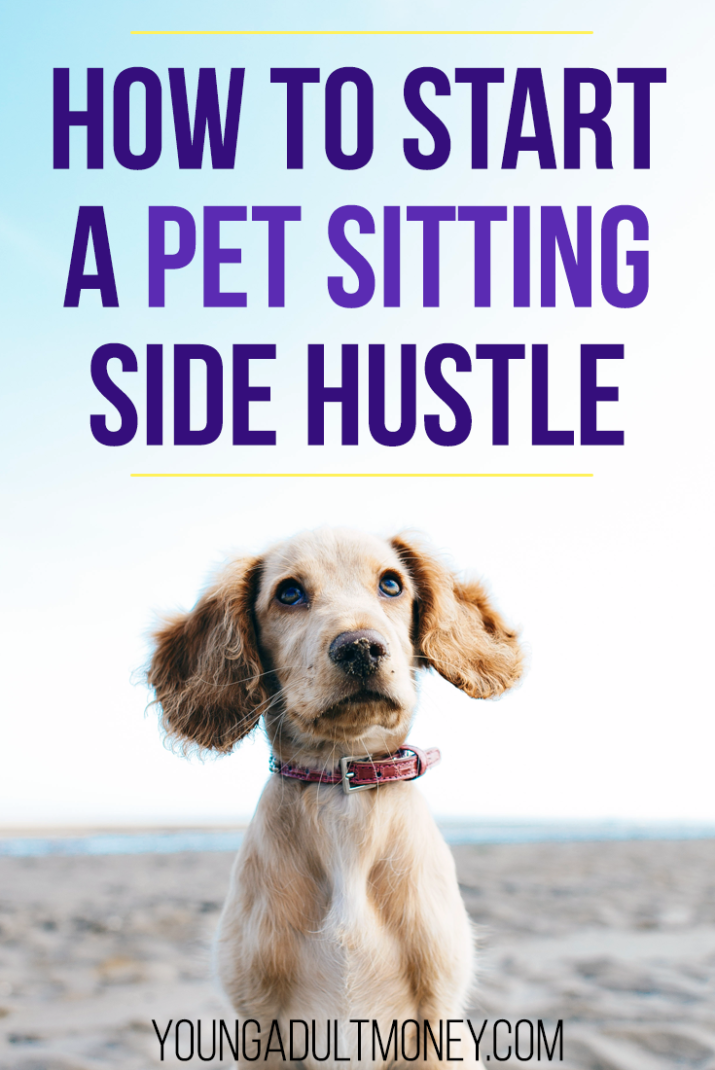 Are you passionate about animals and love pets?
Do you know the basics of training and caring for animals?
Would you like to make some extra money?
If you said yes to these questions, pet sitting may be a good side hustle for you to consider.
Let's cover who should consider pet sitting as a side hustle, and how to get started.
Why Consider Pet Sitting

Low Start-Up Cost – Aside from travel and any marketing or ads, pet sitting is incredibly easy to get into without much initial investment. The main cost you'll want to account for when starting is pet sitting insurance, which will help protect you in case anything happens to the home or pet while on your watch (more on this later).
Pay – According to indeed.com, pet-sitters on average make $12-$13 dollars an hour, however this can vary widely by how many hours you work and how many pets you watch. In doing my research, I found pet-sitters that make anywhere between $500-$1,000 extra dollars per month by pet sitting.
Flexibility – Pet sitting can be great because you generally set your own schedule. If you need to make extra money, you can pick up more shifts during the week, or cut back if you're feeling burnt out. Keep in mind that if you're pet sitting a dog, they'll have a more strict schedule and routine. Pet sitting can be an especially flexible side gig if you normally work from home. You can take your laptop with you and work while you watch the pets.
Mood Booster – New research is showing the positive correlation between interacting with animals and improving your mental health. Dogs in particular can reduce stress, anxiety, and depression, ease loneliness, encourage exercise and playfulness, and even improve your cardiovascular health. Nice perks to earning a few extra dollars!
How To Start Pet Sitting
1) Know What You're Getting Into
"People should know that as fun as pet sitting is, it's not always easy. You are responsible for lives, which is a big deal especially when many pet owners consider their pets family members. You have to be punctual, caring, responsible, meticulous when it comes to following instructions, and you have to love animals. You also have to be able to handle the gross or difficult tasks like cleaning up accidents, administering medication, and staying calm in an emergency situation should one arise," says Ashley Jacobs, CEO/Founder of Sitting for a Cause.
Pet sitting should not be taken lightly. "Be aware that you are being trusted to look after someone's pride and joy, and have access to their home, so making sure you're securely locking up before leaving and respecting their home is so important," says Laura Hall, marketing executive at Shiply.
"I wish I'd known the amount of work involved. Taking on too many jobs can be very time consuming, so don't say yes to too many!" says Laura. Start small while you learn the ropes and scale up if needed.
2) Develop Your Business

What kind of animals do you want to care for? How much time can you commit to this endeavor? What special certifications, experience or skills make you stand out from the others? Being able to answer these questions before you start will help you nail down your personal value proposition and set parameters for your business.
Also consider the area you want to serve and where you want to provide care. Are you going to take care of pets in your own home? If so, do you have a fenced-in yard? How will neighborhood animals respond to new animals in the area? Are you going to drive to client's homes? If so, you may want to factor in the gas mileage and driving time into your losses.
When establishing your business with clients, "Be firm with drop off and pick up times," says Diane Orenchuk, owner of Beyond the Walk Doggie Daycare and Boarding. "Provide each client with a half hour window or you may be waiting two hours for a dog's owner to pick them up while your other appointments or plans need to be rescheduled."
Diane also recommends you require payment at the time of pick-up. Or, if you're using an app, you can ask your clients if they would be open to paying you in cash, rather than through whatever app they're using. "I have found that many clients would rather you get the money rather than giving it to the third party," says Gianna Sollitto, who has been pet sitting for over 5 years.
Related: 5 Ways Millennials Can Build Their Personal Brand
3) Consider the Pros and Cons of Pet Sitting Apps

With the gig economy booming, websites have popped up to help people connect with prospective clients. Some of the most popular pet sitting apps/websites are sittercity.com, care.com, rover.com and nextdoor.com.
With each of these sites, you create a profile, list your specifications and qualifications, area, rates and other details. It then connects you with people looking for pet-sitters. The main benefit of these tools is that they do most of the marketing for you, and can even provide insurance, emergency assistance and educational resources.
That being said, many of them will charge a small fee or take a portion of your profits for using their service. "[Be] aware of the exact pricing models that the app you're going through uses is something I wish I had known beforehand. I wish I knew how much Rover took out of each gig before I started" says Gianna. According to Rover's website, new pet-sitters and dog walkers whose profiles were created on or after March 1, 2016 take home 80% of their earnings from each booking. If you're a pet-sitter or dog walker with RoverGO, you'll take home 75% of your earnings from each booking.
4) Buy Insurance

If you work for a service like Rover, they offer insurance, but if you want to work on your own, you should purchase insurance from another organization. Having pet sitting insurance can mitigate your risk in case anything happens to a client's home or pet under your watch. For example, let's say you're on a walk with a dog and it happens to bite someone walking past you. Your insurance should be able to protect you in case that person submits a claim against you for personal injury.
The four main carriers are:
Business Insurers of the Carolinas
Two things to look for when choosing insurance is General Liability coverage and Bonding. General Liability protects your business from things like bodily injury, personal injury or property damage caused by your business' operations. Being "Bonded" protects your business from theft or mysterious disappearance of your client's personal property.
5) Get the Word Out

If you've signed up for sites like Rover or Sitter City, they'll take care of matching you with work, but if you're on your own, you'll need to figure out how to go to market. Ashley recommends starting by offering to care for your family and friends' pets for a lower rate in order to get references. As your references grow, so will your trust-worthiness and client base.
If you want to get into advertising your business, try using Facebook to launch a few geo-targeted ads in your neighborhood. They don't cost much – you could spend as little as $10 and see if you get any traction. Just make sure your copy is clear, short and mobile-friendly, and your images are high-quality.
You can also get more clients by making sure your business goes above and beyond and puts clients minds at ease. "Owners love updates via text, email, photo and video. It is very important to send these to keep your clients' minds at ease," says Diane
Bonus Tip: Always Meet Pets First!

It's always a good idea to meet the pet you'll be sitting before agreeing to care for it. Julie Austin, author and business-owner advises, "You need to make sure you never take on mean or aggressive dogs. Not only is it a legal liability, but it upsets the whole pack in general. Know the personalities of the dogs and which ones will get along. Don't take on dogs just because you need the money without making sure they are right for you. Have a meet and greet first to find out."
This is especially important for sitting dogs, as they can be territorial. "If you are watching dogs at clients' homes, understand that you are entering the dog's home and should always meet the dog before caring for them for the first time," says Diane.
I hope you found these tips useful and are ready to dig into launching your own pet sitting side hustle! Animal lovers have found it a great way to make extra money while getting in some quality time with pets.

Related:


Have you made money pet sitting? What have you learned and would add to this list?