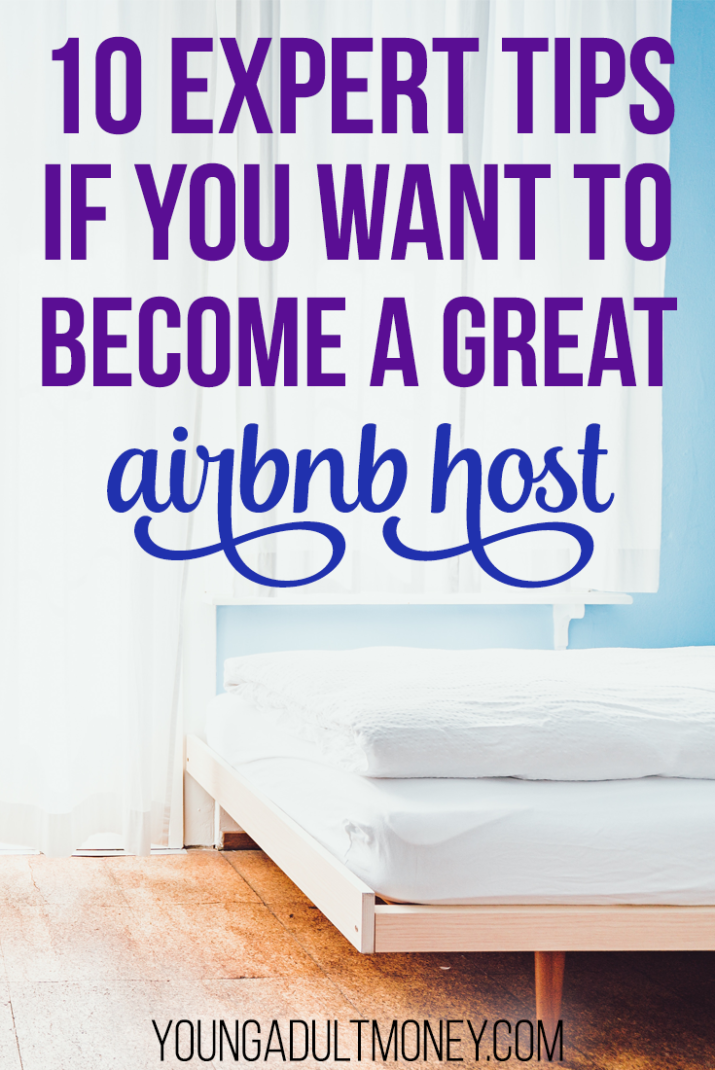 So you want to take the plunge into becoming an Airbnb host, but not sure what to expect?
You've come to the right place.
I've asked hosts from around the U.S. to chime in with their tried-and-true tips, including what the process was like to become a host and things they wish they knew before signing up.
Learn from experienced hosts as they share their top tips with us.
Why Become an Airbnb Host

Putting your home, apartment or room up for rent can be a lucrative way to make extra money and utilize your empty space. It's also an awesome way to meet new people from around the world. Just ask David Cross, author of the Best Airbnb Hosting Tips blog, who has been hosting for three years, and loves the experience.
As he explained to me, "What once started as a casual way to earn a few dollars has actually because a very significant contributor to my overall income. I've really enjoyed the opportunity to meet people from all over the world and from so many different backgrounds. It's a really fun gig!"
When I asked others why they decided to become an Airbnb host, most reported the extra source of income. "The pay!" said Rachel Hill, a blogger at RachelTravels.com and avid traveler, who has been hosting for a few months. "In my first month, I made double my mortgage in less than 8 days!"
The freedom and extra income hosting provides, also allows many to travel. "Since listing my home on Airbnb, I've been traveling the world. Someone else is paying my mortgage, and a lot of the costs are now tax deductible, including HOA fees, upgrades, etc." said Jenna Robbins, a freelance writer that has been an Airbnb host for over four years.
Who Should Be a Host

Not everyone is going to be suited for hosting, and it's important to recognize the time commitment and emotional investment that goes into hosting. "Airbnb is a great way to earn extra money, but it comes with all the joys and pains of regular property management. You have to have the personality for that," wrote Robbins.
The time commitment for hosting can vary, but expect at least an hour for setting up your listing, and then a few minutes a day managing bookings and responding to inquiries. Cleaning after each of your guests will be the biggest time commitment, which is why some hosts opt for a housecleaner to take care of it.
If you're thinking about becoming a host, understand that you're entering into the hospitality business. To stand out from all the other listings, you'll need to make sure you go above and beyond simply renting out your space, and provide at minimum, all the creature comforts that you'd find at a mid-range hotel (toiletries, linens, towels, glasses, utensils, etc.).
Also know that it can be stressful renting out your space. If you're not comfortable with having your style and belongings subject to other peoples' opinions and use, then hosting may not be for you. "Unfortunately, some (not all) people do not respect your home and belongings like you would. No matter how much you try to vet people who would like to stay, people are just different," advises Hill.
10 Things to Know Before You Start Hosting
1) Get a Realistic Number for How Much You'll Make

While hosting is a great way to make extra income, you need to be realistic about how much you'll make. This can vary widely by location, so it's best to use a handy calculator like this one, to get a good estimate.
It's also really important to consider the costs of maintenance and utilities. Some guests may use more electricity than you, or crank up the thermostat. Plumbing may go awry, or an appliance may break down. Some of these things may be covered by insurance, but others may just be out of pocket. A good rule of thumb is to save at least 25% of your hosting profit for unexpected costs.
Also remember to include fees. Airbnb takes a 3% service fee from the host for each reservation to cover the cost of processing the transaction. This fee is in addition to the 6-12% paid for guest service fees.
2) Take Professional Photos

Depending on your market, there may be a lot of competition against other hosts. There is a way to get a leg up – with good photos. "Professional photos are especially important and can make all the difference in your listing, so it's worth paying for those rather than just whipping out your cell phone and snapping away," said Robbins.
To take great photos, be sure to photograph your place in the day. Try adding fresh flowers to tables and make sure all clutter is put away. Robbins suggests being specific in your captions about which rooms the viewer is looking at and from which angle.
3) Set competitive Prices

As mentioned above, things can get competitive, and your pricing will make a huge difference. Try being flexible, suggests Nick Brennan, CEO of My UK SIM Card, who has been hosting since February. "In the listing calendar you an set dynamic pricing, for example, in the low season reduce the nightly fee and provide discounts for weekly or monthly stays."
For newer hosts without many profile reviews, Airbnb recommends starting below the suggested rate to begin a steady flow of bookings. Knowing how much you'll need to cover to break even will be important in helping you set your pricing strategy.
4) Consider a Management Company

Long-distance property management can be stressful – especially if you're traveling and will be out of state (or country!). For those who have the profit margin to hire a management company, it may be a valuable decision.
A management company can communicate with guests, take care of cleaning and respond to complaints, as Brennan describes, "[I selected] an Airbnb management service to look after my apartment (since I wouldn't be able to manage it myself) — they meet the guest, check them in, communicate with them, check them out, clean the apartment and provide fresh linen. They also stock with essentials such as toiletries. They take a very reasonable % of the revenue as their management fee."
You can find management companies through Airbnb or by doing an online search.
5) Be Transparent About Fees and Household Quirks

In regards to the utility bill, some hosts have learned the hard way how much they can spike. Robbins told us that one guest ran up a $300+ electrical bill in one month (her average bill is $75). Ouch. The best way to account for this is to be transparent in your listing. "I added wording to the listing stating that any utility expenses over $100/month would have to be paid by the guest," she said.
If there are any household "special touches" be sure to write those down for the quests as well. (You know, jiggle the toilet handle, push in on the door to lock, temperamental appliances, etc.) As Robbins said, "If there are any quirks, such as an appliance not working, it's better to be straightforward about it in the listing than to have a guest be upset upon arrival."
6) Know Your Area and Provide an Experience

It's important to understand why people choose Airbnb over hotels. It's usually for the pricing and unique experience. If you want to stand out against your competitors, you'll need to help guests create an unforgettable experience, including how to navigate your city and insider tips.
Cross learned this over time, "While I felt like I had a good idea of how to provide a comfortable experience, one of the biggest things I lacked when I started hosting was knowledge of local area and how to answer all the questions that visitors would ask." Try leaving local guide books or maps out when guests arrive, or create your own "Top 10" lists of things to do in the area.
7) Lock Valuables Away

This is a big one that you'll need to mentally prepare for before hosting. Your space will no longer just be yours, and that can come with some risks. "People are naturally curious and will go through your personal things if you don't have them locked away. Also, be prepared that people make take small knick-knacks that you have available to people (ie: a deck of playing cards)," says Hill.
One way to safeguard against this is to make sure you review guests' experience and reviews before booking. "I wish I'd known what to look for in terms of guests [before I started]. Now I won't allow a guest to book unless they have at least two reviews, both positive. I also make sure to have a detailed inventory for my property manager to run through after each guest leaves. I've had guests take all my towels, pots and pans, etc. Luckily, in the worst instance, I was reimbursed quite a bit of money. But I don't bother to submit a claim when it's less than $100," said Robbins.
It might sound pessimistic, but walk through your place with an eye towards what guests may take and lock up anything irreplaceable or valuable.
8) Understand the Risks and Drawbacks

Hosting through Airbnb is a great way to make extra money and meet interesting people, but it does have its drawbacks. "The biggest drawback for me is the potential for damages in my home. Overall, damages have been minor and rare in my experience. The other big drawback for me is with my personal schedule. As I am the sole caretaker of my home and Airbnb business, my schedule gets busy. Learning to balance life and Airbnb hosting is something each person will need to figure out for themselves," says Cross.
Luckily, you may have some coverage for property damage or stolen items through Airbnb. Every booking on Airbnb is protected by their Host Guarantee at no additional cost to you. The Host Guarantee will reimburse eligible hosts for damages up to $1,000,000. This can help create peace of mind, but also be aware that it does not replace renters or homeowners insurance, and it doesn't cover all things. Learn more about their guarantee at Airbnb.com.
9) Know the Laws

It's important to know what the laws and regulations are in your city renting services like Airbnb. Some cities may restrict your abilities to host guests, or you may have to register and obtain a permit first. Take time to review your local laws before listing to avoid fines and penalties.
Wondering about taxes? According to Airbnb's website: "In some tax jurisdictions, Airbnb will take care of calculating, collecting, and remitting local occupancy tax on your behalf." Otherwise, you may be able to add local tax to the amount your guests owe through the Special Offer feature.
10) Have Fun With It!

Now that we've done our due diligence of running through the pros and cons of hosting, it's important to remember one last thing: have fun! From everyone I spoke with, the rewards of hosting far outweigh the risks, and they'd highly recommend it.
Don't feel like you have to have everything perfect from the get-go. As Cross recommends, "Start with simple accommodations and add amenities as you go. Have fun with it! Guests enjoy a host who enjoys having guests. Simple as that. If you aren't having a good time, neither will your guests!"

Interested in other ways to make extra money? Check out these posts:
8 Ideas For Making Money With The Sharing Economy
Want to Work From Home? Here's 15 Ideas to Get You Started
The Most Popular Side Hustles (According to Research)


Have you ever thought about hosting through Airbnb? Any tips you'd share? Be sure to leave a comment!