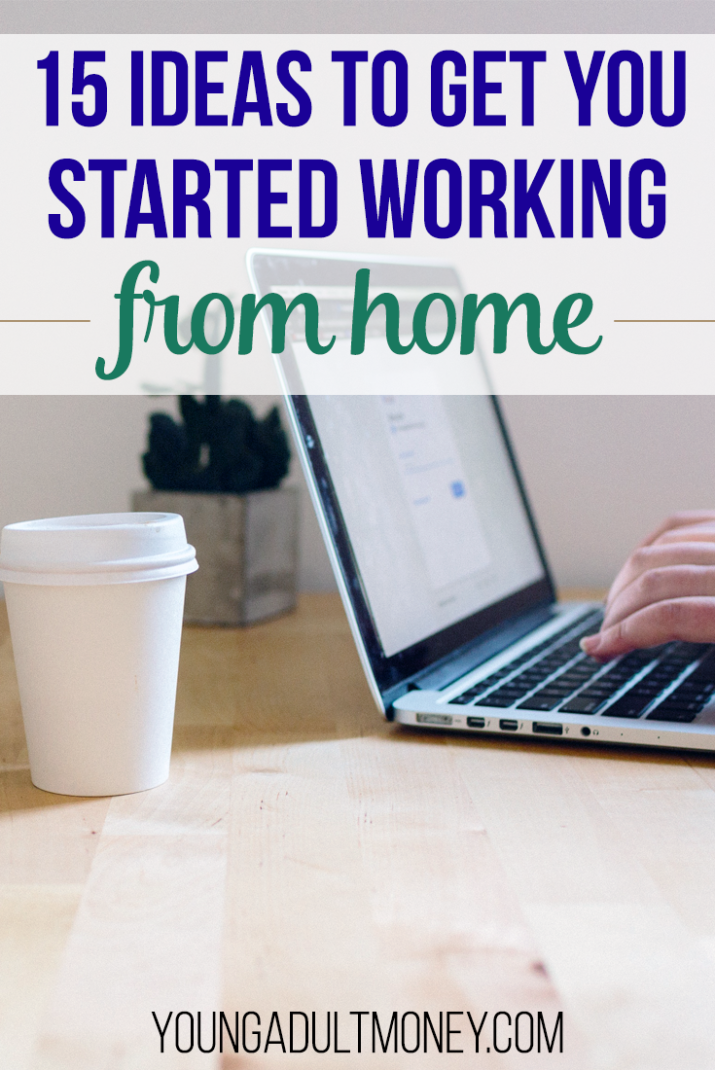 Ten years ago, working from home was not really an option. Most working individuals had to wake up, get the family ready, and commute to work, regardless of what their job was.
Now, working from home is not only realistic, but it's desirable. Some people like the idea of cutting out their commute entirely, while some others think working from home can provide a better work-life balance.
Some people simply work their best away from the office. Many others find the location independence appealing, so they can work full-time without being restricted by vacation days when they want to travel.
Whatever the reason is, it's no secret that there is a growing interest in working from home. No matter where you are in your career, working from home can be an option for you. Here are 15 ideas to get you started, as well as some tips to adjusting from working in an office setting to working from home.
1) Start a Blog

Many bloggers are able to grow their blog from a hobby to a very successful business that constitutes a full-time income. The best part about blogging is that your business is up to you – you get to choose what to write about, who to work with, and how to run your business, all from the comfort of your own home.
It's very easy to start blogging, and fortunately, you can start for very little money. While a blog does take some time to grow, with a lot of hard work, it is very possible to make money from blogging.
2) Work in Graphic Design

Skilled in creating artful graphics? You can start your own freelance graphic design business.
Your designs can vary depending on what you choose to do. You can create custom designs for individuals or sell graphic artwork. You can work with businesses or individuals for their graphic design needs.
Many clients are going to be looking for photos that are in the public domain and can be used for commercial purposes. I recommend checking out Stencil which has over a million public domain photos you can use for commercial purposes, as well as an easy-to-use graphic design tool.
3) Sell on Etsy

There is no shortage of items you can sell on Etsy. Whether you paint, sew, make jewelry, code, or do graphic design, you are sure to find clients on Etsy.
Many people have very successful home craft businesses, and Etsy is often one of their biggest marketplaces.
4) Ask About Remote Options at Your Current Job

If you're currently employed, you can talk to your boss about remote options. Some companies haven't ever considered allowing remote work, but that doesn't necessarily mean that they aren't open to the idea.
The best way to approach this is to have an open discussion with your boss. Tell him or her why you want to go remote and how being remote could benefit the company. Many companies are rightfully fearful that remote workers means less productive workers, which isn't necessarily the case. It's vital that you address any potential concerns in an honest discussion.
5) Start a Freelance Writing Business

My freelance writing business is what allows me to work from home for a majority of my time. If you enjoy writing, can meet deadlines, and can create a consistent stream of content ideas, then freelance writing could be for you.
I was able to start freelance writing because I started my own blog. I highly recommend starting a blog or personal website before you go to pitch potential clients. A blog acts as a living, breathing portfolio and makes it easy for future clients to find your work.
6) Work in Customer Service

Many companies need customer service representatives to work from home. Typically, these workers take phone calls for companies in the retail, tech, travel, and medical fields, just to name a few.
7) Become a Consultant

You can start your own home-based business by becoming an expert in your field of work. As a consultant, you will act as counsel to other companies and offer your experience and guidance.
In order to do well as a consultant, you need to have an in-depth understanding of whatever you are consulting in. Consultants can set their own rates, and often, they can earn $50 to $100 an hour, if not more.
8) Teach English

Websites like Vipkid hire a large number of people to teach English to students all around the world. These companies allow employees to work-from-home and typically offer flexible hours within a set of preferred core hours.
9) Tutor Online

If you have experience as a teacher or extended knowledge of a subject, you can tutor online through companies such as Tutor.com. You can also open your own tutoring business.
10) Create a Course

If you have online notoriety, you can create a course to market to your current following. You create the course material and teach it. Many courses charge $500+ per student, so there is definitely room to make money.
11) Become a Medical Transcriptionist

Medical transcribing has been around for quite awhile, but it remains an in demand position. To be a successful medical transcriptionist, you need to have medical knowledge and fast, efficient typing skills. Many community colleges offer classes in medical transcription, which can be a great option for someone who is looking to make working as a home based medical transcriptionist a long-term career.
12) Seek Out Full-Time Remote Opportunities

It's surprising how many companies offer fully remote jobs. By conducting a job search for virtual jobs, you will be able to see what is available.
13) Start a Social Media or Marketing Business

Starting your own social media or marketing business can be a great way to earn money from home. Many small companies outsource these departments and are looking for individuals to come on as a contractor or freelancer.
14) Become a Flea Market Flipper

Are you a DIY fanatic with a good eye for a deal? Flea market flipping might be for you.
Many flea market flippers start flipping as a hobby, but find that it can be very profitable. Flea market flippers find run-down antiques or furniture, buy them for cheap, and fix them up to sell at a premium.
15) Proofread

Professional proofreaders can earn anywhere from $15 to $40 an hour. As a proofreader, you can work for proofreading companies, or you can start your own proofreading business. Both options typically allow you to chose what projects to work on from the comfort of your own home.
Tips for Working From Home
Set a Schedule

The freedom of being able to set your own schedule is one of the most appealing factors of work-from-home jobs, but failure to set a consistent schedule can leave you floundering and unproductive.
At the very least, setting a broad schedule for the day can keep you on track and ensure you are completing everything required of you. Without a manager or a team there to manage your time, you have to be extra diligent with your scheduling.
Resist the Temptation to Work on Personal Projects

While working from home, it might be tempting to do a few chores or personal projects. It may seem innocent enough, but taking designated work time to do personal tasks can become majorly distracting. Stick with a schedule with specific break times throughout the day to prevent loss of productivity.
Set up an Office Space

As tempting as it may be to work from the couch, that really isn't setting you up for success. You need to be able to have everything accessible and feel ready for work. That's why an office space is integral.
You don't have to have a corner desk to have a successful office space. My office space is a small desk in our living room, where I can keep all of my supplies, files, and work.
Stay Portable

One of the biggest assets of working from home is the ability to work from anywhere. You might find that you want or need a desktop computer and formal office space in your home to keep you productive. While that's great for every day work, it's also important to consider your portable office. What equipment and supplies do you need to stay portable? When you're not traveling, how can you keep things organized enough to pick up and go when you want?
Depending on what type of work-from-home job you have, you might never be able to leave your physical home office. But for many, such as freelancer writers and business owners, being portable is key.
Related: The Ultimate Guide to Landing a Work From Home Job
7 Awesome Location Independent Jobs
50+ Legitimate Ways to Make Extra Money at Home

Do you want to work from home? Which of these options might work for you? Or if you already work from home, what are the advantages? Disadvantages?