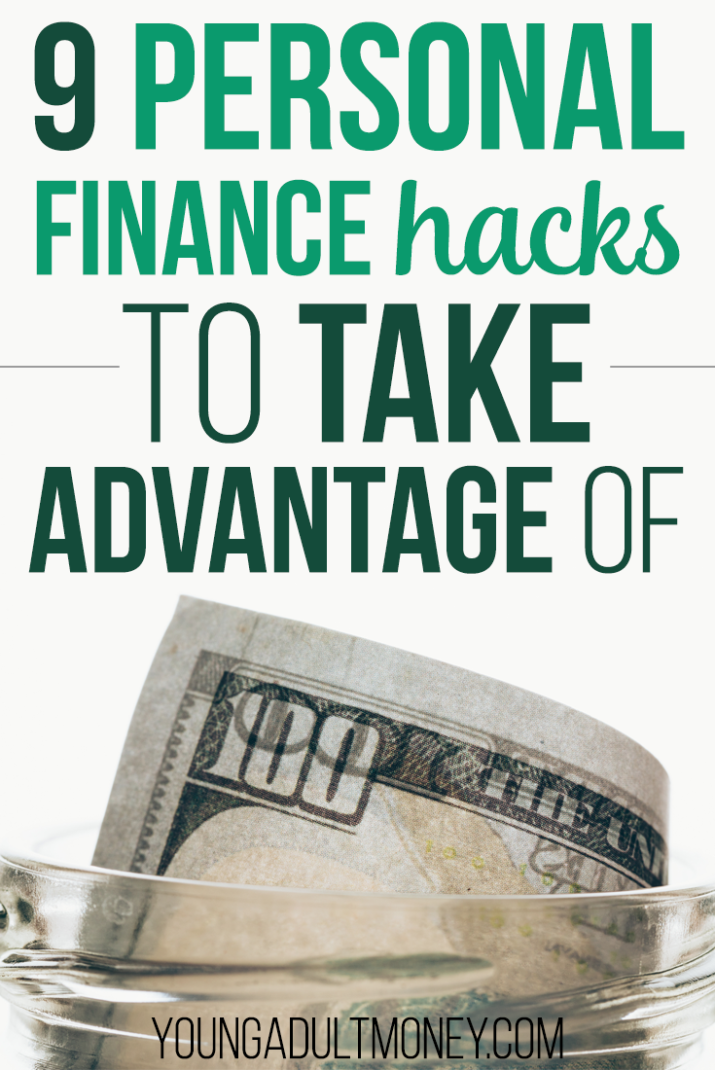 Most people who look into personal finance eventually realize that success with finances typically comes down to two things: knowledge and action.
There are a ton of personal finance hacks to take advantage of, but unless you know about them and take action, you miss out.
Think about the stories you hear about high net worth individuals using tax "loopholes" to avoid paying taxes. At the end of the day they are playing within the (complicated) rules that make up our tax code. There's nothing illegal about it, they just have the knowledge necessary – usually in the form of a tax accountant – and they take action.
Just because you aren't a multi-millionaire (yet) doesn't mean there aren't personal finance hacks you can take advantage of to get ahead financially. Today I have 9 personal finance hacks for you to add to your playbook.
1) Refinance your debt to a lower interest rate

Americans have a lot of debt. A lot of debt.
One thing I think people miss when it comes to debt is the interest rate factor. There is so much focus on debt being bad in general, that we oftentimes forget to consider the interest rate on debt.
For example, I have a 30-year mortgage that is fixed at 3.25%. I got it when rates were essentially rock-bottom, and I'm locked in. You won't see me paying anything extra towards this debt because it's at such an advantageous interest rate. Any extra money that could go towards mortgage debt will go straight towards investments, which are (very) likely to gain more than 3.25%.
When people have credit card debt or other high interest debt I encourage them to first take a look into finding a way to lower their interest rate on their debt. That can immediately free up cash flow that can go towards the principle and inevitably lower the amount of debt.
A topic that is near and dear to me is student loan debt. With more and more people graduating with high levels of student loans, I think it's important for grads to take a closer look at their student loan debt. I first recommend filling out this spreadsheet with all your student loan information (this is the same spreadsheet my wife and I use). I also recommend getting a quote of how much they would save through refinancing their student loans. Depending on your interest rates and payment terms, this could be a big win.
2) Use a Health Savings Account (HSA) to avoid taxes

There are few things that you can avoid paying taxes on altogether. Medical costs are one of those things.
Health Savings Accounts (HSAs) allow you to put money into an account tax free and take it out tax free if it's used for qualified medical costs. Additionally, once your account reaches a certain threshold (i.e. $2,000), you can transfer funds into the investment portion of the account. To top off all the tax advantages, there are no taxes on the gains in your investment account if the funds are used for qualified medical costs.
With high deductible health plans becoming more common each year, more and more people are eligible for HSAs (you must have a HDHP to deposit into one). The amount you can deposit into an HSA in a given year is relatively low, so it's realistic for individuals and families to max out their contributions.
You can read all about the benefits of HSAs and why I think an HSA is the best retirement account.
3) Use the debt snowball strategy to attack debt

You may have heard of the debt snowball strategy, but have you actually given it a try?
The debt snowball involves paying off one loan, and instead of decreasing the overall amount you pay towards your debt, applying the amount that would have gone towards the paid off loan towards another loan. When you pay off a second loan, you shift that payment towards another loan as well. Repeat until your debt is gone.
In other words if you have 10 loans and you make $1,000 a month in payments towards your debt, you continue to make $1,000 in payments even as you eliminate loans. This creates a "snowball" effect where you are paying off debt faster and faster as loans are eliminated.
While I'm definitely a numbers guy (hence why tip #1 is to refinance your debt to a lower interest rate), I realize that psychology plays a big part in personal finances. Sometimes elminating a debt, even if it's a low interest rate, is beneficial solely because of the psychological weight that is lifted off your shoulders.
The debt snowball gives you a feeling of momentum that can help you stick to the debt paydown strategy until your debt is eliminated.
4) Use this credit card to get a free $400 towards travel

If you haven't given travel hacking a try because it's too complex, I'll make it simple: sign up for the Barclaycard Arrival Plus™ World Elite MasterCard® and you can get a free $400 credit towards travel. All you need to do is spend $3,000 within the first 90 days.
Once you hit the required spend, you will have 40,000 "bonus miles." What this really means is $400 worth of travel credit. This covers travel spend like rental cars, flights, and hotels. The $89 annual fee is waived the first year so if you don't want to pay it you simply need to cancel your card before you hit your one-year anniversary.
Easy enough?
If you like what you hear, you can also consider the Venture® from Capital One® which currently has a similar offer to the Barclaycard Arrival Plus™ World Elite MasterCard® where you get a travel credit if you hit a $3,000 spend threshold within the first three months of opening an account.
5) Raise Your Credit Score by NOT Closing your Credit Cards

Another easy hack to take advantage of is raising your credit score by not closing your credit cards. One of the determinations of your credit score is length of credit history. So, for example, if you close your one and only credit card after having it open for 10 years, you are unnecessarily hurting your credit score.
If you no longer use a credit card and it does not have an annual fee, don't close it. Especially if you do not have many credit cards opened. You need that history to support your credit score.
If you made this mistake or you have a bad/nonexistent credit score, consider taking advantage of a credit boosting loan from Self Lender. It ultimately costs about $75 at the end of the day, but they go out of their way to report to the three credit bureaus. Find out more on their site.
6) Take Part in "Challenges" to Boost Your Finances

There's a reason health challenges are so effective: they motivate people to get active when they otherwise wouldn't. Entire health companies are built on the concept of challenges.
Challenges work for your finances, too. Erin wrote extensively about this in How to Turn Your Financial Goals into a Game. One specific example is the 52 Week Money Challenge, which has helped countless people save $1,378 over the course of the year.
When I first started side hustling I made it a goal to make $1,000 a month in side hustle income. I was motivated to reach this goal because it would offset my wife and my monthly student loan payments. When you can attach your financial goal to something tangible your chances of success greatly increase.
7) Use this Free Tool to Track Your Net Worth

Knowing your net worth is useful for tracking purposes. While I think increasing your income is much more important than increasing your net worth, especially in your 20s and 30s, I do see the value in knowing where your net worth is at.
I recommend Personal Capital to people who want an easy way to automatically track their net worth. It's free of charge, secure, and you only have to link your accounts once.
Of course if you're like me, there is nothing wrong with a spreadsheet! It just takes more time and effort.
I don't recommend checking your net worth more than quarterly. Why? For a variety of reasons. First, if you have a lot of debt it can feel like you aren't making much progress even if you are consistently paying down your debt. Second, the stock market fluctuates greatly and it's best to not react to the ups and downs, and by not checking your net worth you won't give yourself a chance to be affected emotionally.
Net worth is a long-term game. Keep tabs on it, but don't let it affect you too much.
8) Use a Shopping Portal Instead of Going Straight to a Retailer's Website

I know I know, it can be annoying to use a shopping portal. It's not convenient to have to go through a website to make a purchase when you can easily just go straight to the website you are making the purchase at.
I'm not the best at using shopping portals, but I've had a few big wins from using them. I've received a big discount on hotel stays, clothing purchases, and other random purchases. Every time I've saved money or received cash back through a shopping portal I've thought "that was easy. I should do this more often."
A few that I recommend are:
Coupon Cabin – This site has some really great cash back offers on their portal.
Again, shopping portals can be annoying, but they can save you a decent amount of money for a little effort. I saved nearly $100 on a recent hotel stay simply by going through the Discover shopping portal. Coupon Cabin also has given me a nice amount of cash back when I've taken the time to check it.
9) Track Your Donations for a Tax Write-Off

This is hardly groundbreaking advice, but there's many out there who simply do not keep good records of their donations. And, in their defense, it only matters if you itemize your deduction instead of taking the standard deduction.
My wife and I regularly donate clothes and other household goods, and what we do is take a picture of each item. This may take a while, but if you donate often throughout the year those tax deductions can add up.
There really is no excuse for not keeping track of all monetary donations. If you donate to nonprofits, keep records! If you don't keep records you are missing out on potential deductions.
____________________________________
This is just nine of the many personal finance hacks out there. There's always more you can do to improve your finances, it's just a matter of picking what will have the biggest impact.
I'll leave you with a few additional posts that provide hacks and resources for improving your finances:
Use this Hack to Make a Quick $25
How to Create an Automated Budget Using Tiller
Lazy Ways to Make Extra Money


What personal finance hacks have you taken advantage of? What's one hack you haven't tried yet but want to try?