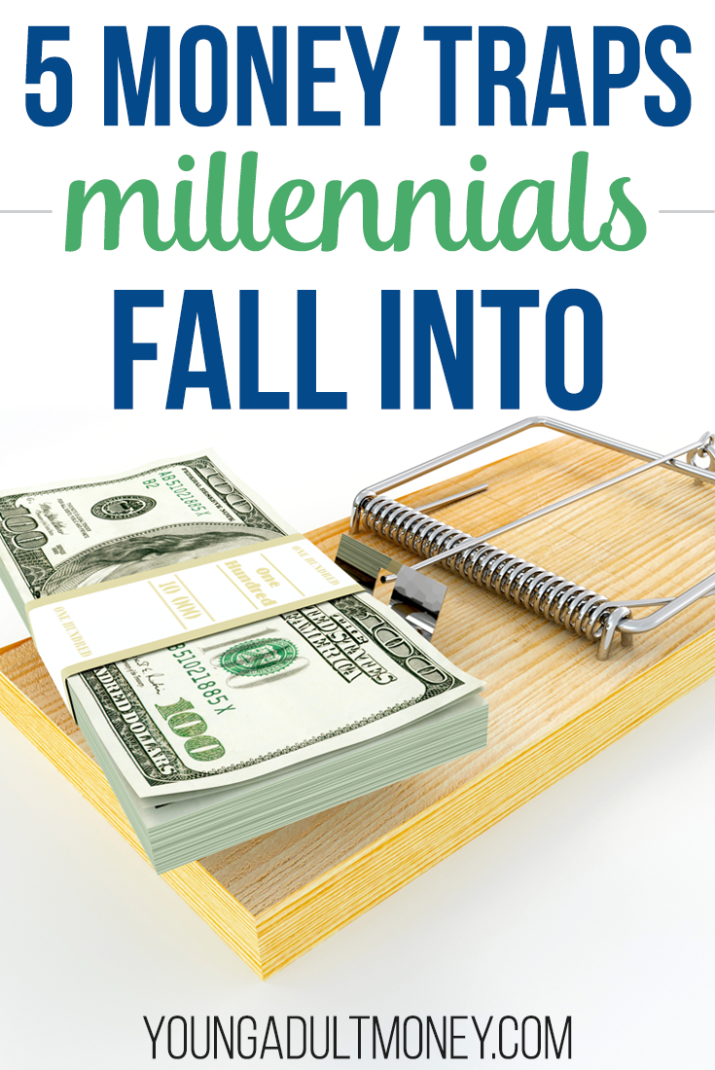 Millennials constantly get a bad rap. On a recurring basis you see news headlines talking about things millennials aren't doing or what they've apparently ruined.
If you go by what news headlines tell you, then millennials are all narcissistic and irresponsible, unable to be a proper adult. We get blamed for a lot of things.
Admittedly, millennials do have some common characters among their age group, just like any other age group. However, as a whole, millennials excel at a many things.
Millennials spend less than previous generations. Thanks to the power of the internet, we research our options more. We are more cautious when it comes to things like credit cards and excess spending.
While do good in some departments, there is always room for improvement. Millennials may not be destroying everything people say, but there are some money traps we fall into when it comes to our personal finances.
Here are some common millennial money traps.
1) Spending Too Much Time on Social Media

We spend too much time in front of our screens. Scrolling to see the latest updates and news. Millennials spend way more time on social media than we need to.
Social media by itself isn't bad. Although when you spend a large portion of time checking Twitter, Instagram, and all the other platforms, it can end up having a negative impact.
The majority of Americans spend more time on social media than they do on their finances, according to a study by Go Banking Rates. Too much time on social media can cause you to spend more and try to keep up with what everyone else is doing.
Seeing people post updates about going on nice vacations, financing new cars, or buying the latest smartphone can be tempting. It can make you feel a need to buy the things other people have.
Take one day to see how much you pick up your phone to check social media. Often, it's more than you realize. Cut down on time you spend scrolling and fill it with something more meaningful instead.
2) Subscription Fees

Millennials love to have their subscriptions. We use and love things like Spotify, Stitchfix, BarkBox, meal prep services, gym memberships, and cable.
Consider how much all of your subscriptions are costing you every month. While a $10 monthly Netflix charge won't break the bank, having a hefty cable bill will.
Go through your list of subscriptions you have and consider what all needs to be cut. If you have a gym membership, but only step through the gym doors a few times a month, then cut the subscription and look for alternatives to do.
Cut your cable if you have it and look into alternatives like Netflix, Hulu, Amazon Prime and other services to fill you entertainment.
3) Lacking Financial Education

Money affects a lot in our lives, so we should pay attention to our personal finance. With many of us having grown up through the economic recession of 2008, we've seen the negative effects money and debt can have.
It's caused use credit cards less often and shy away from things like investing and money talk. Our reluctance to learning more about financial topics, while expected, may be doing us more harm than good.
41% of millennials aren't saving for retirement, according to a study by Wells Fargo. This is problematic when you consider all the things we will have to deal with.
We have longer life expectancies, workplace pensions are almost non-existent, and questionable social security situation awaits us. When you take this into account, it becomes clear that we can't afford to not improve our financial education and knowledge.
Millennials need to set aside time to improving their money management. It doesn't have to be huge, or take hours. Start small so you have the best chance of being consistent.
Spend a few minutes a day learning about new financial topics. Look up ways to budget, figure out how to start investing, research side hustles so you can earn more. Improving your financial life will help you excel in other parts of life.
Take time to start improving your money knowledge.
4) Spending Without a Plan

People have dreams they want to achieve. Goals they want to reach. We all want to reach our full potential and work toward the lifestyle we want.
Knowing where your money goes every month is first step to reaching your goals. If you don't know where your money goals every month, then get on a budget and start to see how you spend your money.
Have a plan for your money. Make sure your spending aligns with the things you want to accomplish.
Too often, we get caught in short-term thinking. We finance new cars, go on vacations, and buy unnecessary things because they make us feel good in the moment.
However short-term thinking and instant gratification won't make us satisfied with our lives in the long run. Your spending needs to have a plan attached to it so you're not excessively spending on things that ultimately won't fulfill.
5) Not Investing in Themselves

Millennials have the power of the internet available at our fingertips. We ran learn more about a different things and explore our interests like never before.
Yet, even with so many options available to us, we often feel paralyzed. We feel stuck in our current situations.
Maybe you have an entrepreneurial endeavor you want to pursue. Maybe you want to start a blog or hobby and fill a creative itch. Whatever the case, don't kill your curiosity by not investing in yourself.
Many of have to deal with small incomes, debt repayments, and high costs of living. It can be easy to let investing in ourselves fall to the wayside. Don't let it happen.
If you have an an entrepreneurial itch, then start a side hustle. Pick up new hobbies to fill your time with. These things help your well-being and improve your sense of identity. Make time for them.


What money traps do you think millennials fall into? What money mistakes have you made?