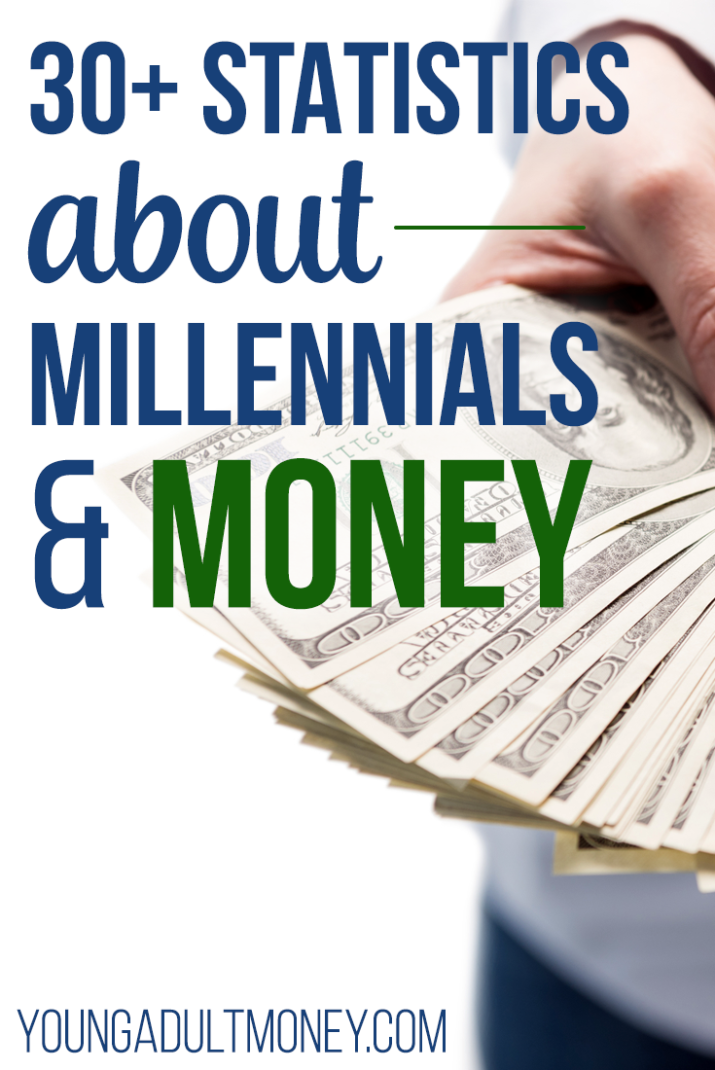 Each individual's personal finance situation is different. That's what makes it personal.
With that in mind I always hesitate to make broad assumptions when it comes to money and personal finances. Everyone has their own unique situation and challenges.
But understanding where a demographic stands from a broader scale can be useful. For example, it's no mystery that student loan debt has been an issue for a large number of millennials (myself included).
Does every millennial either have a huge amount of student loan debt or dealt with student loan debt. No. But the fact that so many do means it's an important issue to address.
Through my research on millennials and personal finance I've found many useful statistics that can give us context of where millennials as a demographic stand on a variety of issues related to money.
Below is 30+ statistics on millennials and money, grouped by topics such as career, healthcare, debt, and more.
Work & Personal Finances

Millennials spend an average of 4 hours a week at work on personal finances, with 29% spending over 5 hours a week on average
Nearly 4 out of 10 say that issues with personal finances have been a distraction at work
Nearly 1 out of 3 say that productivity at work has been impacted by financial worries
57% of millennial employees are stressed about their finances, with 48% saying financial matters is the top cause of stress
Career

1 out of 2 do not plan on being with their current employer a year from now
Just 29% are engaged with their job, with 55% saying they are disengaged and another 16% saying they are "actively disengaged"
Retirement

43% say they need help saving for retirement
35% have already withdrawn money held in their retirement plans to pay for expenses other than retirement
More than 1 out of 2 think it's likely they'll need to use money held in retirement plans for expenses other than retirement
Nearly 3 out of 10 contribute more than 15% of their salary to their 401(k)
Approximately 1 out of 2 think it's likely that social security benefits will be available as a source of retirement income
42% think they should have primary responsibility for supporting themselves in retirement, with 40% saying their employer, and 19% saying the government
Health Care

65% think health care costs will impact their retirement
More than half are more concerned about their ability to save for future healthcare expenses with the possibility of the Affordable Care Act being repealed
26% have unpaid medical bills
Debt

1 out of 2 feel they have too much debt
7 out of 10 consistently carry balances on their credit cards
More than 4 out of 10 millennial employees find it difficult to meet their household expenses on time each month
45% are using credit cards to pay for monthly necessities because they can't afford them otherwise
48% have student loan debt, and nearly half of those with student loan debt are concerned about being able to pay them off
83% of those who have student loans say that their student loans have had a moderate or significant ability to meet their other financial goals
Emergency Funds

1 out of 5 believe they couldn't come up with $2,000 if an unexpected need arose within the next month
More than half said one of their top two financial concerns was not having enough emergency savings for unexpected expenses
Statistics on Other Money-Related Topics

Only 1 in 5 are satisfied with their current financial situation
4 out of 10 workers under the age of 35 have side hustles
More than 9 out of 10 would participate in a financial education program provided by their employer
76% have used the services their employer provides to assist them with their personal finances
More than half have evaluated their life insurance needs within the last 12 months
42% are providing financial support for parents or in-laws
45% own their own home

_________________________________________________

Despite some of the more troubling statistics listed above, nearly half of millennials are very optimistic about their financial future. This reveals that despite all the challenges, millennials see opportunity to improve their financial situation. They also understand that time is on their side.
3 Practical Things that Millennials can do to Improve their Finances
With so many challenges, how should millennials improve their finances? Here's three specific things millennials should consider doing, if they haven't already.

1) Track your Finances and get on a Budget
It's difficult to improve your finances if you don't know the current state of your finances. That means tracking your income and expenses is essential. Creating and following a budget is a no-brainer if you are trying to better manage your money.
How to Create an Automated Budget Using Tiller
Finally! An Automated Budget Spreadsheet in Excel

2) Build an Emergency Fund
An emergency fund – even if it's small – can reduce financial stress and allow you to feel more confident that you will be covered if (when) unexpected expenses come up.
As someone who has built an emergency fund, it can feel like an insurmountable task. But if you make a plan and stick to it, small amounts can add up over time.
How to Build a Mini-Emergency Fund in One Month
How to Build an Emergency Fund and Why It's a Priority
10 Examples of Unexpected Expenses to Plan For

3) Create a Strategy to Deal with your Debt
Debt is without a doubt one of the main financial concerns of millennials. Getting rid of debt doesn't happen overnight, but there are steps you can take today to pay off your debt faster and manage it better.
$100k in Student Loan Debt: What I Did About It
10 Habits to Develop to Get Out of Debt
What To Do If You Are In Credit Card Debt
5 Ways to Lower Your Interest Rate on Your Debt

_________________________________________________

These three action items can help millennials move their finances in the right direction. They don't have to stop there, though. Here's a number of posts and resources that are focused on helping improve various aspects of our finances:
How to Track Your Net Worth (Plus a Free Tool!)
Lazy Ways to Make Extra Money
Pros and Cons of Student Loan Refinancing
12 Personal Finance Books for Millennials
10 Ways to Make an Extra $1,000 a Month
10 Ways to Save Money When You're Living Paycheck to Paycheck
What did you find to be the most surprising or alarming statistic on the list?
Sources:
Bank of America Merrill Lynch 2017 Workplace Benefits Report
PWC research – Employee Financial Wellness Survey – April 2017
CareerBuilder Research (August 2017)
Gallup – How Millennials Want to Work and Live – May 2016
National Endowment for Financial Education: Overconfident and Underprepared: The Disconnect Between Millennials and Their Money; Insights from the 2015 National Financial Capability Study