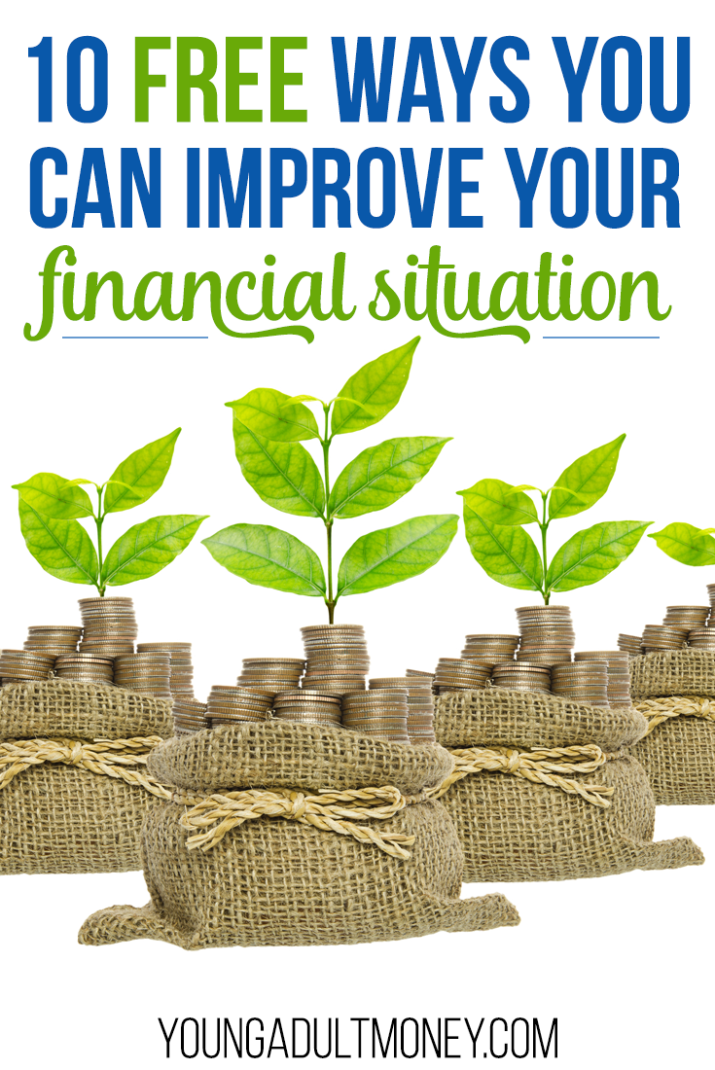 The journey to improving your finances can be difficult and confusing at times. We all want to feel more confident in our money management, but figuring out a way to consistently improve yourself can be challenging.
Improving your finances is something we should all be doing. Doing so creates confidence that helps you excel in other parts of your life. When your money situation is made a priority, it gives you the ability to improve your lifestyle.
Admittedly, the process of improving your financial situation can be daunting. There are articles that highlight people with huge savings rates, no debt, and who look like they're living the high life. Spending money on the next tool or service can seem like the only choice.
Well, it doesn't have to be. You can improve your financial situation right now, without having to spend any money. All it takes is some patience and motivation.
Here are 10 free things you can do to improve your financial situation.
1) Create Measurable Goals

Saying vague statements like "I want to pay off my debt" or "I want to increase my income" don't amount to much. While it's good to say and want these things, in order to truly maximize your potential and reach those goals, you have to make them specific.
Let's say you have a lot of student loan debt. You could consider setting a goal of paying off $6,000 of the debt each year. Breaking it down further this would be $500 per month. Ask yourself how you could cut your expenses or increase your income in order to pay off $500 of debt per month?
If you want to make an extra $300 per month, figure out a strategy to get there. This could involve picking up a side hustle, selling old stuff, or negotiating a raise at your day job.
Financial goals can vary. You may want to pay off debt, make extra income, contribute to retirement or something else. Whatever the goal is, you need to make it measurable to have a better chance of achieving it.
2) Figure Out Your Money Beliefs

Anyone can improve their financial situation, no matter how bad it is. It may take you longer or shorter than others, but you can improve your financial life.
People often get themselves into the mindset that they can't or won't achieve something. This can be rooted in comparison syndrome and deeply set money beliefs.
Take some time to write down how you view money. Maybe you have a scarcity mindset mindset where nothing ever feels like enough. You could have an abundance money mindset.
Whatever beliefs you have about money, write them down and see if they're helping or hurting you in improving your financial situation. There are plenty of people from a variety of backgrounds, who have improved their financial life.
If you don't identify and fix any negative beliefs you may have about money, then you'll never be able to improve your financial situation.
3) Create a Budget

We've all had those moments where we look at our bank transactions and experience a moment of shock. We don't realize just how much we spend in a certain area until we see it in black and white.
In order to truly improve your financial situation, you have to be aware of where your money is going. A budget can help you pinpoint areas where you may be spending too much.
There are a variety of budgeting styles to choose from. It doesn't matter which one you choose, it's just important to get on one and start monitoring how your money is being spent and saved every month.
4) Figure Out Your Net Worth

Your net worth is the value of all the assets you have, minus the total liabilities you have.
Things like your 401k and retirement accounts are assets because they help grow your wealth. Student loans and credit card debt are liabilities.
Use a free tool like Personal Capital to help you figure out your net worth. After you sign up, you're able to link all of your accounts and input any debt you have in order to figure out your net worth.
Your net worth gives you a picture of where you stand financially. To improve your financial situation, you should aim to consistently increase your net worth over time.
5) Know Your Credit Score

A good credit score can help you get approved for things like a mortgage, lower interest rates, more credit card rewards, and better insurance rates.
You can get a free credit report once a year from the three main credit bureaus: Equifax, Experian, and TransUnion. Use a service like Credit Sesame to monitor your credit on a more regular basis.
6) Automate Your Savings

One of the best ways to create a consistent savings habit is to automate your savings. When you automate your savings, you're less likely to put your savings on the back burner of priorities.
There are a few ways to automate your savings. The most common way is to set up a recurring transfer between your checking and savings accounts. Ideally, you would schedule the money transfer to happen right after your paycheck hits your checking account.
Consider using additional tools to boost your savings. Applications like Qapital and Tip Yourself can be great ways to save your spare change by rounding up your bank transactions to the nearest dollar and putting the difference into savings.
7) Open a Dedicated Savings Account

Having a dedicated savings account at a different bank from where your checking account is can be good. You won't have to constantly see the money and you'll be less likely to dip into your savings for impulse purchases.
Online savings accounts, like Discover, are the best. They have way higher interest rates than traditional banks so they allow your money to grow bigger than it would sitting in a typical savings account.
Start putting your savings in place where it will earn more and be out of sight and away from temptation to spend.
8) Plug Any Money Leaks

Money leaks are areas in your monthly spending where you could either lower the bill or remove it. Find ways to decrease the amount you pay for some of your bills.
Get on the phone and find out if you can get a better deal on things like your auto insurance and internet bill. Research cheaper cell phone plans. Cut any subscriptions you have that you may not be fully utilizing.
While I do love Netflix, Hulu, and Amazon Prime to keep up with TV shows and movies, there came a point where I realized I wasn't using them near as much as I thought. I paired down my digital subscriptions and was able to save a small but decent amount to put towards my monthly savings.
Every bit counts. List out all of your bills and research ways to lower them or eliminate them.
9) Find Ways to Save on Regular Purchases

I'm always on the lookout for ways to save money on purchases I make. If clipping coupons isn't really your jam, there are other ways to save.
Try out a service like Ebates. It's a website where you can earn cash back for shopping online. You can shop through the Ebates portal at many different stores like Amazon, Walmart, Macy's and more.
When you shop through Ebates and make a purchase, you earn cash back. When you sign up, you receive a $10 cash back bonus. You can have your cash back paid out via a check or PayPal payment.
10) Visualize Your Money Goals

Having a visual of your progress can really help you stay motivated to improving your financial situation.
When I was paying off my debt, I drew graphs to help me visualize my debt payoff journey. Every time I paid off a certain amount, I got to color in part of the graph.
As my financial goals have growth, I've used a free tool like Personal Capital to help me visualize the many money goals I have. After signing up and syncing my accounts, I've been able to get a visual picture of my financial situation and pinpoint areas to improve.
__________________________
Improving your financial situation doesn't always have to involve spending money on some product or course. Sometimes it can be as simple as writing down your goals and creating systems to help better manage your money.
There are so many great free tools and resources to help you out on your financial journey. By trying some of them out, you will be on a better path to financial freedom.
Related: 8 Often Overlooked Finance Hacks that Boost Your Finances
40+ Ways to Improve Your Finances This Month



What things have you done to improve your financial situation?