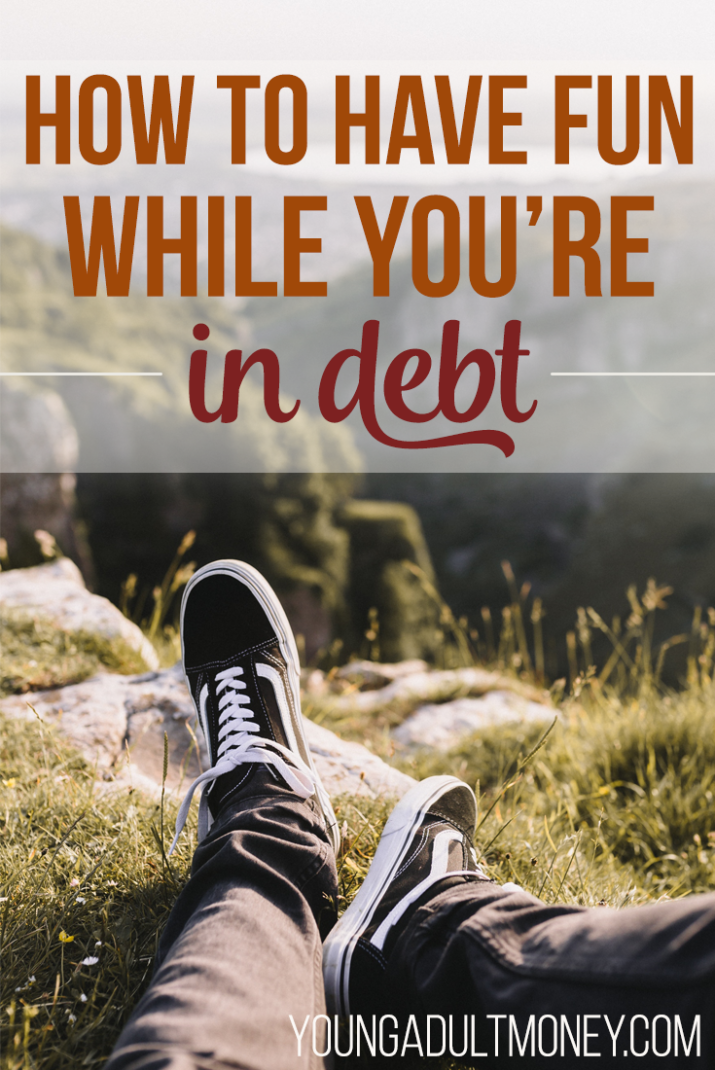 The path to financial freedom is not easy, and at times, it can become all-consuming.
When working towards paying off debt, we can find ourselves with blinders on, and we often forget to have fun along the way.
With a little creativity and prioritization, you can still have fun while you're paying off debt. You may just need to be slightly more careful and mindful of your budget.
Here are a few tips on how to have fun while you're still in debt.
Budget Your Fun

While paying off debt, the most common advice is to try to cut as many expenses as you can. However, if you have a large amount of debt, this could take years, and if you are constantly feeling deprived, you are less likely to succeed and become debt-free.
Take away the guilt from having fun by giving yourself a fun allowance. By creating a fun budget, you will force yourself to more regularly do those things you enjoy, which will help you sustain your debt repayment journey. This will also allow you to have fun while still meeting all of your other financial goals and obligations.
Find Free Events

No matter where you live, there are always free events and activities available. Whether it's festivals, concerts, or outings, making use of these free events will fill your social and hobby need without busting your budget.
Check your local newspaper or city blog. They often list free events going on in the city every night of the week.
Test Before You Buy

It's expensive to be fully invested in a hobby. Being completely consumed by a specific hobby requires the cost of equipment, tools, and transportation, and those costs all add up quickly. While it's great to be deeply interested in a hobby, we should make it a point to be careful of what hobbies we splurge on.
Before you fully invest in a hobby, test it out to ensure that it is something you truly are interested in and would make time for in the future. For example, you can rent canoes for a few times before you decide to purchase canoes of your own, or buy an older, cheaper sewing machine until you are sure you are ready to go "all in" on a sewing hobby.
Though it might cost per use if you are renting, testing it before you purchase everything will save you significant money in the long run. You may find that after a few tests, you aren't as interested in a particular hobby as you thought you might be.
Prioritize Your Hobbies

Having hobbies that you truly love will only help your personal finance journey. Taking some time and spending some money to focus on things you truly enjoy will keep you rested enough to be able to continue your financial journey for the long-term.
There is no shortage of ways to spend money on having fun, but not all of the fun is truly relaxing. Spending money on hobbies versus going out with friends or eating out all of the time will pay off in the long-term.
Get Creative

Having fun while in debt doesn't have to break your budget. There are plenty of ways you can entertain yourself for little money if you just exercise some creativity.
If your budget is tight, find cheaper alternatives to your favorite hobbies and activities. For example, instead of going to the movies, rent a movie and make popcorn at home. If you enjoy golfing, try to go more frequently in the off-season when it might not cost so much. Getting creative with
Plan in Advance

Planning in advance always helps to save more money. By planning activities and events beforehand, you already have a budget set. And by planning in advance, you allow yourself enough time to compare rates, find discounts, or travel hack for extremely cheap trips and events. If you're with a group of people, planning in advance also eliminates the pressure of wanting to participate when you did not budget for a certain activity.
Related: 7 Fun Things To Do While On A No-Spend Challenge
7 Inexpensive Date Ideas
15 Hobbies and Interest That Can Be Profitable Side Hustles
Are Your Hobbies Costing You Too Much?


How do you have fun while paying off debt? What are your tips for affordable activities and hobbies?