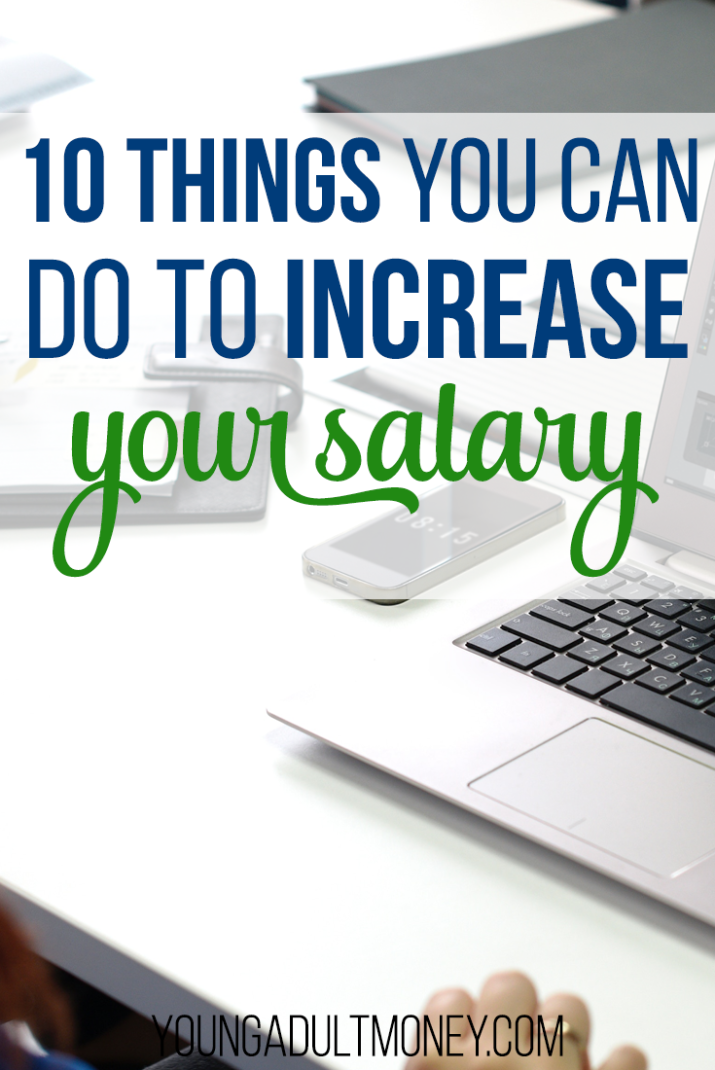 Are you happy with what you earn at your current 9-5 job? What if you could earn more money for doing the same job? Increasing the salary at your full-time job is one of the most effective steps you can take to improve your finances.
Employers want to keep their best workers happy, and if you are contributing to your company's success, they likely would consider giving you a raise.
While ultimately, whether you are given a raise or not is dependent on your employer, there are things you can do to prove yourself as a valuable and integral member of your team.
Here are 10 things you can do to increase your salary at work.
1) Become an Expert at What You Do

Are you the person people go to if they have questions? Do you understand most aspects that relate to your job? Or are there things you have yet to learn?
Becoming an expert in your field sets you apart from the average employee. Though your employer might not always realize your knowledge and skill level, if it would hurt them to lose you then they are likely open to discussing salary.
2) Stay Current on Your Knowledge and Skills

If you already know what there is to know if your job function, then it's vital to keep up-to-date on your knowledge and skills.
Times change quickly, and as technology and laws are evolving, so should we. If you aren't keeping up with the latest knowledge and trends in your industry, then it's time to start.
Related: 5 Skills That Will Help Advance Any Career
15 Skills That Will Help You Make More Money
3) Become Involved in the Company

Being personable, encouraging, and involved in your company is just as important as is doing your job well. To really solidify your stance with the company, it's worthwhile to take time to get to know your coworkers and to support the organization as a whole.
Being involved in your company will make you visible to the decision makers who you don't regularly interact with. So take advantage of any company event, volunteer opportunity, or other.
4) Transform What is Visible

Are there more effective ways to do your job? Are there aspects of your job you could change to make your department or your coworker's lives easier? Is there a more efficient way to perform a task?
Look for opportunities to enhance your job, especially if it enhances how others do their job. All employers are looking to increase their efficiency and doing so proves you are a transformative employee.
5) Practice Your Negotiation Skills

A raise won't be simply given to you. You likely will have to work to negotiate a pay increase with your manager.
Study up on negotiation skills. Negotiating, while intimidating to some, is one of the best skills you can develop in your career. While it's common to be overwhelmed and feel slightly guilty whenever you initiate negotiations, keep in mind that you are simply asking for a reconsideration of your current pay.
6) Research Salary Data

In order to effectively negotiate, however, you need to have a solid and realistic understanding of what a reasonable salary would be. Most companies have established salary ranges in which they can pay.
While websites like Glassdoor, Payscale, and Indeed have helpful salary information, the salaries listed can be dependent on many different factors, including location, years of experience, and more. To find fully researched and vetted salary information, search websites like Robert Half and Randstad, which are staffing agencies that research and compile salary data. These salary guides are likely much closer to what your employer is looking at when they determine salaries, and best of all, they are free to access.
7) Be Adaptable

Change is inevitable in an organization, and if you are always the one dragging your feet and trying your best to obstruct change, you likely are causing a major headache for higher ups in your organization. While it is normal to have questions and be skeptical of change, being too resistant to change only makes you a difficult employee.
Be a change leader in your organization. Managers and higher level executives will notice your willingness to be adaptable and your efforts to help manage the change.
8) Perfect Your Communication Skills

Communication skills are vital to grow in your career. As you should focus on what work is visible to others, you should also focus on how you communicate and talk with others.
You may have great ideas, but if you aren't able to communicate that to others, your manager might not be as inclined to give you a raise.
9) Ask for Feedback

Asking for feedback not only brings to light potential areas of improvement, but it shows that you care about your job and want to improve. When you look at the idea of feedback objectively, who wouldn't want to know how they could improve their job and potentially obtain a raise for doing so?
Many times, we don't ask for feedback because we are afraid of the answer, or we deem the accomplishment too small to relay any valuable feedback. Asking for feedback, no matter how small, is vital to grow in your job.
10) Get Involved in Professional Organizations

Lastly, see what professional organizations are available in your area that will bolster your career. Professional organizations not only link you with like-minded people with similar jobs, but it offers a bounty of networking potential.
Related: How to Make More Money at your 9-5
10 Common Career Barriers and How to Overcome Them
How Having a Side Hustle Benefits Your Full-Time Job
Should You Go to Grad School or Hustle?


What are you doing to increase your income at work? With a raise at work, how would that effect your finances?