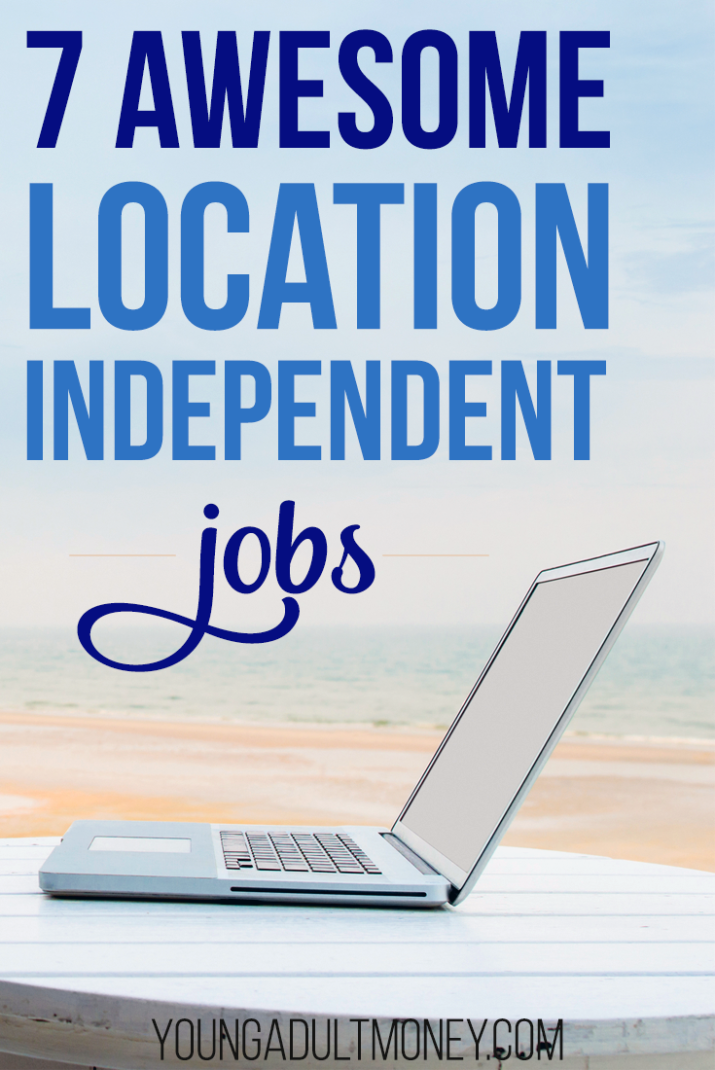 Being able to work from anywhere sounds appealing to most people.
When you have a location-independent job, you get to set your own schedule, pick and choose where you live, and do work that you want to do.
The workforce is constantly changing. New jobs pop up, new skills become in demand and the way people work changes. You no longer have to limit yourself to working a 9 to 5 full-time job in order to make a living.
Many businesses need skilled help in areas like content creation, design, photography, marketing and more. As long as you have an in-demand skill, a willingness to learn, and commitment, there is money to be made without the requirement of being confined to an office cubicle.
While location independent jobs aren't all about sitting on the beach, there are several ways to make a living while being location independent.
Here are some jobs that allow you to work from anywhere (anywhere with an internet connection, of course!).
1) Start a blog

Blogging is often talked about as the top way to be location independent, and for good reason. You can blog anywhere you want and whenever you want. You could do it in the mornings, at night or on certain days of the week. Since it's your blog, you get to decide how you want to make money from it.
Common ways to make money blogging include doing sponsored content, affiliate marketing, freelance writing, or selling your own products. Many people utilize a blog as a side hustle in order to pay off debt, invest, or save money for another goal they have. Some bloggers have even been able to scale their blogs into a full-time income.
I've been blogging for over a year and a half. Originally started as a creative outlet, I've been able to utilize it to get freelance writing and digital marketing work. Doing so has allowed me to live abroad and travel to Southeast Asia and Australia.
If you're interested in starting a blog, check out DC's guide on how to start a blog.
Related: 12 Income Streams You Can Create By Starting a Blog
The One Reason Why Blogging is the Ultimate Side Hustle
30+ Ways to Improve Your Blog
10 Common Mistakes New Bloggers Make and How to Avoid Them
2) Freelance Writing

If you have a love for writing and explaining things, freelance writing may be for you. Many people aren't sure what exactly freelance writing is and if there is even money to be made in it.
Freelance writing involves crafting content for companies, brands, and publications. This could include writing blog posts, email newsletters, website copy, social media content, and more. And the good news is that there is more and more demand for content these days. Nowadays every business needs a content strategy, which means a huge amount of written content is needed each and every day.
With freelance writing, you're able to choose the clients you want to work with and decide how much work you want to take on.
Starting a blog is a necessity when it comes to freelance writing. Prospective clients want to see samples of your writing and if you're capable of regularly publishing quality content.
3) Virtual Assistant

Virtual Assistants, commonly referred to as simply as 'VAs', help online businesses with a variety of tasks. The most common areas include email inbox management, social media management, and project management.
This job suits people who are detail-oriented and love organization. Working as a virtual assistant may require you to work during the times your client is working, but you can do the job from anywhere there is an internet connection.
As a VA, your main task is to manage your client's workload and help them avoid getting overloaded. This could include scheduling meetings for them, doing research, reaching out to prospects, editing, and managing their various projects.
4) Digital marketing

A digital marketer is someone who markets a company, product, or service through online channels. There are different areas of digital marketing including SEO (search engine optimization), social media, content marketing, email marketing, web design, and data analyzation.
As a digital marketer, your job is to help businesses and brands get their message out to their desired audience. This can be done in different ways. You could specialize in SEO, developing marketing material, or by write blog posts to help with content marketing efforts.
While there are still many digital marketing jobs that require you to physically come into an office each day of the week, businesses are becoming more open to the idea of having virtual employees. This is at least partially due to the high demand for qualified and experienced digital marketers.
5) Web Design

If you possess a strong knowledge of HTML, CSS, and other programming languages, you can find work designing websites. Most businesses need websites and many business owners want a stellar website to showcase their business, but they don't have the know-how in order to make it happen.
Web designers are skilled at being able to understand what a client is asking for and making a website that reflects their clients business. To design websites, you need a knowledge of coding and a portfolio of work. You can learn how to code with resources like Codecademy and Treehouse.
Web design is a broad term that has a variety of specialties falling under it including designers who create the website mockup, as well as front-end and back-end developers who handle all the code that goes into making a website function the way it should. Some web designers do all of these, but most eventually specialize in one specific area.
6) Graphic Design

Graphic design can range from doing something small like logo work to developing a full blown brand identity and collateral for a business. There is a strong demand for logo creation, business card design, and image creation.
You could do design work for businesses, weddings, events, and more. Use a resource like the Adobe Creative Suite to design things in Illustrator, InDesign, or Photoshop. You could also use free resources like Canva and Gimp.
7) Online Tutor or Coach

Have a knack for teaching and helping others? Tutoring may be a suitable job. It allows you to use your expertise and teach others. There are dozens of websites where people can get paid to tutor on a wide variety of subjects including language learning, music, math, and test prep. There are also tutors on subjects that cater more towards adults like Microsoft Excel, public speaking/executive presence, and more.
Being physically present is no longer a requirement to tutoring nowadays. You can choose to do tutoring in-person or use tools like Skype to tutor remotely.
Check out sites like Tutor.com or Chegg to get started.

—————————-
When it comes to working a job that gives you location independence, there are a lot of options. Some people are able to work out arrangements with their 9-5's that allow them to work from home. For others, creating a job from their existing skill set can be a great way to build a location independent occupation that allows them the flexibility to choose where they go.
The above jobs are suggestions you can use as a starting point to brainstorming what kind of work you would want to do. It's important to take the time to assess your wants and desires, skillset, and type of work you enjoy doing.
Read up on some resources to learn more about different flexible jobs. David's book, Hustle Away Debt, gives you information on different side hustles you can start Location independent jobs could be used as side hustles, your full-time gig, or as a bridge to help you reach something else. The possibilities are endless.
Related: The Ultimate Guide to Landing a Work From Home Job
50+ Legitimate Ways to Make Extra Money At Home


What do you think are some jobs that provide location independence? Have you done any of the ones listed?