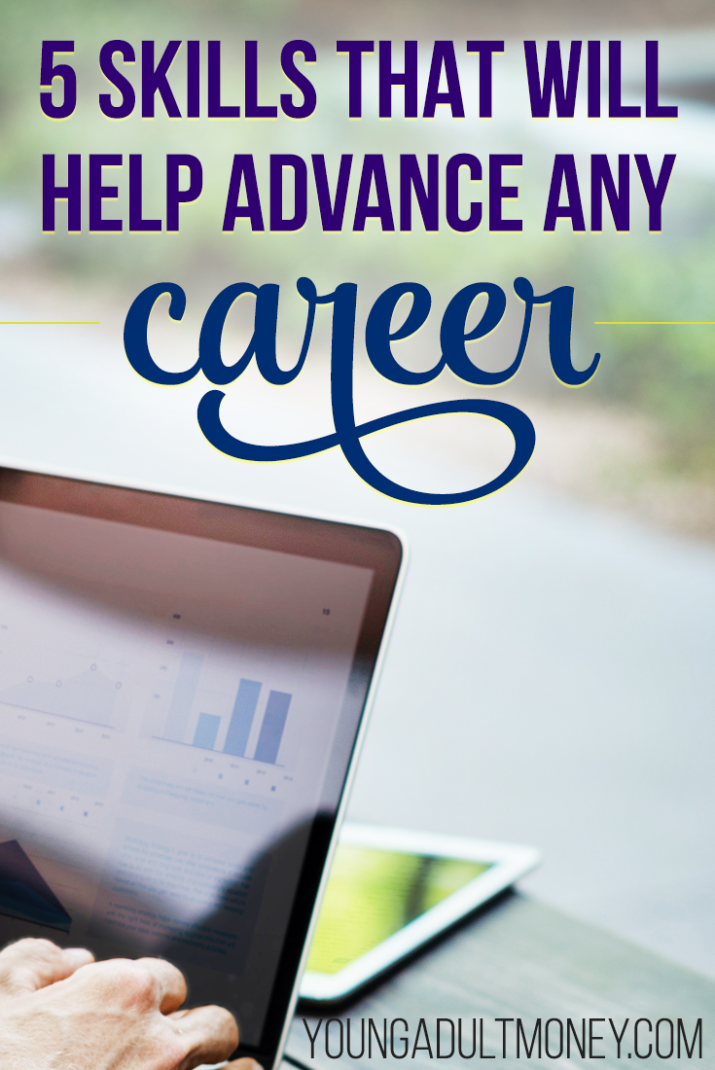 Everyone wants to be successful in life. In one way or another, we all desire to achieve our full potential.
Work takes up a good portion of life, so naturally, many people want to maximize their career in order to move up and reach their goals.
Skills development is one of the biggest factors when it comes to advancing your career. Spending time to consistently learn, refine, and improve your skillset can set you up for advancing your career, no matter what industry you're in.
Companies are always on the lookout for people who have in-demand skills. People with a learning mindset, who continuously develop their skillset have an edge. Whether you're an entrepreneur, young or seasoned professional, or a freelancer, there are universal skills that can help advance any career capacity you may be in.
1) Communication

Communication can be an ambiguous term that seems simple at first but entails many different things. You could be skilled at writing and creating content but not so good at presenting in front of others. Maybe you're an extrovert who's good at talking with others but needs improvement in writing and corresponding.
Being skilled at communicating involves being good at speaking, writing, and listening. This includes being good at public speaking, knowing how to explain things, being cohesive in your writing, and understanding how to listen and respond to others.
People who know how to speak, write, and listen effectively are able to advance in their careers more seamlessly and have a better experience working with others.
Many of the most well-known successful people got to where they are by having solid communication skills. Be a good communicator and your reach expands.
2) Microsoft Excel

Excel is one of those things many people put on their resume, along with Microsoft's other programs like Word and Powerpoint. Although, how good at it are you really? Finance professionals aren't the only ones who use it. Excel is powerful program used in a variety of industries.
With its many features, Excel is used to compile and present stuff in an easy to understand way. Excel helps you do your work better.
Learning it doesn't have to be intimidating. There are several low-cost and free resources you can utilize to better understand Excel. Consider enrolling in an online course to learn more about it.
3) Selling

Selling doesn't just involve a used car salesman. In reality, all businesses sell in some way or form. Having the ability to sell others on products, ideas, and ways of doing things can really set you apart and help you advance in your career.
Any job usually requires the task of being able to sell, persuade, and move others. If you are able to effectively convince others, you have an advantage in your career.
There are many ways to become skilled at selling. Start by figuring out how to position and promote your yourself: start a blog, build an online portfolio of your work. Read books on persuasion and moving others.
4) Organization Skills

People like people who are able to stay on top of their workload, manage important tasks, and understand what the priorities are. Proper organization makes managing multiple tasks, projects, and deadlines more manageable.
Organization is different for everyone. It doesn't have to involve following a to-do list, being rigid, and doing everything in a singular way. Figure out how to develop an organizational style that fits you and allows you to be better at managing things.
Once you find your organizational style, being able to manage your workflow and tasks becomes a lot easier. Everyone likes someone who can consistently deliver and follow through. Find out how to get better at organizing to improve yourself in the job you have or want.
Check out books on habits and productivity. Try out different productivity tools that help with time management and organizing.
5) Entrepreneurial Mindset

Whether you're an actual entrepreneur or someone with a 9 to 5, having an entrepreneurial mindset can benefit you in your career. As the world of employment changes, being able to think on your feet, be resourceful, and a leader can be valuable.
It's no longer the expectation to start your career at one company, stay for several decades and retire. Career changes, layoffs, and the rising increase in freelancing have made thinking like an entrepreneur a highly valuable skill.
Entrepreneurs think creatively when challenges happen. They're leaders in developing their own path and being able to come up with solutions to problems. Working a 9 to 5, an entrepreneurial mindset allows you go beyond the stated job duties to really make the most of your career.
_______________________________
The act of continually developing your skillset will you help advance in your career, no matter what it is. When you invest in yourself and improving your skills, the more likely you are to succeed. Making extra money, becoming better at your job, or getting a new job are all possible when you spend the time to improve yourself.
Related: 5 Ways Millennials Can Build Their Personal Brand
How Having a Side Hustle Benefits Your Full-Time Job
10 Things to Do if You Feel Stuck At Work
10 Common Career Barriers and How to Overcome Them


What skills have you learned to advance your career? Any advice on universal skills to learn, no matter what your career is?