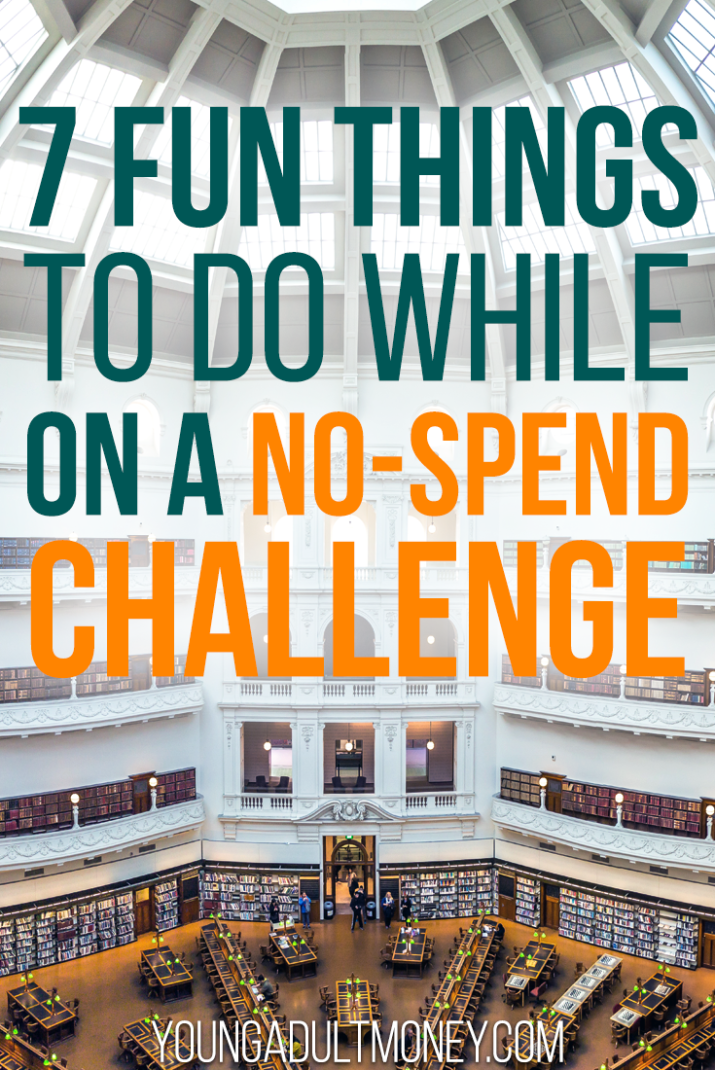 We all get off track at one point or another when it comes to managing our money.
Little by little, purchases creep up and next thing you know, your rubbing pennies together until the next payday.
No-spend challenges are a great way at uncovering your excess purchases and spending triggers.
Everyone has something positive they can gain from going on a no-spend challenge. Even the most frugal of people have guilty spending pleasures and money slip-ups.
When I first heard about no-spend challenges, I didn't want to take part in one. They seemed like some deprivation scheme that would involve me eating ramen noodles every day and being a hermit with no social life.
My epiphany moment occurred when I started noticing how much my small mindless purchases added up to every month. For me, it was common to get a latte three times a week and waste money by having to throw away food I didn't use.
When I committed to my first no-spend challenge, I dared myself to seek out fun free things to do. People around me said I was crazy and there was no way to have a successful no-spend week or month. In their minds, it cost a lot of money to have to have fun and live a good life.
There was the cost of going to the movies, spending money on clothes at the mall, eating out, and so forth. While those things can be expensive, they aren't the only ways to have fun. Having fun and doing a no-spend challenge doesn't have to be mutually exclusive.
Here are seven fun things to do while on a no-spend challenge.
1) Learn a new language

Learning a new language opens you up to more doors of opportunity. You'll be able to converse with more people and expand your communication.
You don't need any expensive learning software like Rosetta Stone in order to spruce up your language learning chops. Free apps like Duolingo and Memrise make language learning accessible to almost anyone with an internet connection.
For the past several months, I've been using Duolingo to learn re-learn the Spanish I had long forgotten from my high school classes. While my speaking is still shaky at best, my self confidence from learning a new language has improved immensely.
With a new language in hand, your creativity and self confidence can increase. Instead of spending money on a movie or new pair of clothes, download the free Duolingo app and start learning a new language.
Related: 15 Skills That Will Help You Make More Money
5 Hobbies that Will Improve Your Mind, Body, and Skill Set – Part 1
5 Hobbies that Will Improve Your Mind, Body, and Skill Set (Part 2)

2) Clean Your House & Find Items to Sell

When was the last time you did a full rundown of all the things you own? During your no-spend challenge, go through your house or apartment and pull out all the old boxes and things you have. Take stock of what you have, assess, and decide what to get rid of.
It can be helpful to put stuff into different piles: keep, maybe, and toss. Usually there is a set amount of things people know they want to keep and things they definitely don't mind tossing.
Anything you're not sure you want to get rid of, put in the 'maybe' pile. Once the week or month of your no-spend challenge is over, go back and re-assess whether you want to keep or toss the things.
Once you have a pile of things to toss, utilize online marketplaces to make some money off of them. Sites like Craigslist, LetGo, and Wallapop are great places to make money on stuff you're getting rid of.
Related: 15 Household Items You Could Sell Today for Extra Money
3) Free Events In Your City

Cities, both big and small, have several free events going on every month. For bigger cities, there is usually a website listing the different free events happening throughout the month.
If you live in a smaller city or town, check your local newspaper or town bulletin board. All sorts of free events happen like art exhibits, readings, movie screenings, and even concerts.
4) Visit the library

Just like the children's TV show Arthur says, "having fun isn't hard when you have a library card". Take some time during your no-spend challenge to explore your local library.
Find some new books on topics you've been wanting to learn more about. Maybe there is a cookbook you can read to learn how to make some new recipes or a self-improvement book you can check out.
Aside from the obvious benefit of having an abundance of books, libraries can offer you a good place to unwind. The quiet atmosphere is peaceful and stimulating for productivity.
5) Volunteer

If you're itching to give a helping hand, there is never a shortage of places looking for volunteers. Check your local animal shelter, food pantry, library, or schools to find out about any volunteer opportunities.
My brother who works as a teacher during the day, started volunteering with his local animal shelter a few months back. He helps out by picking up the dogs scheduled for adoption and delivering them to their new owners.
People who volunteer usually report feeling happier and more connected with others. The best part? It's free to do and only requires your time!
6) Meal plan

I think we can all agree meal planning is one of those tedious things we all put off but should definitely get better at. However, meal planning can be a fun thing to during a no-spend challenge because you get to take stock of what you have and find creative ways to use what you have at the moment.
A recipe search engine like Supercook lets you input the ingredients you currently have at home and gives you back a list of recipes to try out. You'll be able to test out new recipes while helping cut down on food waste at the same time.
Related: How to Save Money on Food: 10 Things You Can Do
7) Negotiate your bills

People usually don't equate the word 'fun' when thinking of their recurring bills. However, saving money definitely sounds like fun to me. Try calling one or more of your bill providers and see if you can get a better rate than the one you're currently paying.
Look for a lower cost cell phone plan. See if you can get a better rate on your auto insurance by switching. You can use the potential savings to help you pay down your debt or beef up your savings account.
__________________________________________
Everyone can gain something from a no-spend challenge. They help you get clear on valuing your money and see what is most important to you. Doing one doesn't have to mean skimping on fun things. With a little creativity and pushing yourself out of your comfort zone, there are plenty of fun, free things to do during a no-spend challenge.


Have you ever done a no-spend challenge? What fun, free things did you do?