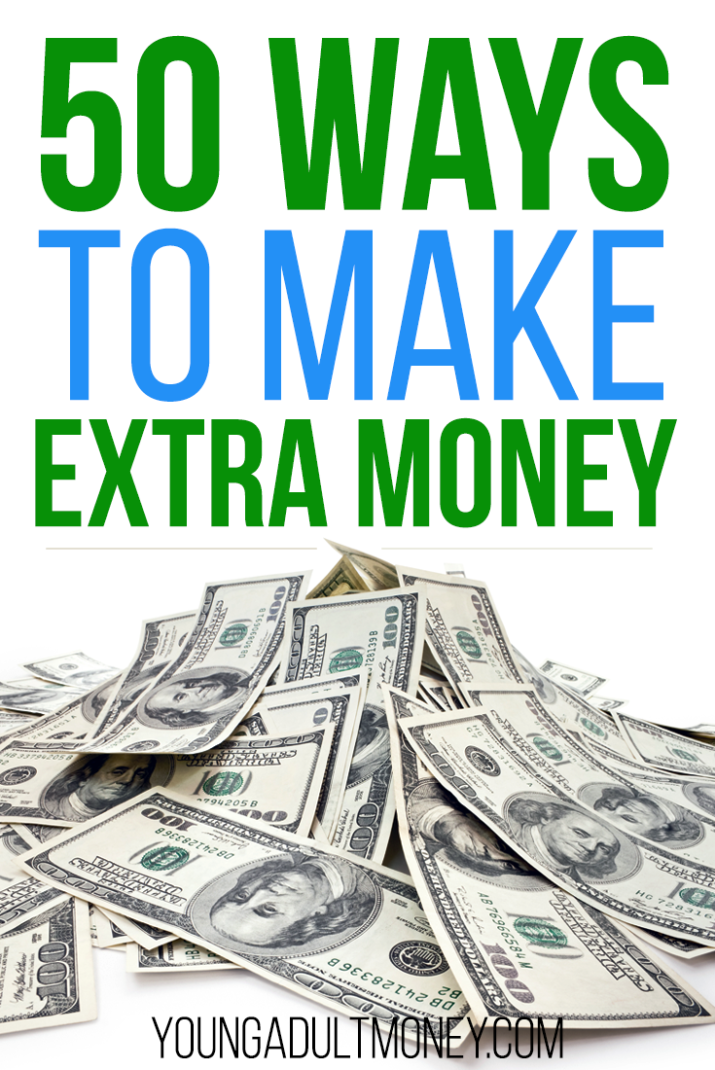 If you're looking to start making extra money on the side, you've come to the right place.
Young Adult Money is all about the power of the side hustle when it comes to getting your financial life in order.
Whether you are trying to pay off debt, save for a house, or create more room in your budget to do the things you love, making more money is one of the top ways to achieve those goals.
Here are 50 ways to make extra money on the side through a side hustle.
1) Rent Out a Room

Do you have a spare room in your house or apartment? Plans to be out of town? Why not rent out your room or house on AirBNB for some extra cash?
AirBNB continues to rise in popularity among travelers, and it works well for the renter too. For a little bit of administrative work and cleaning, you can essentially have travelers contribute (or even cover) your rent or mortgage.
2) Sell Household Items

Do you have items around your house that are no longer being used or enjoyed? Then it is time to declutter and sell.
Instead of donating all of these items, try selling them first. You would be amazed at what people might buy. I've sold a beat-up couch, lamps, wedding decor, and even a broken chair for money. Best of all, you can minimize your household.
Related: 15 Household Items You Could Sell Today for Extra Money
3) Work Overtime

While not everyone has the opportunity to get paid for overtime work, if you are able to, try to take advantage. Ask for additional projects outside of your typical work scope, and soak up the extra pay. Of course, it's important to get your supervisor's approval.
4) Sell Craft Items

Are you skilled in crafting, whether it's sewing, painting, or creating? Try selling your products on an online marketplace like Etsy. Consumers love Etsy to be able to find homemade, unique items for their home. Best of all, using Etsy gives you a platform to find customers and sell your product.
5) Start a Blog

Blogs are a great way to earn extra money while writing about what you are passionate about. Best of all, you can blog from the comfort of your own home.
With blogging, you can make money by advertising, affiliate marketing, sponsorships, and selling products. While some people start blogs just for fun, many are surprised to find how many opportunities there are to make money from blogging. Some people even earn more than a full-time income from blogging.
If you are interested in starting a blog, you can follow Young Adult Money's guide on how to start a blog that makes money.
Related: 10 Common Mistakes New Bloggers Make and How to Avoid Them
12 Income Streams You Can Create By Starting a Blog
6) Freelance Writing

If you are passionate about writing, freelance writing could be a perfect option for you. Bloggers, companies, and charities are all frequently looking for freelance writers.
The pay for freelance writing varies, but the best part of freelance writing is you are in charge of what your rates are. I know freelance writers who make anywhere from $20 to $1,000 a post.
Related: 8 Ways to Get Hired For More Freelance Gigs
5 Tips for New and Wannabe Freelancers
7) Sell Clothing

Is it time for a closet clean out? Your clothes might be worth more than you think, especially if you are into vintage or designer clothes.
Try bringing in clothes to a consignment shop and negotiate a selling price. Or, you can sell items on ThreadUp, an online consignment store.
8) Flip Items on Craigslist

For anyone with an eye for hidden gems and skills to make the old new, you can have fun earning extra money by Craigslist or flea market flipping. With Craigslist flipping, you purchase old objects and fix and revamp them. You then relist the refinished product to sell for more money than you originally purchased it for.
Related: How to Stay Safe When Buying and Selling on Craigslist
How to get free stuff on Craigslist
9) Mystery Shop

Many companies hire mystery shoppers to go into their business and act like a customer. As a mystery shopper, employees of the company don't know you are secretly evaluating them. After you visit the business, you report back to the company officials to let them know what you encountered.
If you are interested in starting mystery shopping, this eBook will tell you everything you need to know. The best part about mystery shopping is that you can get many freebies, including comped dinners and hotel stays.
10) Take Online Surveys

Taking online surveys is a great way to make extra money while watching television. Surveys won't make you rich, but they allow you to earn a little money during your downtime.
There are many survey sites that will pay you for your opinion but here's some that we recommend checking out:
11) Drive with Uber

To drive for Uber, you just need a clean record, a valid license, and a reliable, clean car. With Uber, you can sign on whenever is convenient for you. Certain times of the day, like rush hour or weekend nights, you can earn a premium since the demand is higher.
12) Start a Photography Business

Do you have an eye for photography? Whether you are an expert or a beginner, you can start charging for your services now.
Obviously, the more expertise you have, the higher rates you can charge. But don't undercharge yourself, even if you are a beginner. You can charge a lower rate, build your portfolio and your knowledge, and then continue to raise your rates.
13) Tutor

If you have expert-level knowledge on a certain subject, tutoring can provide a substantial side income. In my area, tutors can charge $50-100 an hour. If you can tutor just 5 hours a week at that rate, you could earn anywhere from $1,000-2,000 a month.
14) Baby-Sit or Nanny

Gone are the days of making $3 an hour babysitting. Now, baby sitters or nannies can easily earn $10 an hour, and it goes upwards from there. Babysitting can be a great side gig, especially if you don't mind giving up a few hours on Friday or Saturday nights.
15) Find Seasonal Work

Many jobs, such as retail, working as a lifeguard, and shoveling are all seasonal opportunities to make money. If you have more availability to work during seasonal times of the year, you can find easy opportunities to make money.
16) Transcribe

Transcribing requires some knowledge about medical terminology, but if you have the knowledge, it is a great job that can typically be done from home.
17) Walk Dogs

If you love animals, dog walking can be the perfect side hustle for you. With dog walking, you have the option to find one or two consistent clients, or taking on more clients to fill your schedule. At the very least, it is an easy way to keep yourself in shape and spend some time with animals.
18) House Sit

Perhaps the easiest side hustle of them all, house sitting is a way to earn a few extra dollars with minimal effort. A typical house sitter is reliable, and checks up on a house periodically while the owners are out. They may get the mail, feed the cat, or water plants.
19) Create a Course

Courses are a great way to earn extra money. You can make them self guided, if you don't want to spend time teaching one-on-one. Courses can be about anything, and can be as simple or as detailed as you want.
20) Become an Online Bookkeeper

Many small businesses are turning to virtual bookkeepers to take care of their accounting needs. If you are interested in becoming an online bookkeeper, know that while you do need some basic accounting knowledge, you don't have to be a certified accountant to do well.
21) Sell Stock Photos

If you enjoy taking still photography, you can sell your images for profit. You simply take the image, edit it, and upload it to a stock photo site, like Shutterstock. You then get paid every time someone downloads the photo. Best of all, once you do the initial work of taking the photo, the rest results in fairly passive income.
22) Help Plan Weddings

Do you love planning? Weddings are the biggest event of many people's lives, and they are always looking for extra help planning. To get started wedding planning, you can either start your business right away, or you can assist your friends and family with their wedding for a low price, and leverage that experience to gain more clients.
23) Become a Virtual Assistant

Virtual assistants are individuals who help other businesses with small tasks online, such as scheduling social media, booking travel, calling clients, creating content, and data entry. Virtual assistants are rising in popularity, and many people do well at it, all while working from home.
A beginner virtual assistant might expect to earn $12-18 an hour, while experienced virtual assistants can make upwards of $50 an hour.
24) Review Resumes

Everyone could benefit from a second set of eyes scanning their resume. If you have experience as a hiring manager or as an HR professional, you can easily earn money by helping others with their resume.
25) Run Errands and Do Other Odd Jobs

Taskrabbit is a website where you can earn money by finding and doing odd jobs for other people. Jobs might be picking up dry cleaning, handy work, or moving a piece of furniture.
26) Become an Expert In Your Field

It pays to know your stuff. Whatever field you work in – law, finance, HR, events, etc – strive to become an expert.
People who are regarded as experts in their respective field have a whole slew of opportunity. They can write books that will sell, get paid speaking gigs, and earn higher paying jobs.
27) Change Your Search Engine

Did you know you can earn money by simply changing your search engine? Sign up for Swagbucks and you can earn money by using their search engine, shopping, and taking surveys. You can also earn $5 just for signing up.
28) Sell Your Old Books on Amazon

If you have old books laying around, you can sell them on Amazon for cash. While used paperback books might not give you much of a return, any teacher's edition, special edition, or textbook are likely to sell for a higher price. Keep in mind, if you are selling textbooks, it's important to sell them quickly before they become outdated editions.
29) Coach On Social Media

Is social media your forte? You can offer coaching services to help others expand their social media outlet. Whether it is Facebook, Twitter, Instagram, or Pinterest, most companies could use some help in the social media department.
30) Create an eBook

Have you ever considered writing a book? What about writing an eBook? eBooks are a great option to make money because there is very little overhead cost. You won't have to pay for editors and publishers. You can simply create a PDF of your book and upload it to your website. Consumers can simply purchase your book and download it.
Related: How I Got a Book Deal
31) Sell Your Graphic Design Skills

Every company or organization needs some sort of graphic design help. You can start building a graphic design portfolio by making a well-designed website to showcase some of your best work.
32) Be an Event Caterer or Bartender

Catering companies hit busy seasons, and most are constantly looking for additional help. You can work as a server, caterer, or bartender on a fill-in basis for a catering company to earn extra money on your terms.
33) Join a Focus Group

Local law firms and hospitals often conduct focus groups to gain insights for their research. You can check their websites to see if they are looking for any participants for a focus group.
Law firms are usually looking for a diverse demographic and have very few qualifying factors. Hospitals might be looking for someone who is experiencing a specific symptom. Focus groups are easy work, and can pay well for an afternoon of work.
34) Donate Plasma

While you won't get rich from donating plasma, you can earn decent money for a little bit of time each month. Donating plasma isn't for everyone, but if you don't mind spending the time in a medical environment, you can easily earn a bit of extra money each month.
35) Drive for PostMates or Uber Eats

While PostMates and Uber Eats aren't in every city yet, they are expanding their market. These companies pick up food from restaurants to deliver it to individuals. For anyone who has considered driving for Uber, but was a little uneasy about allowing strangers in your car, this can be a great alternative.
36) Become a Website Consultant

So much goes into creating a website. You need to choose the theme, the layout, appealing content, colors, logos, advertisements, and code it so everything looks just how you want it to. If you have created a few quality websites and feel confident in what you are doing, you can earn money by helping others do the same.
37) Help Move Others

Have a spare weekend? Offer to help others move.
You can find moving opportunities frequently listed on Craigslist. If you don't mind a day of heavy lifting, you can earn a few hundred dollars for one day of work.
38) Become a Calligraphist

Calligraphy is growing in popularity for use in personal wedding and event invitations. To be a calligraphist, you have to have a lot of skill and patience, but it certainly can pay off. Caligraphists typically charge around $1.50 per envelope.
39) Bake and Decorate Cakes

Birthdays, weddings, and anniversaries all call for cakes. If you enjoy baking and decorating cakes, you can earn good money by taking custom orders. Hobby stores like Michaels offer cake decorating classes so you can perfect your skills.
40) Find Paid Volunteer Opportunities

If you regularly volunteer for an organization, you could consider applying for a leadership position within it, which could be paid. While no one should necessarily volunteer in hopes of being paid, if the volunteer opportunity is something you are passionate about and have time for, it doesn't hurt to consider.
41) Switch Banks

There are many factors to consider when looking for the best bank for you, but one thing to consider is what their fees are and what interest rates they offer. One of our favorite online banks is Discover. Since it is an online bank account, it offers a higher interest rate on a savings account than you will likely find from a physical bank.
42) Lawn Care

Lawn care is an easy way to make money if you don't mind the work. It can be easy to find clients in the neighborhood by simply asking around. All you need is a lawnmower, some basic garden tools, and the time to do it.
43) Become a Proofreader

If you are skilled in English, grammar, and spelling, you can make extra income by becoming a proofreader. If you are interested in becoming an online proofreader, there are a number of websites you can join to find proofreading opportunities, like Kibin.com and ProofreadingServices.com.
44) Pick Up a Part-Time Job

Some people prefer to work for others instead of working for themselves, and that is okay. There is absolutely nothing wrong with getting a regular part-time job.
You can find part-time jobs related to your field, or you can find an administrative or hospitality job for some extra income.
45) Ask for a Raise

While not every request for a raise is justified, it is possible to earn a raise if you can do your research and make a realistic case for yourself.
Utilize websites like Payscale.com, Salary.com, and free salary guides from Robert Half and Randstad to find out what a competitive salary might be for someone with your expertise and education in your area. Document everything that you have accomplished at work in the past year and present it to your employer. When you are making an honest case for yourself instead of demanding a raise, your employer will at least consider your request.
Related: How to Make More Money at your 9-5
46) Teach Fitness Classes

Do you have a passion for fitness? Instead of paying for your time at the gym, let them pay you by becoming a fitness instructor.
You probably won't earn a lot by being a fitness instructor, but if it's something you love doing, you'll likely enjoy getting paid to share your passion with others.
47) Sell Unused Gift Cards

We all have gift cards laying around that we haven't used. Maybe it isn't our favorite store or restaurant, or maybe we simply forgot.
You can sell unused gift cards on websites like Raise.com to earn money. While you might not be able to earn 100% of the gift card's original value, it's better than simply letting the gift card expire.
48) Find a Higher Paying Job

For anyone who has capped at their current job, it could be time to look for another. If your salary is capped, it typically means that you are an expert for your current job, and the company can't pay you anymore money for doing the same job. Take this as a sign to better utilize your skills at a more challenging, and subsequently higher paying job.
49) Get a Roommate

If you have extra space in your apartment or house, renting it out can be an excellent and easy way to consistently earn extra money every month. Depending on the space and location you have to offer, you could earn an extra few hundreds to thousands of dollars extra every month.
50) Translate

Are you fluent in another language? You can earn a good living by offering translation services. You can list your services on local sites and newspapers, or join an online translation service.


There's obviously a ton of things you can do to make extra money. If you are interested in starting a side hustle and want a more comprehensive walk-through of what to do before starting a side hustle, how to find the right side hustle for you, and how to make the most of your side hustle, consider giving DC's book Hustle Away Debt a read.
We've published a ton of posts about making extra money. Here's some of those posts that you may want to check out:
Related: Lazy Ways to Make Extra Money
10 Websites That Can Help You Start Side Hustles
15 Ways You Can Make Money From Your Computer Right Now
7 Ways to Make Money on Your Lunch Break
How to Make Money on Social Media
5 Side Hustles that Make at Least $500 a Month
50+ Legitimate Ways to Make Extra Money At Home
How Having a Side Hustle Benefits Your Full-Time Job


Have you done any of these things to make money? Are there other ways of making money you have considered, but aren't on this list?