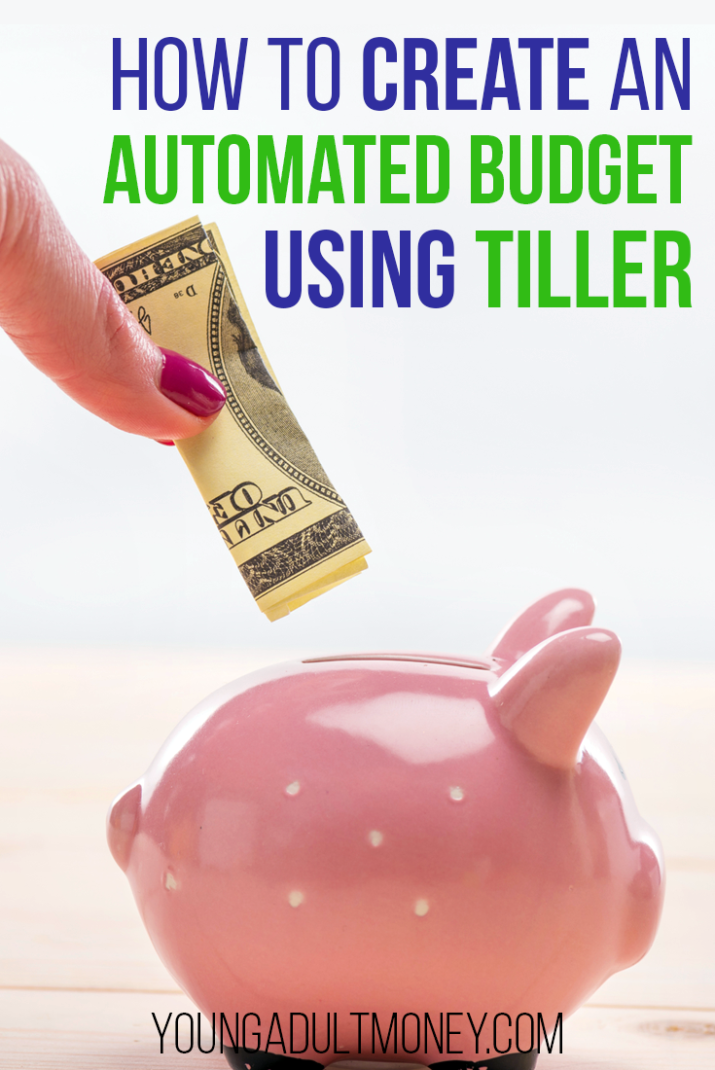 Keeping a budget is one of the best things you can do for your finances.
At minimum, tracking your expenses and knowing where your money is going is key to making the right adjustments for financial success.
Over the past six-plus years I've tracked my monthly expenses in a spreadsheet. As someone who has multiple credit cards and a couple bank accounts it can be time-consuming to get all the data in one uniform format. Formatting data was by far the most time-consuming task each month.
For years I never shared my budget spreadsheet on Young Adult Money because I really had no solution for how to make the data aspect of my spreadsheet easier. I'm in spreadsheets all day every day for my 9-5, but for someone who is unfamiliar with them it would take even longer to get their data in a usable format.
I clearly wasn't the only one with this problem because recently someone took it upon themselves to create a tool that pulls data from all your accounts and dumps it into a spreadsheet in a nice, uniform format. Tiller was born.
Tiller has become the finance app that I can't say enough about. I'm a big fan of automated processes, but some of the other apps out there do not offer users enough control over their data and how they view it. Tiller has a bunch of statistics on why spreadsheet-based budgeting drives better personal finances, and I can't help but agree.
Let's start by looking at what makes Tiller different than the other 10,000+ Budgeting Apps out there.
Tiller: Different than the other 10,000 Budgeting Apps out There

There's a lot of budgeting apps out there. Just last month I found out on my employer's website that Fidelity has a new budgeting app. And you may have heard of Mint, You Need a Budget, etc. The list goes on and on and it seems like startups and established companies alike are racing to throw an app out there and gain users.
But a lot of these apps are more of the same. Virtually all the apps on the market today allow you to link your credit cards and bank accounts to their app or website. Some even link into loans that you owe and automatically keep track of how much is left.
While these are all great features, there are so many apps that do the same things. And all too often I see people stop using the app.
Tiller is different because it fulfills a specific niche: consolidating data from multiple accounts into uniform data that can be used for a spreadsheet-based budget.
And as I mentioned earlier, this is huge for anyone who uses a spreadsheet-based budget. As someone who has used a spreadsheet budget for years, this tool was long overdue.
I also agree with Tiller that a spreadsheet is the ideal way to budget. Per Tiller's website, 8 out of 10 people who switch from a personal finance app to a spreadsheet say they feel more in control, keep better track of their spending, and enjoy more flexible reporting.
How Tiller Works

When you sign up for Tiller you choose your budget template and connect whatever accounts you want to feed into your budget spreadsheet. Tiller does an initial dump of past data, and then going forward pulls in data on a daily basis.
Everything ends up in a uniform format. Any spreadsheet or data nerd out there will tell you this is key for virtually any data analysis, personal finance or otherwise. You are 90% of the way there when you have the data in a usable format.
Below is a partial screenshot of a section of data: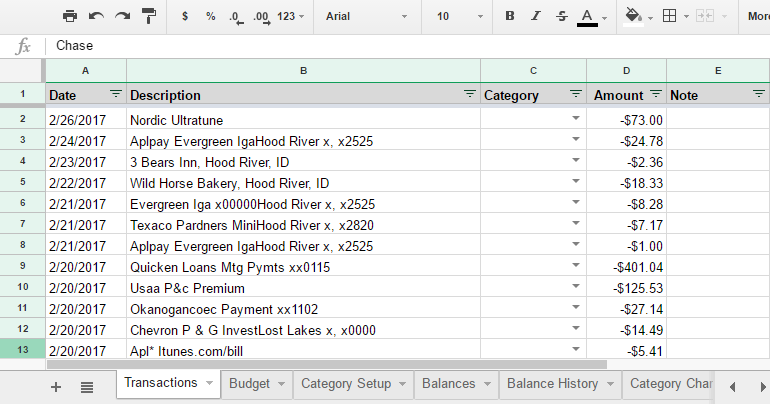 There is one manual aspect to Tiller: you need to assign each transaction to a category. The reason they have you do this instead of having a category automatically assigned by an algorithm is because it forces you to spend a few minutes looking at your data. One of the biggest problems with apps like Mint is that people don't have a reason to log in. By having you assign the category of your spend, you have a reason to at least eyeball your transactions.
This also allows users to choose different categories that are relevant to them. For example maybe you want to assign specific travel expenses to "Travel – Europe" or "Travel – Florida" that likely aren't relevant to a majority of users.
As someone who has done the manual process of consolidating data and making it uniform for my budget spreadsheet, I can assure you that assigning categories is not the time intensive portion of spreadsheet budgeting. Meaning, I think it's still fair to call the process an "automated" budget process.
How To Get Started with Tiller

Does Tiller sound intriguing to you? Are you ready to join me and my fellow spreadsheet budgeters? Or automate your current budget spreadsheet?
Tiller does cost money. They offer a free 30 day trial, but after that it's $5/month. If you're like me and spend an hour or more getting your data into a uniform format or have avoided budgeting because you don't want to take the time to mess with your data, $5/month is well worth what you are getting in return for Tiller's automation service.
Tiller has bank-grade security and has partnered with a company that works with some of the biggest banks in North America to ensure it's up to the same high standards banks are held to. What was even more reassuring to me was hearing that their employees can't even see your financial data. You can read more about their security and other features of their service on their website.
BONUS: Use Tiller in Excel instead of Google Sheets!

While I've done a lot of work in Google Sheets, and continue to utilizing them for many things including management of Young Adult Money, I like the flexibility that Excel offers. I also think a lot of people are more comfortable working in Excel than in Google Sheets.
With that in mind, I put together an Excel spreadsheet that works in tandem with Tiller. It has budget templates for each month, as well as an annual view of your spend (my absolute favorite view and where I spend 90% of my time in the file).
If you want to test out the spreadsheet you can get it below or read more about it in this post.
Join our Online Community to Receive your FREE Automated Budget Spreadsheet in Excel


What budgeting apps have you tried? Have you tried Tiller before? What's the most frustrating part of budgeting or tracking your expenses?