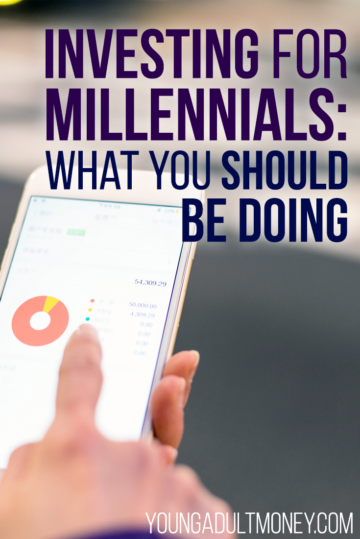 Millennials have plenty of things to worry about.
From paying down record-setting student loan debt to trying to progress their careers, the last thing millennials want is another personal finance responsibility to worry about.
Nearly 80 percent of millennials are not investing, which isn't surprising given the number of financial challenges millennials face.
40 percent said they felt they didn't have enough money to invest, while 34 percent said they don't know how to. 13 percent said student loan debt was the reason.
I'm sympathetic to the feeling of "not having enough money to invest." After all, my wife and I graduated with a combined $100k of undergrad student loan debt. With that being said, I've also seen the impact investing can have on personal finances, even if done in relatively small increments.
I'll spare you the speech on the benefits of compound interest (you can read a fun example here: How $5,000 Can Turn Into $1,000,000 For Retirement). I think it's safe to say that most millennials know the benefits of investing. But if you're someone who has financial challenges or don't understand how to get started, I'll tell you what you should be doing when it comes to investing as a millennial.
Let's start by grounding ourselves with this: investing is simple.
Don't Over-complicate Something that is Simple

When I was in college I took a finance class that was focused entirely on derivatives. The official finance definition of derivatives is "an arrangement or instrument (such as a future, option, or warrant) whose value derives from and is dependent on the value of an underlying asset."
Derivatives allow businesses to hedge against risk, such as volatility in the economy or the price of raw materials increasing. They can be complicated, to say the least.
Investing – especially investing for retirement – does not have to be complicated. Investing is simple.
If you took 15 minutes to log into your account and change your settings so that 5% of each paycheck went into a target date fund in your retirement account, you would have helped yourself tremendously.
You don't need to pick specific stocks, or buy and sell depending on how the market is moving, to invest. In fact there is a lot of research out that shows you are better off not actively trading.
Log into account. Set up automatic contributions. Select target date fund or index fund.
Done.
Easy enough, right?
Of course this doesn't help you if you feel like you don't have enough money to invest. If that's the case, it's essential to evaluate how investing fits into your finances.
Evaluate How Investing Fits into Your Finances

The hardest part of being a personal finance blogger is writing content that is valuable to a large audience while at the same time recognizing that each individual financial situation is unique and different.
That's why it's essential for you to evaluate how investing fits into your finances. For most that means figuring out how to find money to invest within their current budget.

Understand Your Expenses
If you are living paycheck-to-paycheck and find it tough just to get by, you are obviously going to find it difficult to start investing.
Understanding what you spend money on is important. If you don't budget you need to start. You can use this Free Budget Spreadsheet I put together to get started. It's not fun but if you don't understand where your money is going you won't ever find the dollars to start investing.
Besides strategically cutting expenses to free up dollars for investing, I also recommend doing a full debt analysis. Contrary to what some will lead you to believe, not all debt is equal.
When it comes to debt, focus on interest rate. There is a huge difference between a 22% interest rate on credit card debt versus a 4% interest rate on a mortgage. Give me a 4% interest rate on a mortgage and I will pay it back as slowly as possible and invest the difference.
If your employer offers a 401k or HSA match, make sure you are taking full advantage of it. This is money that your employer factors into your overall compensation. If you don't take it you are literally missing out on free money!

Don't Forget about Income! It Should Be Evaluated Too
Sure cutting expenses is great, but what if you literally cut as much as you can? You can't just "cut out" or "cut down" your monthly student loan debt payment. Even if you refinance your debt that can only provide so much savings.
I actually love hearing from people in this situation. It's the entire reason I wrote Hustle Away Debt. Some people have done their due diligence cutting their expenses and saving money where they can, but really what they need is a boost to their income.
Having extra cash flow can be the difference between investing and not investing. Think of what an impact an extra $100, $500, or even $1,000 could have on your ability to invest. Being able to invest more is a really great reason to increase your income because it's the one use of your income that will have a huge impact down the road.
There are essentially two core ways to increase your income: at your 9-5 or outside of your 9-5 through side hustles.

Increase your 9-5 Income
Increasing your income through making more at your 9-5 is sometimes overlooked. People usually get comfortable and are afraid of the unexpected, or they just don't even know where to start.
While I have a lot of sympathy to the comfort and fear of the unknown argument, I also think it's sometimes easier to increase your 9-5 income. Typically a higher income at your 9-5 does not translate into more hours worked. Entry-level accountants work more than some Vice Presidents, but the compensation is clearly quite a bit different.
So before looking into supplementing your income through a side hustle consider looking into ways to increase your income at your 9-5. This may mean networking, spending time each day or week looking at job boards, conducting salary research, and improving your skills.

Side Hustles
Are you maxed out from an income perspective at your 9-5 or just opposed to trying to make more through your 9-5, but still want to increase your income so you can invest more? Side hustles are for you.
Side hustles are any way to make money above and beyond your 9-5 and can be as straightforward as working a delivery job or as complex as launching a startup. Regardless of what side hustle you choose, the point is to make more money and in turn using that money to reach financial goals faster (in this case investing).
If you're interested in going down this route you can read one of our many blog posts on the topic such as 50+ Ways to Make Extra Money from Home and The Ultimate Guide to Side Hustling. And of course you can always check out my book Hustle Away Debt.
I Have the Cash Flow, Now WHERE Do I Invest?

Once you have some cash flow you are ready to start investing. But where should you invest?
One of the beautiful things about investing, especially retirement investing, is the tax benefits. There are a number of tax advantaged retirement accounts you should consider, but let's keep it simple and look at three of the most common retirement accounts that you should consider utilizing.
401(k)

If you are offered a 401k at your employer you should definitely take advantage of it. Most employers match at least some % of employee contributions. You should contribute at minimum the amount that your employer matches. The IRS sets employee contribution limits for 401(k)s, and the limit for 2017 is set at $18,000.
Roth & Traditional IRAs

Roth and Traditional IRAs are the second-most popular retirement accounts. They are very similar to each other with the exception that deposits to Roth IRAs are made with after-tax dollars and deposits to Traditional IRAs are tax deductible. The most an individual can contribute to an IRA or IRAs in a given fiscal year is $5,500 for those age 49 and under.

Most people open IRA accounts on their own and don't go through an employer. It's not difficult to do and two places I recommend considering are USAA and TD Ameritrade, though you can open one at virtually any bank or credit union.
Health Savings Account (HSA)

How can I not mention HSAs? These are my favorite "retirement" accounts because they function very similar to a traditional IRA but offer you the added bonus of being able to withdraw tax-free at any time for qualified medical expenses. Considering how expensive healthcare has become this is a great way to both build a medical emergency fund and a retirement account.

When you hit a certain threshold in your HSA (i.e. $1k or $2k you can shift dollars from the savings account portion of your HSA to the investment portion. My HSA actually offers more investment options than my 401k. Read more about HSAs in our post Why an HSA is the Absolute Best Retirement Account.

Take a look at my post The Ultimate List of Tax-Advantaged Accounts if you want a comprehensive list of investment accounts that offer you tax advantages.
Remember even very small amounts can make a big difference. This is especially true for millennials who have time on their side. Just get started!


If you don't invest, what is holding you back? If you do invest, when did you start and why?