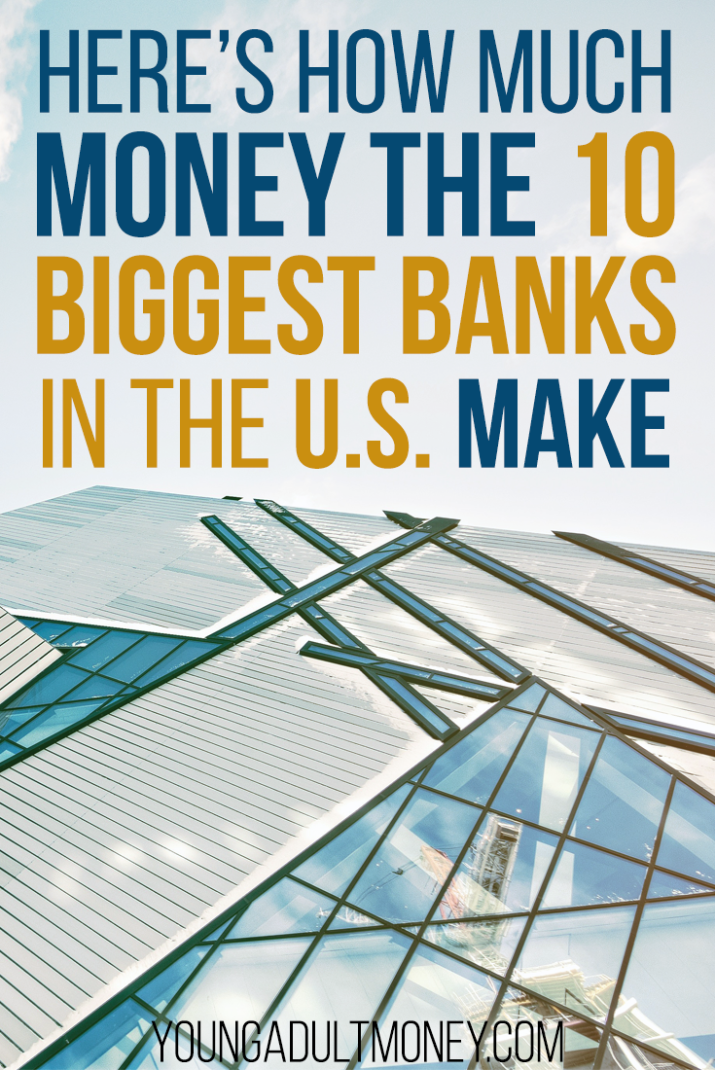 A while back I saw a graphic in an article showing what industries made up what percentage of all corporate profits. Banks and financial institutions made up a huge percentage of overall profits. To some this is a surprise, to others it's all too predictable.
A lot of people complain about how much the big banks make in the United States. But do they really know how much they make?
I thought it would be useful to list out the top 10 biggest banks in the US and show how much they profited the previous fiscal year, which is 2016 as of this writing.
Keep in mind that this is just the 10 biggest banks in the United States, and the list is only made of publicly traded companies. I used total assets as the metric for "biggest."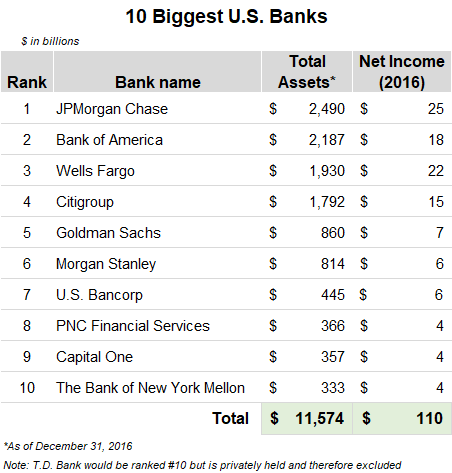 Yes, that chart shows a whopping $110 Billion in Net Income for 2016.
For some who review stocks and companies this isn't too shocking of another. After all, these are the biggest banks in the United States, so you'd expect to see some pretty large numbers.
At the same time many people would agree that banks aren't that innovative. Many have similar functions and I think most consumers would have a difficult time pointing out what makes one bank preferable to the other.
Needless to say it's an industry that is in need of innovation. Can ten big banks really sustain $100B in annual profits? Innovation that cuts into these profits is inevitable.
But what's a consumer to do in the meantime? What if you don't want to support these huge banks?
The beauty of a free market is we can oftentimes choose to participate or not. If you think a company pays their executives too much, you can sell your shares or not even buy them in the first place. Or you can choose to not purchase their products.
Consider Alternatives

Big banks are hardly the only option when it comes to banking. One alternative that continues to grow is credit unions. A credit union is a member-owned financial co-operative. These institutions are created and operated by members and profits are shared among the owners.
Read our post that compares credit unions and banks to find out more about how the two differ.
One thing to note is that credit unions don't necessarily differ from banks when it comes to employee compensation. Executive compensation can go above and beyond $1 million a year. Keep in mind that banks and other credit unions are all competing for the same pool of talent, so compensation aligns to that reality. It's why University heads can make in excess of $1 million a year as well, despite most colleges being nonprofits.
Another alternative is local and regional banks. There has been some consolidation in this space as laws have made the banking industry more favorable for bigger banks, so you may be faced with somewhat limited options. Regardless there are still some banks that exist that are smaller and more localized that can be a decent alternative to going to one of the bigger financial institutions.
Support Innovation

Innovation has been seriously lacking in the banking industry. The internet has created new opportunities, though, where startups can disrupt the banking industry with new offerings.
I'm a big fan of companies cutting out unnecessary costs and passing along the savings to consumers. For example when I see huge corporate offices where employees literally work on computers all day and meet on conference calls I can't help but think having everyone work from home would allow employees to be compensated better, cost savings to customers, or both.
Banks have huge real estate footprints, especially the big banks in the United States. While I realize there are services that need to be performed in person, such as depositing cash, I think most banks would save millions and millions if they reduced their real estate footprints and were more strategic about what real estate they actually need.
Banks perform much of the same functions and there are usually few differences between them. They usually charge monthly fees for checking and savings accounts, and most have lousy interest rates.
But what if a company could drastically reduce costs and pass those savings on to consumers? Chime is one of those new, innovative companies that is looking to disrupt the banking space. They do not have the huge real estate footprint that big banks have and are able to pass these cost savings to consumers.
They have an automatic savings program that rounds up every purchase up to the nearest dollar and deposits the difference into your savings account. Additionally they have cash back rewards (rare for a bank), no minimum account requirement, and no overdraft fees. You can find out more and get a free $5 for opening an account.
A couple of other companies that are innovating the banking space are Debitize which helps people avoid credit card debt but still benefit from credit card rewards, and Self Lender which helps people increase their credit score.
Cut Debt

The easiest way to not use big banks is to cut your debt. I've heard many debt payoff stories where banks are less than thrilled to find out that someone is paying their debt early. Banks make a lot of money by people being in debt, whether it's through mortgages, personal loans, or credit card debt.
Taking positive steps to decrease your debt is a good way to directly impact the profits that banks make. Private student loans in particular irritate me as my wife had some through Wells Fargo and they clearly were making a considerable profit off of her loans based on the relatively high interest rates.
If you want to cut the amount of debt you have and/or the interest rate you have on your debt, here's a few posts I recommend checking out:


What do you think about the profits big banks make? Are you comfortable supporting them or do you prefer alternatives like credit unions?