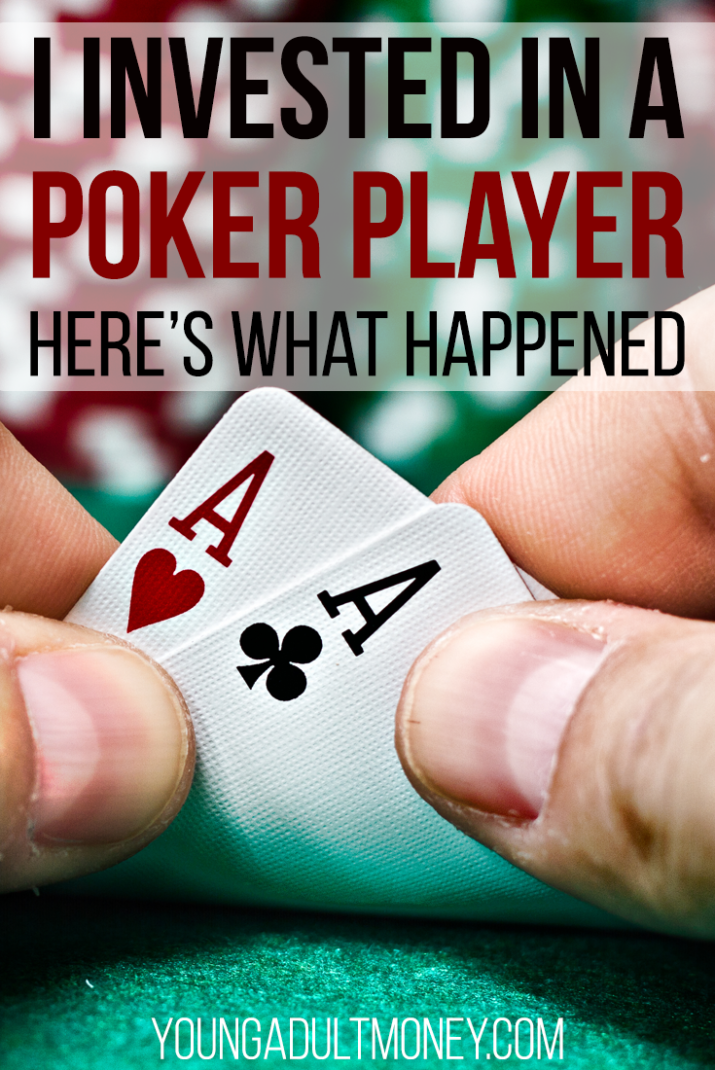 To many people this may sound crazy, but I recently invested in a poker player for the first time.
Investing or "backing" poker players has become more popular in recent times with entire websites dedicated to brokering these transactions.
But perhaps I should take a step back and explain why anyone would want to invest in a poker player. After all, isn't the fun of poker actually playing the game?
Why Someone Would Invest in a Poker Player

Poker, like most casino games, can be fun regardless if you win or lose. Also like other poker games, any given day a relatively new player can beat even the best players.
Many experienced poker players feel they have at least a slight edge over the rest of the field. Because of the high level of variance in poker, or in other words the odds of a worse hand or player winning any given hand or tournament, poker players need to be playing their top game every single hand to maintain their edge or advantage. This can be mentally draining over the course of hours and hours of play.
All of this can be bypassed by investing in a poker player instead of playing yourself. You still are exposed to the upside that comes with poker tournaments, but you don't have to deal with any of the physical and mental strain of playing optimally for hours and hours at at time.
For me investing in a player was fun because I'm not able to play poker nearly as much as I would like to. I went to Vegas for four days recently and played seven tournaments in that time, but I have trouble even playing one tournament a month or every other month at home. There's simply too much demand on my time to be sitting at a table for 8+ hours.
How I found this player

In short, Twitter. I have a ton of lists on Twitter ranging from "Health Care" to "Minnesota" and all the way down to "Minnesota Poker." My Minnesota Poker list consists of regular players in Minnesota and, more importantly, casinos and card rooms in the State. In all honesty the main benefit of this is to get in on giveaways for free tournament seats, which I've won a few times.
The player I invested in I had played with once a long while back, but even more than that she seemed to take the game very seriously. Because of how level the playing field is in poker with a huge number of players with a lot of experience, it's important to always focus on improving your game.
When I saw her tweet that she was selling 65% (i.e. she would buy in 35% with her own money and sell the remaining 65% to investors) I thought "why not?"
Vegas baby! Holler if you want some of this ? pic.twitter.com/xZZq1xzL6C

— Emily (@OhDagEmily) April 17, 2017
One thing I really liked was that she was playing a lot of events. Like I said earlier, there is a ton of variance in poker and even if you are playing your best you could easily lose ten or twenty tournaments before cashing in one.
So I bought 2% of the action, or $218.
How the transaction went through

There are entire websites that broker investors and poker players, but more and more I've seen a more casual arrangement where people tweet out that they are selling action and broker it that way. It can be shocking how quickly some people get backed through Twitter. But then again there's a lot of people who would be shocked to hear that investing in poker players is even a thing!
After DM'ing with Emily the transaction went through quickly. I use PayPal all the time for the blog, so I was able to quickly send her money for my 2% stake.
How Much I Made (or Lost)

On to the fun part – following our player's Twitter account as she posted updates from each tournament she played in. While she had mixed results early on, she went very far in one tournament and was SO close to a $100k score from a buy-in of $200. She ended 7th out of over 3,000 players in a tournament for a nice $11k cash.
Out 7th, we ran AQ<AK we turned 2 pair but he flopped his two pair. GG pic.twitter.com/0jXb48ZT4P

— Emily (@OhDagEmily) June 12, 2017
Because she was playing in a number of multi-day tournaments, she didn't end up buying in as much as originally planned (around $10k). That was actually good news for investors because it meant instead of simply breaking even with the $11k cash, everyone made a nice profit of ~93%.
My $218 turned into $420. Not bad for my first poker investment!
Would I do it again?

I would definitely back another poker player in the future, but it's easy to get on board with something that starts well. Poker has a lot of variance so I could just as easily lost my $218 I invested if one hand of one tournament had a different result.
I'm pretty open to alternative investments and I think it's important to be open about how we can make our money work for us. With that being said, investing in poker players isn't for everyone and I really wouldn't recommend it if you can't handle the thought of losing your entire investment. More likely than not that's what will happen.


Have you ever made a non-traditional investment? What was it and how did it pan out for you? Would you consider making non-traditional investments in the future?