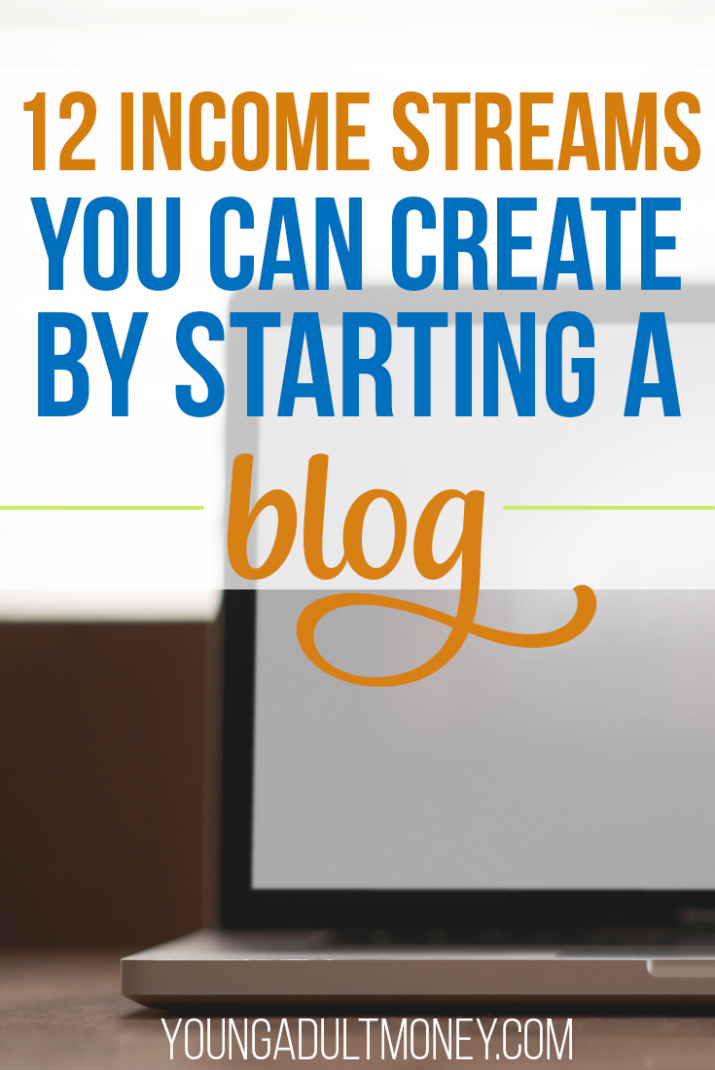 Side hustles are a topic of frequent discussion at Young Adult Money. But we just can't help ourselves. For all of us, side hustles have helped to completely change our financial situations all together, and for some, they have even become profitable enough to become full-time businesses.
Blogging is one of our favorite side hustles, for many reasons. While any profitable side hustle is great, blogging is especially beneficial because you can write about what you are passionate about while multiple streams of income. Plus, blogs are inexpensive to start and maintain.
Having multiple streams of income protects your financial situation. Like they say, you aren't "putting all your eggs in one basket," when you create multiple income streams. When you have income coming from several places, it's not a major deal if you find a dip in profit from one area. Having multiple streams of income acts like insurance for your take home pay.
There are so many ways to make money from blogging, and I've highlighted them below.
1) Sponsored Content

A popular income stream for bloggers is to sponsor content for an advertiser. Many times, this looks like a blogger writing a post about a good or service provided by a company, and getting paid in return.
Sponsored content is a somewhat new way for companies to advertise their products, and it works. The best part about writing sponsored content is that bloggers can choose which brands to work with. Reputable bloggers will only choose to pair with brands that they truly use and would recommend. The Federal Trade Commission has high standards for how to disclose sponsored content, which helps for everyone to keep integrity about what they are advertising.
2) Banner Advertising

Perhaps the most common blogging income stream is advertising. Banner advertising is when you allow advertising agencies to put small blocks of ads in your website. You get paid per click, and you get paid a small commission if someone buys a product from clicking on an advertisement.
While this isn't the most profitable income stream, it is worthwhile because it is an extremely passive way to make money. Once you get the ads in place, you don't have to do much else from there.
For new bloggers, Google Adsense is available to nearly everyone. But for bigger bloggers, there are many advertising companies that will pay a premium for their ads.
3) Freelance Writing

While freelance writing doesn't entail making money straight from your blog, it is another opportunity that you can obtain by starting a blog. Freelance writing is one of my favorite income streams.
If you are interested in earning money through freelance writing, I highly suggest starting a blog in the niche you want to write about. A blog is a living, breathing portfolio of your work. Having a blog also shows potential clients that you are comfortable with writing for an online audience, and that you understand the basics of SEO, coding, and social media optimization.
Here are some informative posts about how to start your own freelance writing business:

Editor's Note: I just wanted to quickly point out that as someone who has hired freelance writers for over four years now I don't even consider writers who don't have blogs. Having a blog shows you are serious about writing and have the discipline needed to consistently create content. If you want to freelance write then starting a blog is a necessary first step.
4) Photo Editing or Photography

Photography is an art, and for anyone who takes their own blog photos, photography has the opportunity to become an additional blog income stream as well.
Just like with freelance writing, your blog acts like a portfolio of your best work. You can find clients to sell your photographs to as stock photography, or you can edit and design photos for them.
5) Blog Consulting

Some people have solid content and ideas for a blog, but aren't sure how to execute the technicalities and marketing of it. If you have a strong understanding of how to create and launch a blog, there is work for you.
Think of all your family and friends who are fascinated with your blog or other blogs, but are turned off from starting one of their own because they feel intimidated by the knowledge required. You can teach them, and other clients, and earn money doing it.
6) Proofreading and Editing

Big bloggers are always needing additional editors and proofreaders to join their team. If you own a blog and have pristine writing and editing skills, you can earn money by becoming a proofreader.
As a proofreader, you can expect to earn $15-20 an hour starting out.
7) Affiliate Marketing

Create another income stream by implementing an affiliate marketing plan into your blog. Affiliate marketing, to summarize, is where you link a product or service in your blog, and you earn commission through clicks and purchases.
Much like advertising, you can join individual affiliate network to find opportunities that will work for your blog topic. Some popular affiliate networks include Amazon, ShareaSale, RewardStyle, and LinkShare.
Please note that to remain compliant with FTC standards, you must disclose in your blog post if you are using affiliate marketing.
8) Creating and Selling Products

With a blog, you have the perfect platform to sell online. Maybe you wrote a book, or an eBook, or have art to sell. You can sell it all straight from your blog.
If you have high levels of blog traffic each month, you already have potential customers seeing your product. Now you just have to figure out how to sell it to them.
9) Public Speaking

Many established bloggers have distinguished themselves as experts in their niche. Because of this, they are often invited to public speaking gigs, whether it be on the news, at a college, or for a conference.
Often, you can charge public speaking rates and get free trips out of the deal. The best part is that you can get paid to public speak, all while boosting awareness about your blog. It's a win-win.
10) Virtual Assisting

Running your own blog proves that you are comfortable with working virtually on many tasks. You can use those skills to assist others with their company, blog, or website.
People pay for virtual assisting services. Duties as a virtual assistant might entail photo editing, proofreading, managing social media, setting up meetings, or booking travel.
11) Creating a Course

One income stream that, though often forgotten about, can be very profitable is courses.
You can create a course about any topic imaginable. It can be a broad topic, or a very specific topic. While you need some knowledge of the course topic to be able to teach it, you do not have to be an expert first. And, with courses, you can make them self-guided, so individuals can simply buy the course and complete it at their own pace. This makes it not only a profitable side hustle, but a fairly passive source of income as well.
12) Social Media and Marketing Consulting

If social media marketing is your passion and the main driver of your blog, you can use your expertise to teach others.
Social media is a necessary part of blogging, however, it can easily become overwhelming. And if someone doesn't have an effective strategy in place, time devoted to social media won't feel like it is paying off. Plenty of people are in search of a social media consultant, and would pay for assistance.
Want to start creating online income streams from blogging? Follow this quick guide to start your blog in as little as ten minutes!


Have you started a blog? What income streams have you created that stemmed from your blog?