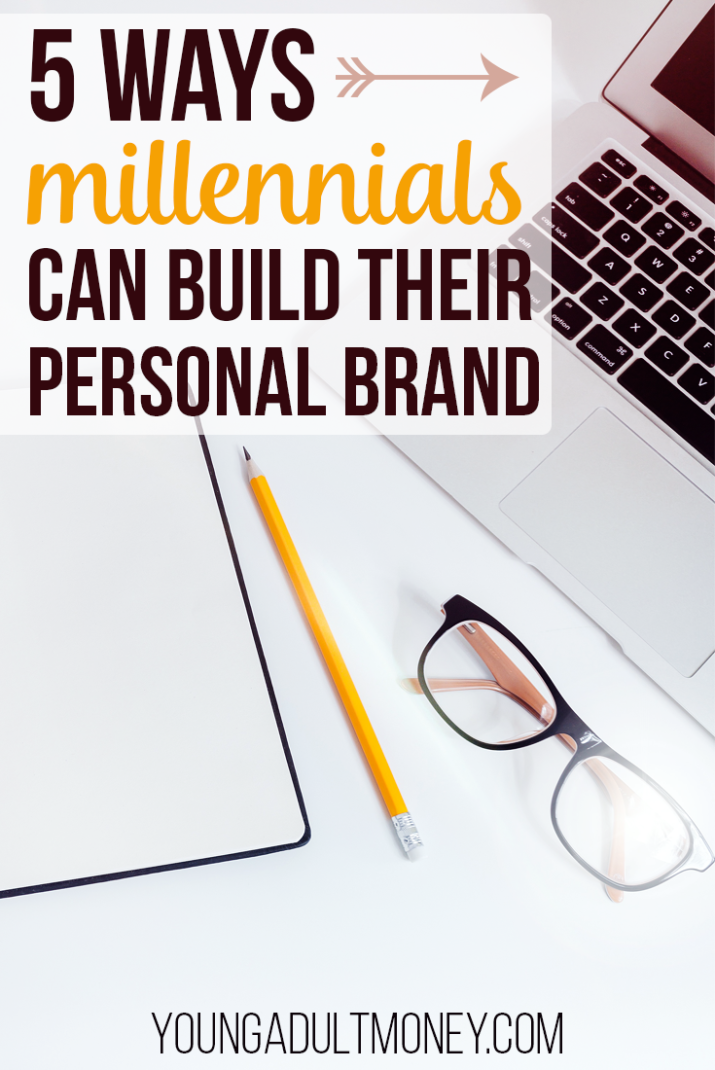 "Personal Brand" is a phrase that gets thrown around a lot, especially when it comes to millennials.
But how do you actually build a personal brand? And how do you make sure you aren't just wasting your time?
These are two really important questions for people to answer, and while each situation is different there are certain ways to go about building a personal brand that are relevant regardless of the specifics of a given situation.
Today I have some practical advice for ways millennials can build their personal brand.
Make sure you don't skip #1! It will drive everything you do to build and leverage your personal brand.
1) Know Your End Goal

For many their personal brand will align directly to their career. The most obvious example of building a personal brand is going to grad school. Getting an advanced degree in your field builds your personal brand and provides you credibility.
For others their 9-5 career will be entirely separate from the personal brand they are trying to build. I fall into this group myself as I work in corporate finance for my 9-5 but have spent the past 5+ years building my brand as an expert in millennial personal finance. I also have built up my personal brand as a digital marketer. None of this aligns to my 9-5, but it was all intentional.
While having a specific end goal is ideal, having a general goal is "good enough." In my case building my personal brand as a millennial personal finance expert opened up opportunities to publish my own book, give lunch and learns at offices, and consult on influencer marketing. I worked to build my brand in a certain direction, and the opportunities came up naturally.
At minimum you should be working towards something. Is your goal to bolster your credibility and influence in your current profession? Or to pivot into another area? Even better if you have more specific goals such as "getting paid to public speak on [insert topic]" or "become a full-time consultant to companies on [insert topic]."
2) Content, Content, Content

I may be preaching to the choir here, but there is nothing more important than content when you are trying to build your personal brand. Putting content helps you frame up your personal brand and paints a picture of your skills and expertise. The best part is you're the painter so you have full control of how you brand yourself.
The most time-consuming – but most rewarding – approach to building a personal brand is through a blog. Yes, blogging can be incredibly time-consuming and there is a lot more to it than most people think, but there is no other platform that gives you the same control over your voice and your brand.
There is more than just blogging, though, when it comes to content. Content can be videos, podcasts, LinkedIn posts, or any other medium that allows you to brand yourself and put yourself out there. It's not a coincidence that the most influential people in the world also consistently produce content on a variety of platforms.
Another perk of becoming well-versed in content creation and promotion is that it uniquely qualifies you for a field that is exploding: content marketing.
3) Social Media Presence

Social media can be frustrating, especially if you are looking to build a personal brand. For one, social media platforms change all the time. You may have just mastered Twitter but now Instagram is where everyone is responsive. Or Pinterest. Or LinkedIn.
You get the point. Popularity of social media platforms and your ability to leverage them is never static.
I was late to the Pinterest game but now find it as the most important platform for Young Adult Money and, by extension, my personal brand. Two years from now it may be a different platform.
When it comes to building your personal brand I think it makes the most sense to have a presence on most social networks while focusing your content on the most effective one. IF you're spending four hours a week planning and producing content on Twitter but don't get much of a response, it might make the most sense to spend that energy on a different social media platform.
Regardless of what works for you it's important to at least have a social media presence. Similar to a blog, you have full control over how you brand yourself on social media. Use it to your advantage!
4) Work on a Project and Build a Portfolio

By far the best thing you can do to build your personal brand is to actually produce something. Nothing provides credibility or trust like a portfolio of past work.
One simple example is freelance writing. One of the requirements I have for contributors on Young Adult Money is that they have a blog. I essentially don't even consider hiring people who don't have a blog. It's not that difficult to start a blog, but it takes work to actually write, edit, and publish posts. If someone wants to freelance write but doesn't have the discipline to create a blog and, in turn, brand themselves as a competent writer in a niche, it's tough for me to justify hiring them.
In a similar way if you want to be on TV but haven't published any videos or been featured in any videos, there likely won't be much demand to have you as an interviewee. Another example is if you want to brand yourself as a Pinterest manager but haven't actually managed a blog or business' Pinterest. You should be doing this for free at first and building your portfolio of work and, in turn, your brand.
Actually producing something, even if it's pro bono, is the best thing you can do to build and shape your personal brand. There's a reason why work experience typically trumps everything else in job interviews – it shows that you actually can do what you say you are going to do.
So do something! Even if it's free. You have to start somewhere.
5) Make the Right Connections

Making the right connections is really important when you are building your personal brands. Going back to the previous tip, you can quickly make quality connections by working on a project with someone and providing something of value.
Besides building a core group of people who can vouch for your skills and character, there are additional connections you can make that will further build your personal brand. Authority figures in your specialty or media that covers your niche are two types of connections that can be invaluable to your personal brand.
This goes both ways, too. I remember every single person who supported Hustle Away Debt when it was released. I would – and continue to – help all of those who supported me. In a similar way, be quick to help others. As Gary Vaynerchuk says, "give 51% in every relationship." His point being, give more than you receive.
How do you make the right connections? Besides identifying the top authorities in your niche you should also be focusing on solving problems for others. For example, I noticed many wanting an easy way to keep track of the credit cards they use for credit card rewards. This was a great opportunity for me to use my Excel and blogging skills to create a free spreadsheet to track credit card rewards.
Identify authorities. Solve problems. Make connections.


What have you done to build your personal brand? What is your end goal or what are you working towards?