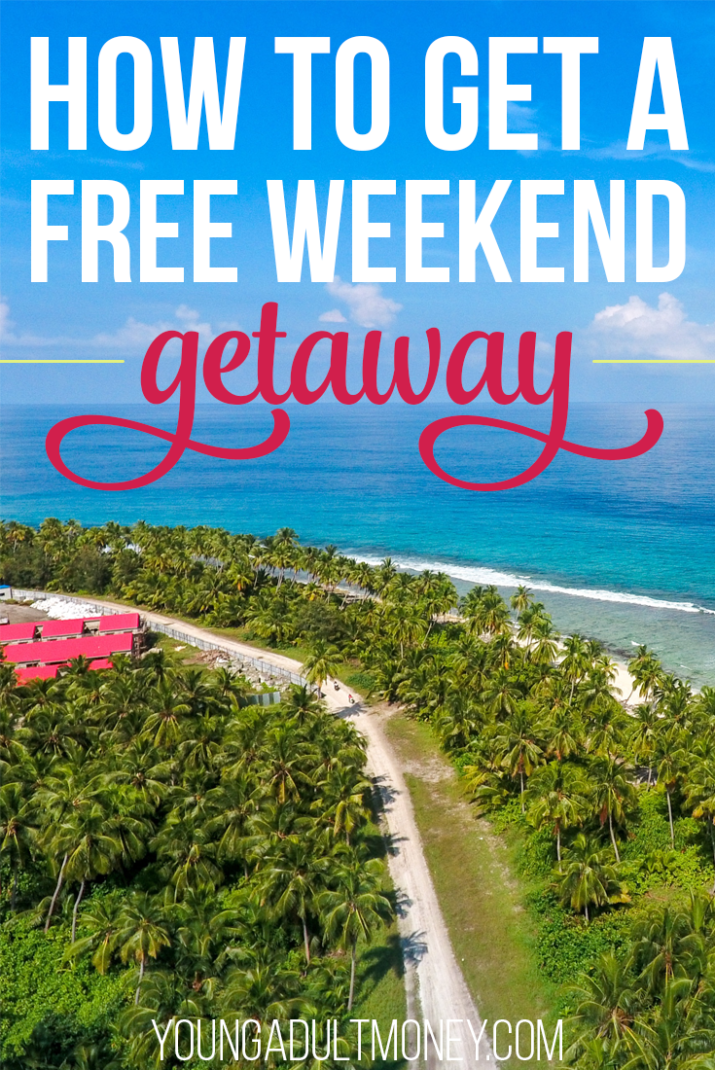 A weekend getaway can be a great way to step away from the fast pace of life.
Whether your ideal getaway includes secluding yourself in a cabin in the woods, laying in the Sun on a beach, or exploring a city you've never been to, a weekend getaway can give you a quick reprise from the daily grind.
Here in Minnesota popular weekend getaways include a trip up to Duluth, a visit to one of the thousands of lakes we have, or a quick trip to Vegas.
I've done all of these trips, but this Summer my wife and I are doing a new type of weekend getaway. We'll be going to an out-of-town concert where two of our favorite bands are playing.
After doing some research I put a plan in motion for getting a *nearly* free weekend getaway. While our flights won't be entirely free, we will get $300 off as well as a free hotel room.
My question to you is this: could you use a weekend getaway? How about a free weekend getaway?
Read on to find out how you can make it happen.
Step 1: Understand How Travel Hacking Works

If you have never looked into travel hacking you'll want to get a basic knowledge of how it works. My post The 7 Keys to Successful Travel Hacking is a great primer on travel hacking and what you can expect.
The biggest thing about travel hacking and credit card rewards that people misunderstand or are surprised by is just how much time it takes to put a plan in place. Many travel rewards credit cards will take a few months to gain the sign-up bonus, so if your goal is a free weekend getaway you need to give yourself as much lead time as possible. I will be signing up for a travel rewards credit card in a few weeks here that I don't plan on using until Winter 2017. The more time you have the better.
If you are trying to get both a free flight and a free hotel you will either need to sign up for two cards or settle for getting a discounted trip. IF you go the two card route, which is the approach I took for our weekend concert getaway, you will want to give yourself even more time to gain rewards.
There are some great travel rewards credit cards that do not discriminate on the type of travel you redeem your rewards for. For example the Barclaycard Arrival Plus™ World Elite MasterCard® sign-up bonus gives you a $525 travel credit that can be spent on any travel-related costs.
To view my picks for travel rewards credit cards check out my post The Top Travel Rewards Credit Cards for 2017.
Step 2: Find the Ideal Airline Credit Card

Most airlines have rewards credit cards. While they vary in value of sign-up bonus, virtually every airline credit card has some sort of incentive offer to entice people to sign-up. More often than not these offers are enough for at least one, if not two or more, round-trip flights in the United States. Depending on the rewards program they very well could translate to a round trip international flight.
Here's a few airline-specific credit cards you may want to check out.
My wife and I have really focused on United Airlines the past couple of years because of cards like the Chase Sapphire Preferred® that translate 1:1 to the United MileagePlus program. We recently amassed enough points for a free international trip using rewards.
Step 3: Find the Ideal Hotel Credit Card

Unless you're camping or staying with friends, you are going to need a hotel room for your weekend getaway. Thankfully there are a number of solid hotel rewards credit cards that have sign-up bonuses that will get you free stays at hotels.
Here's a couple good options.
Alternatives to hotel rewards credit cards include using a travel cash back reward card like Barclaycard Arrival Plus™ World Elite MasterCard®, booking on Airbnb (use this link for a $20 credit), or camping (always a frugal option).
Step 4: Redeem your Rewards and Book Your Trip!

Now to the fun part – redeem your rewards and book your trip! With a little planning anyone can have a free weekend getaway. Just remember that it can take at minimum a few months to get some of the sign-up bonuses that credit cards offer, so give yourself plenty of time if you plan on using this strategy for your free weekend giveaway.
A quick reminder to not use this strategy if you are in credit card debt. Instead read what to do if you are in credit card debt and how to afford travel without credit cards.


What is your ideal weekend getaway? Do you have any weekend getaways planned?