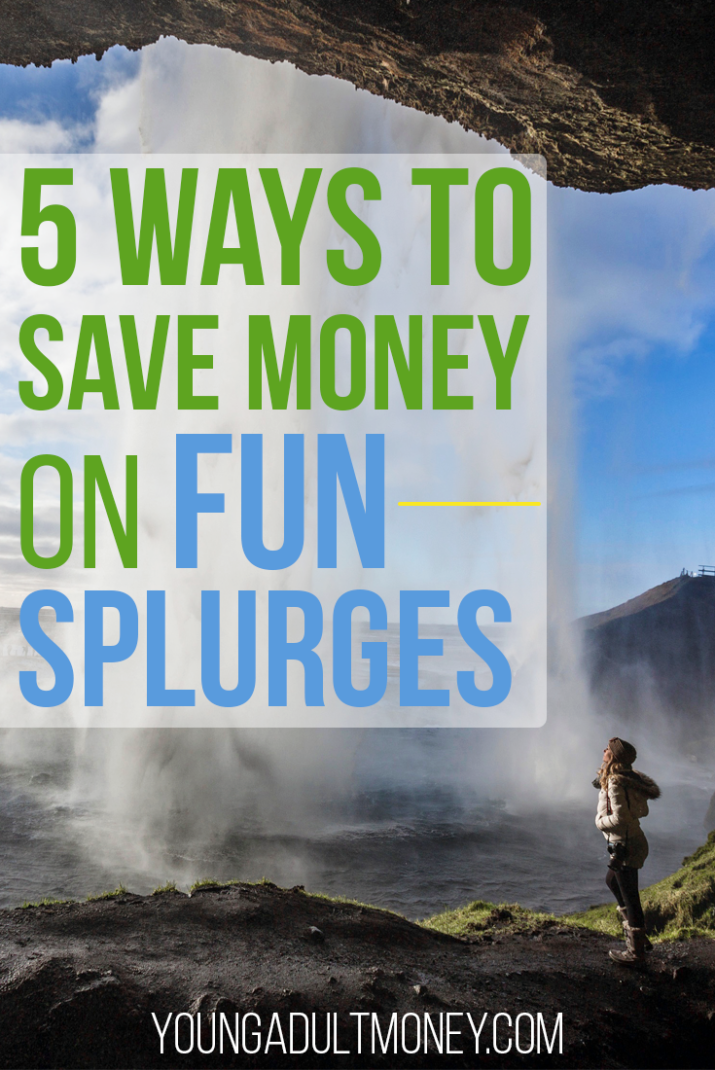 The temptation to overspend on non-necessities may always be constant year-round.
For some of us, it's harder to save money during the summer because there's so much fun stuff to do. No one wants to be cooped up in the house all day when you can travel, go to beaches and BBQs, and attend festivals.
Spending on splurges like restaurant food, pricey hobbies, events, vacations, etc. can really interfere with your budget and even cause you to spend more than you earn.
This doesn't mean you shouldn't splurge and enjoy some of your money at all, but you need to keep it controlled in order to avoid not being able to pay for your actual necessities or even getting into debt.
When you're tempted to splurge over the next few months or just want to treat yourself every now and then, here are a few ways to save so your spending doesn't get out of control.
1) Plan Your Spending

This kind of sounds ironic when you're talking about a splurge, but some splurges can actually be planned. For example, if you really want to go to a concert or sporting event, odds are you'll know about it several weeks or months in advance so you can have time to plan for the expense.
It also helps to set a specific budget category for entertainment and miscellaneous expenses. If you don't spend the money allotted each month, you can just set it aside until something comes up.
Planning your spending and saving up ahead of time can also help you score early-bird discounts on pricing for some purchases helping you reduce your spending on the splurge.
Related: An Automated Budget Spreadsheet in Excel
2) Use Coupons

Using coupons is a great way to cut the costs of any spending you do. While clipping coupons to save on food and household items isn't always the best use of time since the coupon amounts are often small (DC may disagree!), you can save big when you use coupons to get discounts on big-ticket items along with outings and events.
Groupon is one of my favorite sites to use to find discounts on splurges I have. For example, if you want to save money on a gym membership, museum ticket, restaurant purchase, a one-hour massage, electronics, or even a wedding gift for someone, you can find deals on Groupon to generate savings or even use Groupon's coupon section to save.
Another site I like to use to score discounts and coupons is Ebates. As long as you're signed in to your free account, Ebates will search each website you visit for deals and coupons. They will also give you cash back offers on select purchases.
All you need to do with Ebates is make sure you opt in so you can receive the cash back and coupons.
Related: 5 Best Cash Back Sites to Earn Extra Money
3) Use Amazon or eBay

For everything that you can't get at a discounted price with Groupon, I recommend using Amazon or eBay. eBay allows you to bid for some items to get them for a cheaper price, and Amazon has really competitive prices for quality brands.
For example, fit desks are all the craze right now because they allow you to use your laptop or tablet while you exercise. However, they're pretty pricey depending on where you get them from but you can compare prices from different sellers to find the best deal and model for you.
If you have Amazon Prime, you can enjoy free 2-day shipping on your orders and if you have Ebates, you can even earn a little cash back.
If you have a Swagbucks account, you can also earn points and cash back on your purchases on Amazon or eBay and you can redeem your points for free gift cards to your favorite retailers.
4) Go the Community Route

When you're thinking about a splurge, consider free and cheap offerings in your community before you spend a ton of money elsewhere.
If you're looking to pick up a new hobby, take a class, or join a sport, see if any community organizations offer a free or discounted solution.
I found a free baseball camp for my son this year and they're even covering the price of his uniform and shoes. I didn't have to put him in a sport this year but it's fun to get him involved, especially when I find something that our community offers for free.
5) Discount Days

Many museums, aquariums, zoos, art galleries, etc. offer free admission or discount days to help you save money.
First, choose where you want to go, then check their website to see if they offer any special days when you can receive discounted admission.
BONUS TIP: Make Good Use of Your Credit Card Perks

If you have credit cards that offer rewards, you can use your cards wisely and strategically to save money on a nice vacation in the future. If you get a frequent flier rewards card, you can reduce the cost of your flight and fly direct instead of having to take several layovers to save money.
You don't have to be a serious credit card churner to take advantage of sign-on bonuses for your favorite credit cards. You can also use cash back to your advantage and use it to pay for some of your travel expenses or even food while you're away.
I like using credit card reward points for all-inclusive resorts because food and some activities are included with your stay so you can really feel like your splurging without spending a ton of extra money.
Just remember to avoid letting credit card rewards cloud your better judgment. Make sure you don't go overboard and always pay your bill off in full each month. The mere rewards aren't worth getting into debt over.
Related: The 7 Keys to Successful Travel Hacking
Top Travel Rewards Credit Cards for 2017
How I Plan on Flying too Europe For Free
While I don't want to encourage you to make regular splurges, they're going to happen from time to time and there's not really anything wrong with enjoying your money as long as you can comfortably afford it.
To create even more breathing room in your budget, you can use some of these tips to save money on your favorite splurges so you can still meet your financial goals.


What do you find yourself splurging on from time to time? Have you ever used any of these techniques to save money?