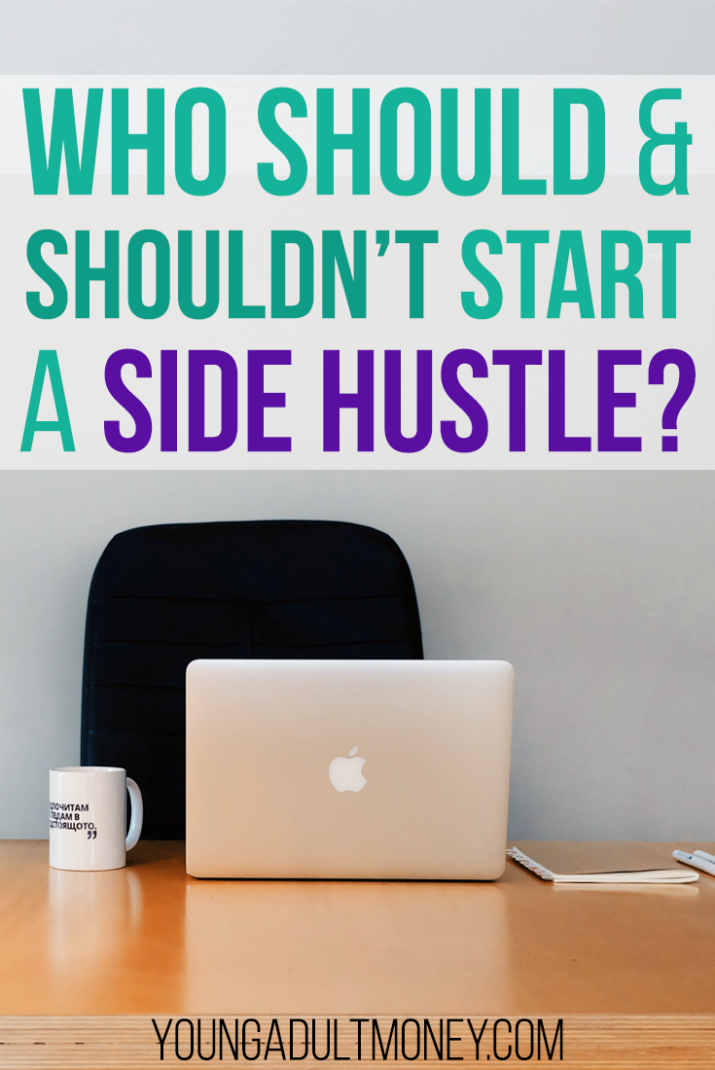 Despite having written an entire book about starting a side hustle, I don't think that side hustles are for everyone.
That doesn't mean I'm not a huge advocate of side hustles, but I do think that some people should start a side hustle and some shouldn't.
Because side hustles take up one of the most precious resources we have – time – it's important to weigh the pros and cons of starting a side hustle and whether there are other things you can do first to improve your finances.
It's also important to factor in the wide variety of side hustles you could start. Side hustles are not necessarily a second job and can vary drastically in terms of time commitment, physical/mental energy required, and other factors.
We'll start with the pre-hustle checklist where we will identify if there are easier options than side hustles to improve your finances.
The Pre-Hustle Checklist

One of the things I stress early on in Hustle Away Debt is the pre-hustle checklist. The pre-hustle checklist includes:
Look at Job Openings for the Next-Level Job
Review your Spending Habits
Review Student Loan Payback Options
In some situations there are easier wins for your finances than side hustles. For example, if you can cut $200 out of your monthly expenses with little impact on your lifestyle, this is a good thing to do before starting a side hustle.
The pre-hustle checklist doesn't mean side hustles aren't part of the solution to reaching your financial goals, but it's a good thing to at least go through the list and consider what actions you can take prior to sinking your time into side hustles.
Read more about each of the five items on this list in my post Do These 5 Things Before Starting A Side Hustle
Capacity for a Side Hustle is Key

Sure you might like the idea of making extra money through a side hustle, but do you have a capacity? If you have a demanding 9-5 job and commitments every night and weekend it's going to be difficult to find the time for a side hustle.
When you start working a side hustle you are more likely than not going to have to give up some things or at least say no to things. You'll need to free up at least a few hours a week, if not many hours, to be successful at your side hustle. This will obviously depend on what type of side hustle you engage in, but regardless of what side hustle you choose it will take time.
Consider tracking your time for a few weeks to see how you are spending it. You can do this with a spreadsheet like this one or by entering it all into a Google Calendar. You may spend 10+ hours watching TV shows each week (not surprising if you have Netflix or a DVR…or both) that can be shifted towards a side hustle. Or you may find that you spend your time exactly how you want to and simply do not have capacity for a side hustle right now.
If you do start a side hustle your calendar will be your best friend. Scheduling specific time each week to work on your side hustle will force you to stick with it.
What is Motivating You?

There are many different motivations for starting a side hustle. For me it was my $100k in student loan debt as well as wanting to pursue something entrepreneurial.
Many people do not start side hustles because they simply are not motivated enough to sacrifice their free time. The idea of extra income is a nice one, but it's just that: an idea.
The two best reasons to start a side hustle are to reach a financial goal or to start a business that has potential to become your full-time job. If you are pursuing one of these two you are much more likely to stick with your side hustle even when you are tired and don't want to hustle.
Related: 15 Time Management Apps to Help Increase Your Productivity
Consider Setting a Timeline for your Side Hustle

Let's say you've gone through the pre-hustle checklist, evaluated your time and capacity, as well as have something motivating you to start a side hustle. Congratulations! A side hustle is likely a good move for you.
One piece of advice I have for you is to set a timeline for your side hustle. Side hustles can cause burnout, and some side hustles are "long tail" side hustles that may not make you much – or any – money in the near future.
Setting a timeline will help you stick with your side hustle when the going gets tough. For example, let's say you want to start a blog and turn it into a $1k/month extra income stream. Blogging can be a grind because you likely won't make any money the first six months regardless of how hard you work or how much time you sink into it. It's important to decide early on how long you are willing to work at it before giving up, otherwise you may give up too quickly and may miss out on that key inflection point where your blog starts turning a profit.
Another example is something more traditional: a part time job. Many people pick up delivery or serving jobs on nights and weekends to help hit financial goals faster. These come with a big risk of burnout, so it's important to both have a hard financial goal like "pay off $20,000 of debt" and a timeline for accomplishing it (i.e. nine months). This will help you stick with it until the end of your timeline and allow you to accomplish your goal or goals.
_______________________________________________
Yes, there's a lot to consider when you are thinking about starting a side hustle. From your short-term income needs, to your financial goals, to your capacity, it's not easy to commit to starting a side hustle.
Despite all the reasons to not start a side hustle, these can become excuses for those who could greatly benefit from starting a side hustle. If you really feel like a side hustle – whether it's $100 of extra income a month or $1,000 – would change your life, consider finding a way to make your side hustle fit in your life.
Side Hustle Resources
How to Balance Your Full-Time Job and Your Side Hustle
15 Side Hustles for Introverts
50+ Online and At-Home Side Hustle Ideas
9 Reasons You Need to Start a Side Hustle
The One Reason Why Blogging is the Ultimate Side Hustle
5 Side Hustles that Make at Least $500 a Month


Do you have a side hustle or want to start one? What did you factor in or what are you currently factoring into your decision?