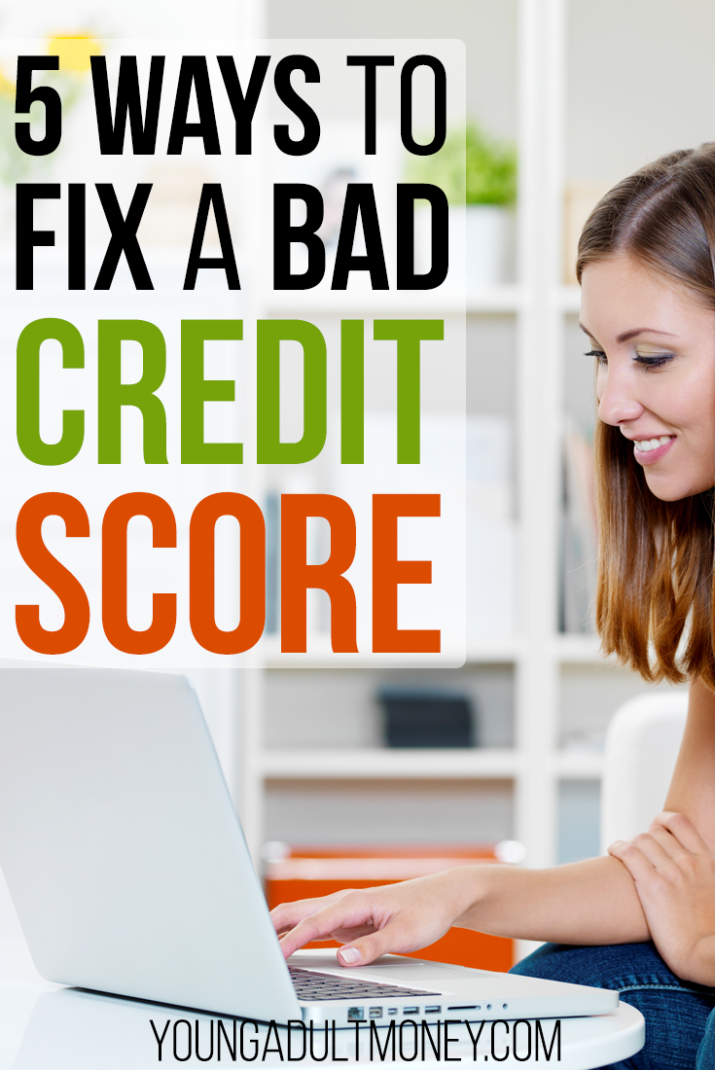 This post is brought to you by our friends at CreditRepair.com
You aren't alone if you have a bad credit score.
Nearly a third of Americans in total and 43% of millennials have a bad credit score, which is defined as a credit score of 600 or below.
Credit scores are important because they will dictate what interest rates you get on a mortgage and other loans as well as whether you will even qualify for a loan at all.
Thankfully there are a number of practical things you can do to fix a bad credit score. It's something that can be fixed if the proper actions are taken and underlying problems are addressed.
Here are five things you can do to fix a bad credit score.
1) Catch up on Payments

If you're behind on debt payments one of the best things you can do is catch up. Missed and late payments hurt your credit score, but reversing the trend and consistently making your payments can turn the tide and help your credit score recover.
This may require swallowing your pride and making a call to your lender to come to an agreement that works for both of you. If you make it clear you want to get back on track they are likely to work with you, as it benefits them to avoid having loans go into default.
Your payment history affects 35% of your credit score. If you want to start improving your credit score, you need to do your best to make all of your payments on time. Any debt that has gone unpaid for 150 days can have a serious impact on your credit score.
You need to make sure to pay, especially, your mortgage payments, credit card bills, personal loans, and medical bills on time. Paying bills on time, ensuring that a bill never goes to collections, and building a good payment history will help slowly to improve your credit score.
2) Check Your Credit Reports

Checking your credit reports is an essential step for those looking to fix a bad credit score, and is a good thing to do each year regardless of what what your score is.
The three main credit reporting agencies are required, by law, to give you one free credit report each year. Thanks to the amended Fair Credit Reporting Act, consumers can request one free copy of their credit report from each of the nationwide credit reporting companies (i.e., Equifax, Experian, and Trans Union) every 12 months.
You can order your free credit report online at www.annualcreditreport.com, by telephone at 1-877-322-8228, or even by snail mail. You can choose to get your score at separate times from each agency, or you can get them all at once.
Related: How to Get Your Credit Reports for Free
3) Dispute any Errors on your Credit Report

If you receive your credit report and believe that it contains errors, such as accounts that you never applied for, you can dispute the information to have it removed from your credit reports. When successful, disputing credit report errors can mean the world of difference for your credit score. Depending on the causes of a low score, it also may be one of the quickest ways to improve your score.
The first step is to tell the credit reporting company, in writing, what information you believe to be false or inaccurate. The second step is to tell the information provider (i.e. whoever provided that information about you to the credit reporting agency), in writing, that you dispute an item in your credit report.
From there the agency will review your complaint and take all evidence into consideration, either removing that history from your report or deciding that your complaint isn't valid. Be patient but persistent.
4) Reduce Your Credit Utilization Rate

Carrying a balance does not impact your credit score, but your credit utilization does. Credit utilization is how much of your available credit you are using. For example, if you have $10,000 of available credit and you are carrying a balance of $5,000, your credit utilization is 50%.
The lower your credit utilization the better, but best practice is to keep it below 30%. For those who are maxed out on their credit cards or who are far from being at 30%, it's important to think long-term. You may not be able to pay off your debt overnight, but you can slowly make progress over time.
Related: What To Do If You Are In Credit Card Debt
5) Utilize a Service that Specializes in Fixing and Improving Credit Scores

While the first four ideas are all practical, actionable steps you can take, they can be overwhelming. If you are committed to fixing your bad credit score it can make a lot of sense to trust experts who focus on fixing and repairing credit.
CreditRepair.com is one of those companies. They specialize in repairing and improving credit scores. While all cases are different and you should not expect a similar result, previous members have seen an average
40 point TransUnion credit score gain during four months of membership.
They work directly with the credit bureaus and creditors to challenge the inaccurate items that affect your credit score. Included in their service is 24/7 Credit Monitoring & Alerts powered by TransUnion as well as provide customized tools and technology.
Find out more at CreditRepair.com and get started on your path to a great credit score.


Are you looking to improve your credit score? What steps have you taken and what steps do you plan on taking?