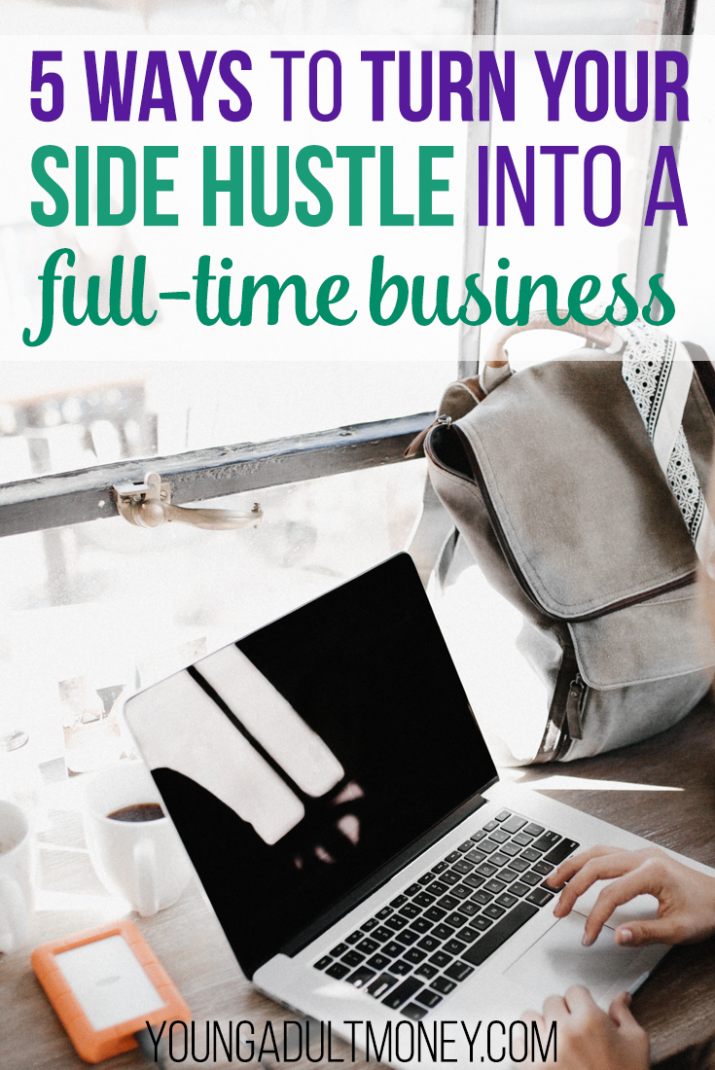 Maybe you want to start a website where you can offer up your unique graphic design skills or maybe you dream of working as a freelance photographer. Many people start a side hustle not only to earn extra money, but with the hope that they can one day turn it into a profitable business.
If you love the work you do for your side hustle, why not turn it into your full-time job and start working for yourself?
Growing your side hustle as you work a full-time job is one of the safest ways to prepare to turn it into a full-time business. However, your work doesn't stop there.
If you're looking to turn your side hustle into a profitable business that will be sustainable long-term, here are 5 things you need to do.
1) Choose Something Scalable

Not all side hustles are great as a full-time business. You must choose something you are good at, enjoy doing, but is also scalable so you can grow your business and earnings as needed.
In DC's book Hustle Away Debt, he divides up the side hustle options he mentions into self-employed vs. business side hustles. Ideally, your business-minded side hustle shouldn't be the number of hours you can put in. For example, you may need to outsource certain tasks and hire a team to help you.
Running a business takes a lot of work and if you don't have the time and all the skills necessary to manage every aspect of your business, you should be able to hire help should you need to expand.
2) Consider Diversifying

Diversifying your income provides many benefits but for small business owners, it's a must. Even as a side hustle, you don't want to depend solely on a single source of income so while you can have your primary products or service offerings, you can also develop other streams of income too.
For me, my main service is freelance writing, but I also do light virtual assistant work and run a blog and earn income from that. If my freelance writing income suddenly drops, I have other sources of income to rely on so I'm not freaking out and looking for another job.
Diversifying your income can keep your business more stable long-term.
Related: Why Blogging is the Ultimate Side Hustle
How to Find Your First Freelance Client
3) Do What You Love, Outsource What You Don't

Once you start earning some money from your side hustle, you may have to invest some of your earnings back into it by outsourcing. If there's a task that you really don't like to do or just aren't good at, choose someone who you can hire to take on that burden for you.
That way, you can focus on the bigger picture and help move your side hustle along. Sometimes it's hard to give up control or part with your money, but when done correctly, outsourcing can help you grow your side hustle and make a smoother transition to a full-time business.
You don't have to spend a ton of money at first either. I think I spent about $30-75 per month outsourcing tasks after 6 months of side hustling all on my own.
DC here, one quick thing I wanted to interject is that the beauty of side hustles is that it forces you to work with a limited amount of time and, in turn, outsource!
I've had contributors on the blog for years now as I learned quickly that the only way to use my time wisely was to bring others on board. I think you'll find the same is true with your side hustle, especially when you look to scale it.
4) Track Your Earnings

Money is one of the biggest factors that stops people from turning their side hustle into a business. It's difficult to cope with the idea of leaving a cushy stable job and stepping out into the unknown. If you think your side hustle is not earning you enough income to stand its own, you need to determine how much income you need to be making in order to feel comfortable.
Determine how much money you need to be making consistently, then start tracking your income each month and setting goals. Setting a clear goal of how much you wish to earn can help motivate you to start implementing strategies that will increase your profit.
As you track and increase your earnings, you also want to make sure you're saving a reasonable amount as well. Your business income may vary quite a bit from month-to-month so you want to save up a large emergency fund and checking account buffer that you can rely on during the slower months.
Related: How to Build An Emergency Fund and Why It's a Priority
5) Get a Mentor or Coach

If you feel stuck with your side hustle and want to take it to the next level but don't know how, working with a coach or mentor might help.
A coach or mentor can help you set realistic goals and hold you accountable to them. It's best to choose a coach or mentor in your desired niche because they may be able to offer valuable personal insight regarding your struggles and vision for your business.
I hired a coach when I first started side hustling because I knew I wanted to make my side hustle a business in the future and I didn't want to waste time making rookie mistakes.
I wanted to make progress quickly and learn about all the best strategies to implement and how to structure everything accordingly.
*Bonus Tip: Grow Your Network*

Another step you can take to turn your side hustle into a full-time business is to grow your network. Your business will cease to exist if you don't have clients/customers paying you. You want to have an ongoing relationship with them along with a solid network of people who can help you get referrals to grow your business or partner together for a project.
There are many different ways you can network and meet others in your industry. You can attend conferences and presentations, subscribe to webinars, go to local meetups, and even connect with people on social media or Facebook groups.
Having a network has really helped me grow my business over time. Plus, it's great to have people to connect with who understand the type of work I'm doing.
Related: 7 Ways to Get Over Your Fear of Networking
Turning your side hustle into a full-time business won't happen overnight. You have to jump in head first and believe in your venture wholeheartedly. Then, take the necessary steps to grow and scale your side hustle so it can support your lifestyle.
Related: How to Balance Your Full-Time Job and Your Side Hustle
50+ Online or At-Home Side Hustles
9 Unique Side Hustle Ideas


Do you have a side hustle? Have you ever thought about turning it into a business?