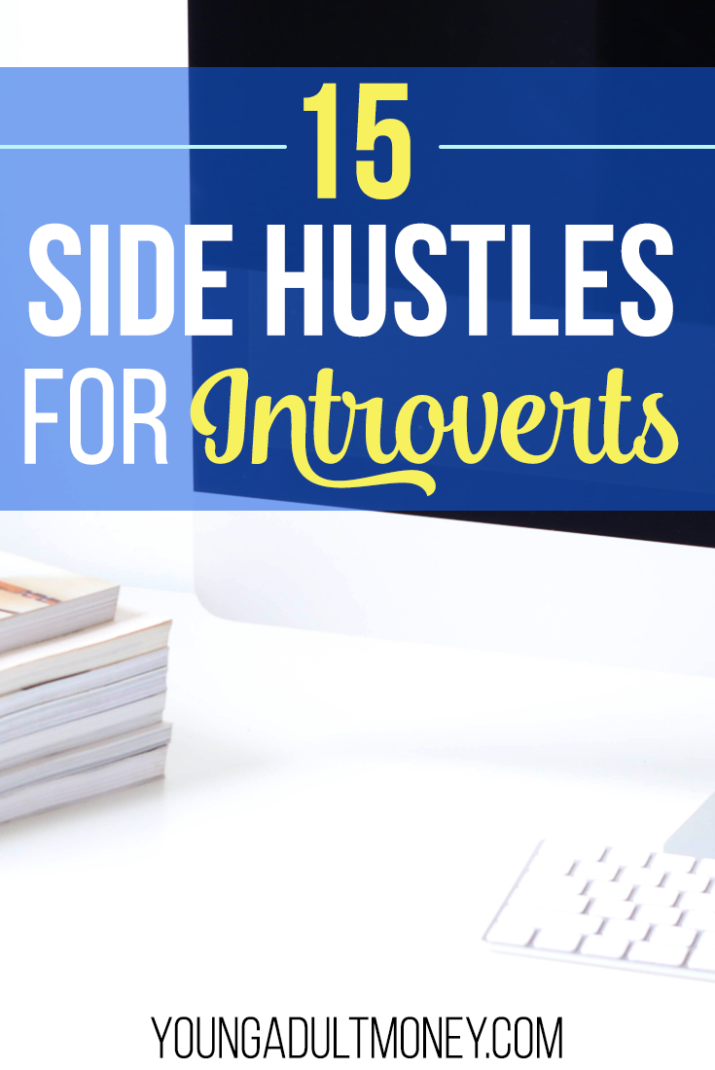 Are you an introvert? Have you struggled to find a side hustle that would be enjoyable for you?
Personally, I consider myself to be an introvert and I know there are many side hustles that I would never want to do, such as anything involving face-to-face selling, working with large groups, public speaking, or baby sitting.
These are excellent side hustles, but for me as an introvert, I find the idea of them draining. I would much rather find a side hustle that I can do independently from my home, or something where I don't have to use up all of my energy working with other people.
Luckily, there are many ways introverts can make extra money each month, so you can pick the one that works best for you. Here are the 15 top side hustles for introverts.
1) Freelance Writing

Freelance writing is one of my current side hustles, and I could not think of something to be a better fit for me as an introvert. I love freelance writing because I can pick and choose my clients to ensure I work with like minded people, and I can take on as much or as little work as I choose.
All the freelance writing work I do is virtual. My clients and I communicate exclusively via email, and as long as I meet deadlines, I can pretty much do the job whenever and wherever I want.
If you are looking to start freelance writing, I suggest starting a blog or website in the niche where you would like to write, and reach out to prospective companies and bloggers looking to hire freelance writers.
To learn more about freelance writing, the Get Paid to Write for Blogs course is highly recommended and will teach you everything you need to know.
2) Blogging

You might be surprised to know that many bloggers are complete introverts.
Blogging is great for introverts because their blog is their own space. Introverts have the floor on their blog, and it gives them the means to speak without interruption.
There are many ways to make money through blogging, including affiliate marketing, sponsorship and partnerships, and advertisements. Whether you consider yourself to be an introvert or extrovert, blogging is a great option for nearly every personality type.
If you think blogging is the right side hustle for you read DC's quick guide to starting a blog side hustle today.
3) Drive for Uber Eats

If traditional Uber driving requires too much talking for your taste, try driving for Uber Eats.
With Uber Eats, you are picking up and dropping off restaurant food for individuals. It's similar to a food delivery service, but you can do it on your own time. While Uber Eats isn't available in every city yet, it is rapidly growing its market, so your city could very well be included in the future.
4) Virtual Assistant

Virtual assistants, or VAs for short, handle a variety of tasks online. Online business owners might hire a VA to help with social media marketing, design, administrative tasks, scheduling, or anything else.
Working as a virtual assistant as an introvert is great because it allows you to work from home and pick which clients you want to work with. You can set your rates, and depending on the client, you can even set your own working hours.
5) Take Surveys

While taking surveys is unlikely to make you rich, it is an easy way to earn a few extra dollars while sitting at your computer.
Some survey sites we recommend are:
6) Bookkeeper

If you have knowledge or experience in accounting, you can become a bookkeeper and work virtually if you choose.
Bookkeeping pays well, and it is in demand, as every small business needs someone to keep track of their finances. While a degree is not necessarily required, you do have to possess strong understanding of accounting practices. Many individuals I know who started bookkeeping now run their business full-time from the comfort of their own home.
7) Mystery Shopper

Mystery shopping is a great gig because you are able to take on as many or few projects as you qualify for. Not to mention, you can also get many free benefits, such as free meals or hotel stays for wherever you are mystery shopping.
With mystery shopping, you take on a project to go act like you are a regular customer at a store, hotel, or restaurant. Employees working there don't know it, but you are evaluating your service and experience and reporting back to the company. It does require some writing and paper work, but it can be a fun side hustle for introverts because you are essentially just observing other people and your surroundings.
When looking for mystery shopping jobs, you'll want to use your discretion to ensure you are working legitimate jobs. Remember, you never should work with a company that requires you to pay them for shopping gigs. To learn more about how to become a successful mystery shopper, check out the The Ultimate Resource eGuide: Everything You Need to Know About Mystery Shopping and Other Side Hustles.
8) Sell Clothing on Poshmark

Do you have a closet full of clothes you no longer wear? You can clean out your closet and make money easily. All you need is a smartphone and the Poshmark app.
Poshmark is a clothing resell app. Think of it like an online thrift store. Sellers take photos of their clothing items for sale and post it with a description of the item. Buyers can search the app to shop. When you make a sale, Poshmark sends you a prepaid box to ship the item to the buyer.
The app is free to download and use. For every sale you make, Poshmark takes a small commission, but overall, you can likely earn much more by using Poshmark than traditional thrift stores.
9) Publish and Sell an eBook

If you've ever considered writing a book, but become overwhelmed with the promotion, book  readings, and interviews that potentially come up with the launch of a successful book, you can publish your own eBook without all of the attention.
Selling your own eBook can be as simple as writing the material, turning it into a PDF file, and put it on your blog or website for download. If you want a more professional approach, there are many companies that publish eBooks for you.
10) Medical Transcriptionist

While you do not need a degree to become a medical transcriptionist, you will need some formal training completed through community colleges or online programs in order to make money in this field. But the training is well worth it, especially for introverts.
Medical transcriptionists must have a strong understanding of medical terminology, but with that, they are able to earn upwards of $20 an hour transcribing medical reports. Best of all, transcriptionist jobs can be done from the comfort of your own home.
11) Sell Internet Downloads

If you have a knack for design or photography, you can make passive money online without having to coordinate with a single person.
For example, if you are a photographer, you can take stock photos and upload them to stock photo websites. When someone pays to download that photo, you earn money. Not only is this a perfect side hustle for introverts, but it is a fairly passive way to earn money as well.
I also see this same idea being done with WordPress templates. Designers create a template, and list it for sale on a website such as Etsy. As a designer, you only have to create one template, and you can earn money by the many people who will download it.
12) Pet Sitting

Let's face it, while introverts tend to find dealing with people to be somewhat draining, many of us have no problem keeping up with the demands of pets. If this is you, then a side hustle as a pet sitter or dog walker might be the perfect fit.
You can advertise your services on websites like Care.com and set your own rates. You can find what an appropriate rate might be by comparing current pet sitters and dog walker rates. You might be surprised by how much they can charge. In my area, I have seen people charge $20 for every 15 minute dog walk.
13) Website Developer

If you know coding and have an eye for design and functionality, you can earn excellent money by being a website developer. Best of all, you can work from home and communicate primarily through email.
Even if you don't know how to code, there are many free resources that can teach you, like Code Academy.
14) Graphic Design

Graphic design is not a skill that is easily learned. To be a successful graphic designer, you have to possess a designer's eye with a technical understanding. That being said, if you are experienced in graphic design programs, such as Photoshop or Adobe Illustrator, you can earn money as a freelance graphic designer.
Earnings as a graphic designer depend on your skill and portfolio. Beginner graphic designers can expect to earn anywhere from $25-50 an hour, while many expert designers can charge $250-300 an hour.
15) Sell Antiques

There are many ways you can sell antiques without having to be in a customer-facing role. For example, you can sell antiques on Craigslist, and only have to see people to meet to exchange money for the item. You also can rent out a booth at an antique store to sell a variety of items. Most of the time, the antique store pays people to work the floor, and you earn profit on the items you sell.
If you are willing to shell out a little bit of money every month for a booth and have a passion and eye for antiques, this is one way to make money by selling without having to deal with people directly.
Related: 15 Ways You Can Make Money From Your Computer Right Now
How to Start a Blog Side Hustle
5 Side Hustles that Make at Least $500 a Month
How to Balance Your Full-Time Job and Your Side Hustle


If you are an introvert, would you consider any of these side hustles? If you are an extrovert, what side hustles do you thrive in?