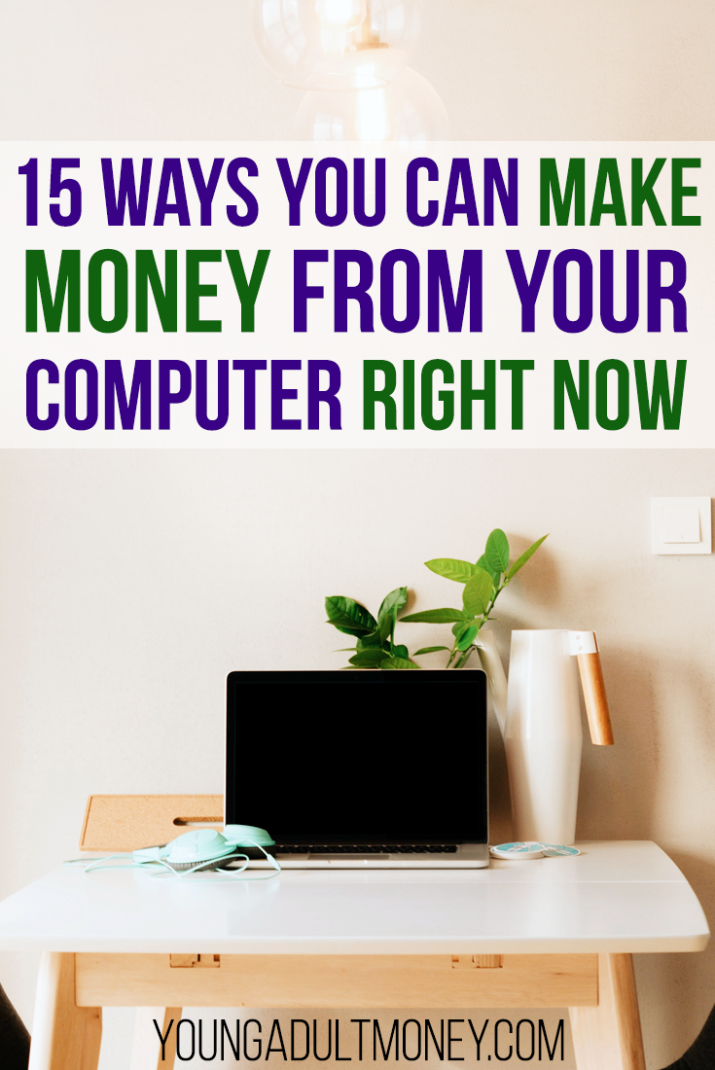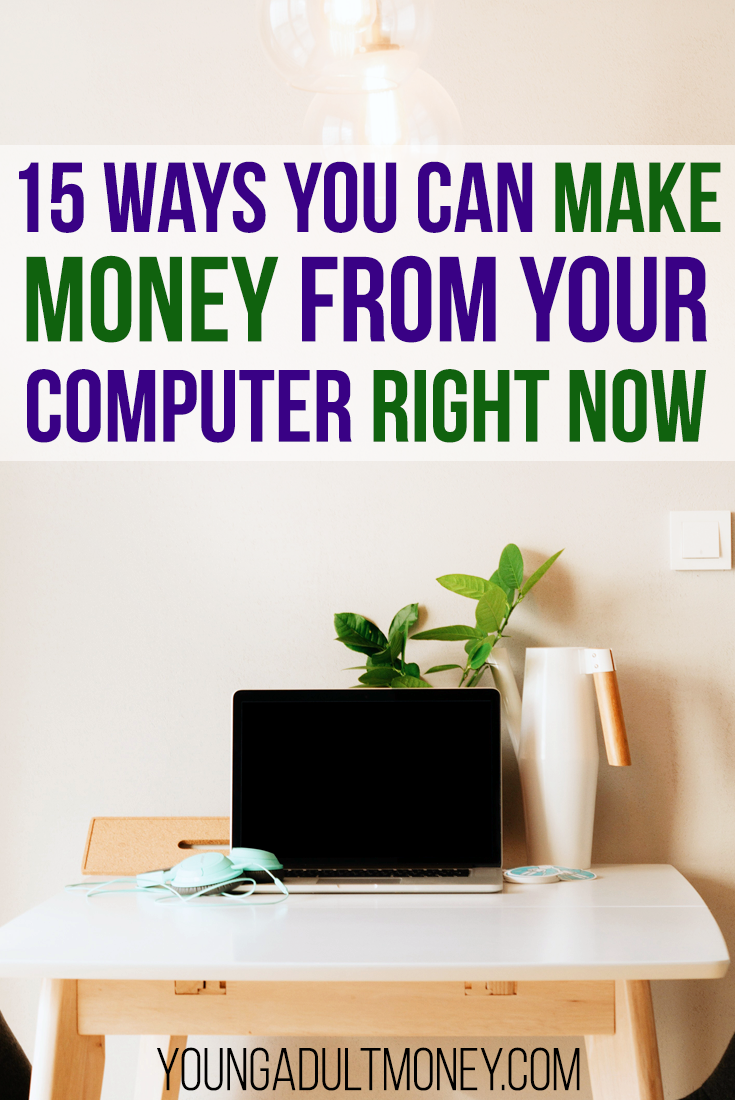 Do you want to make money at home on your own time? Whether you are looking to make a full-time income or just make a few extra bucks a month, there are many ways to make money right from your own computer.
As the use of technology rises, the possibility of making money from your computer continues to increase. You can do jobs online that did not even exist 5 or 10 years ago. While there are many scams out there, we have highlighted the best 15 legitimate ways to make money online.
The options on this list vary. Whether you just want to earn a few dollars while watching television, or you want to start your own online business, there is an online job perfect for you.
Keep in mind, there are easy and difficult ways to earn money online. Some items on this list may only require an hour a month, but they won't pay as much as something that requires much more work. Earning a significant amount of money online takes time, hard work, and dedication. But if you are willing to commit, there are endless possibilities to make money straight from your computer. Here are 15 of the best ways you can start earning money from your computer today.
1) Sell Items Online

What better way to make money than by selling items cluttering up your home? You can sell old furniture, clothing, kitchen appliances, or tools all online.
It only takes a few minutes to post an item for sale online. All you have to do is take a few pictures of the items you are selling, post them to sites like Craigslist, eBay, or OfferUp, and write an honest description describing the condition of the item for sale. And if you are selling clothing, Poshmark is an incredibly useful app.
2) Take Surveys

While taking surveys probably won't make you rich, they do provide a way to quickly make money while sitting on your computer. Many sites are looking to gather data from individuals from across the world in efforts to help with their product and marketing.
Survey sites typically pay a few dollars per survey. The longer the survey, or the more qualifications you meet, the more you will be paid. Some of the sites pay in cash, while others reward individuals with gift cards or reward points. We recommend the following survey sites:
3) Start a Blog

Blogging is increasing in popularity, and there is great potential to make money if you start a blog. It should be noted that it takes time and hard work to make money through blogging, but if you truly enjoy what you are blogging about, it will be a fun process for you. Many people started their blogs as a hobby, only to find themselves making money from it.
There are many ways to make money through a blog, including advertising, sponsored content, and affiliate networks. Read here to learn how to start your own blog.
4) Freelance Write

If you have strong communication and writing skills, freelance writing is the perfect way to earn money from home.
With freelance writing, businesses or websites hire you as an independent contractor to create content for their websites, newsletters, or even promotional items. You can set your own rates for each project.
If you are interested in freelance writing, I highly recommend starting a blog in the niche where you would like to start writing. This is what I did to become a freelance writer and I can't suggest it enough.
5) Become a Virtual Assistant

Virtual assisting is not only a great way to earn money from your computer, but it has the opportunity to become a full-time job.
A virtual assistant, or VA, is a person who helps an individual or business all online. It is similar to an executive assistant, but all online. Job vary, but common tasks include scheduling meetings, proofing content, sharing content on social media, and other administrative tasks.
6) Write and Sell eBooks

For anyone who enjoys writing, you can write your own eBook and sell it for profit.
eBooks are a great way to make money because they do not require much overhead. In fact, writing and selling your own eBook can be as simple as writing the material, saving it as a PDF, and upload it to a site to start selling.
You can publish your eBook through Smashwords, Booktango, and Amazon Kindle, or you can create your own blog and sell your eBook straight from there.
7) Create a Course

Would you consider yourself to be very knowledgeable about a specific topic? You can earn money by sharing your knowledge with others via an online course.
With whatever topic you choose, you can create an online course by planning out what content you will cover, creating worksheets, and offering valuable resources for students. You can charge a set class fee for anyone who signs up for your course, or you can teach on websites such as Coursera or Udemy.
8) Sell Stock Photos

If you are skilled in photography, you can sell quality photos online to be used as stock photos. Stock photos are photos that others pay to download and use for their own marketing and websites.
You can sell stock photos on large websites like iStockPhotos. The best part about selling stock photos is that once you take the photo and upload it, the rest is passive income. You are paid every time someone downloads the photo.
9) Design Logos

Have a knack for graphic design? From companies to individuals to websites, the demand for logo work is high. If you have a creative eye, this could be a fun and profitable way to make money online.
Logo work can be as simple or complicated as you want it to be. I personally know individuals who spend a lot of money on the latest editing software, but I also know people who utilize free software, such as Canva to create logos.
10) Write and Edit Resumes

The ability to write a resume well is rare, and strong resume-writing skills are in demand. Best of all, there are a myriad of ways to work from home while correcting resumes. You can work for a resume writing company or start your own business.
If you are looking to start your own resume-writing business, it's best to start building your portfolio. You can easily build a portfolio by asking friends and family to let you review and edit their resume. From there, you have built a portfolio that you can send to potential clients.
And if you would prefer to join a professional resume-writing company, Talent Inc., and Risesmart are a couple companies that hire resume-writers.
11) Translate Documents

The demand for translators is rapidly increasing as companies and individuals interact with each other around the world on a regular basis. You can earn money by translating documents online. You can work for yourself, through an agency, or find your own freelance projects on UpWork and Fiverr.
12) Design Websites

If you have the ability and knowledge to design websites, you are sure to find no shortage of work and ways to make money doing it. In order to create and design websites, you must possess a strong understanding of HTML and coding, as well as the ability to understand what your clients are asking for.
Even if you don't know how to code, you can teach yourself for free via Code Academy. If you are looking to start earning money by designing websites, create a few of your own first and add them to your portfolio. This way, prospective clients can see what you are capable of before they hire you.
13) Switch Bank Accounts

Are you really getting the most out of your current bank account? What if I told you that you could earn significantly more in interest on your savings throughout the year?
Online bank accounts are able to pay higher interest rates because they do not have to maintain the costs of traditional brick and mortar stores. If you are looking to open an online bank account, we highly recommend Discover Bank. Discover online savings account offer a 0.95 APY, which is much higher than you will find at other physical banks. You can learn more about an online Discover account here.
14) Become a Transcriptionist

If you are looking for a flexible and legitimate work-from-home job, transcribing could be for you. To be an online transcriptionist, you simply have to type out audio that you are given. Successful transcriptionists are keen listeners and are fast and accurate typists.
You can become a transcriptionist in many fields, including the medical and legal field. You can either work directly for a company, or you can work for websites such as Tigerfish, or find freelance opportunities on Upwork.
15) Open an Etsy Store

Do you enjoy crafting, such as making jewelry, art, or sewing? Whatever you enjoy creating, you can open an Etsy shop to sell your items.
Etsy is basically an online marketplace for people looking for handmade goods. You open your own shop with your products, and consumers can search and buy your items. Etsy is great because you don't have to go out searching for your own customers. It costs 20 cents to list an item on Etsy, and they take a small percentage of each sale you make.
Related: How to Start a Blog Side Hustle
5 Side Hustles that Make at Least $500 a Month
How to Balance Your Full-Time Job and Your Side Hustle


How do you make money from your computer? Do you do any items on this list? If you don't currently make money from your computer, which list item would you choose to start?