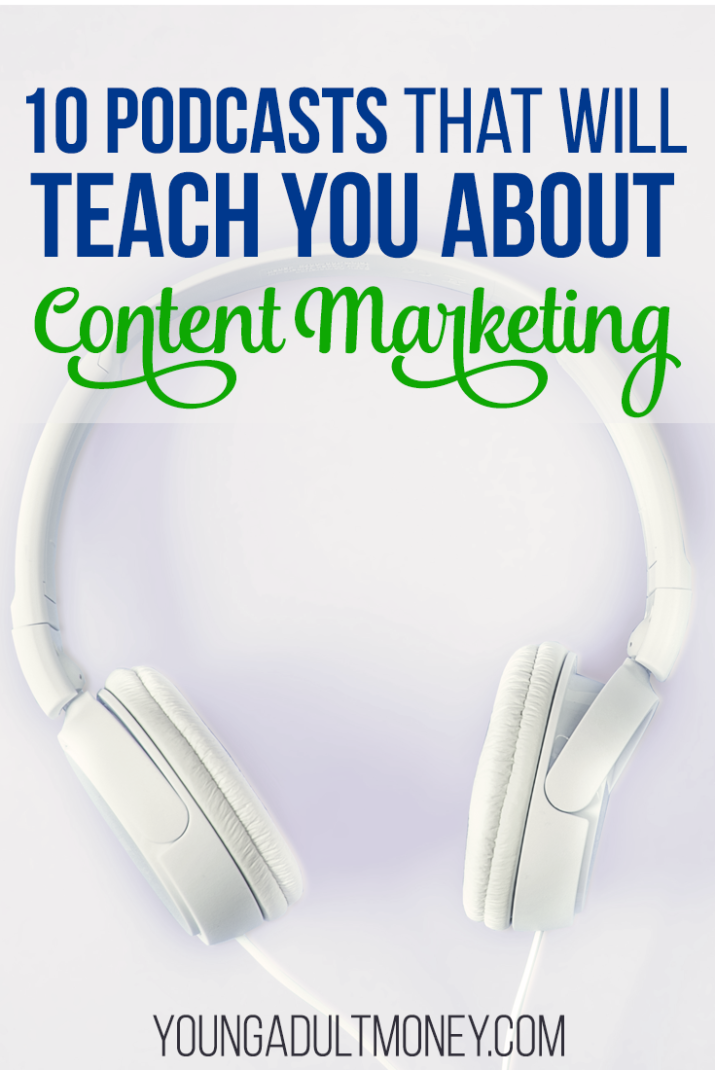 Need to know more about content marketing? You can read all you want about content marketing, but have you considered listening to podcasts?
As technology changes, so does our need for content marketing. If you run any sort of business with content, whether it's a blog or website, you need to figure out how to get people to actually find and view your content. Enter content marketing.
Whether you're a blogger, freelance writer, or marketing guru, there is no shortage of information available to improve our skills. What we do lack, however, is time, which is where podcasts come in. Podcast are great because you can download and listen to them wherever and whenever suites you. On your commute, at work, while working out, and while side hustling are all ideal ways to listen to podcasts. Best of all, most podcasts are free and are easily available for download on your smartphone.
Conversely, we can admit that there is an overwhelming amount of material regarding content marketing available through podcasts. It would be impossible to listen to every podcast out there. So we did the research to narrow down the top 10 content marketing podcasts.
1) Content Inc. by Joe Pulizzi

If you only have a few minutes to spare, look no further than Content Inc. by Joe Pulizzi. These podcasts are typically only 5-10 minutes long, but are jam packed with information. Joe Pulizzi founded the Content Marketing Institute, and uses his experience and takeaways in every episode.
With content this short, there is no excuse not to listen to podcasts. Content Inc. is released twice a week and relay a blend of Pulizzi's personal marketing experiences and marketing knowledge.
2) The #AskGaryVee Show

The #AskGaryVee Show was originally a Youtube channel, but it is now available in podcast form. His episodes cover a range of topics including entrepreneurship, career, and, of course, content marketing. Most of the podcasts are discussing single questions asked by listeners, so it is sure to be content you actually want to hear.
The best part about this show is that if you have a question, you can actually ask it! They are constantly looking for new questions and new content to cover, so ask away.
3) Marketing Made Easy Podcast

What sets Amy Porterfield's Online Marketing Made Easy podcast apart is that it provides actionable steps to implement to improve your marketing efforts. While many other podcasts offer a general wealth of information, Amy's podcasts get into the specifics of how you can actually put your new knowledge into practice.
Some of her recent podcasts include "7 Content Creation Ideas to Use When You're Feeling Uninspired," and "How to Use 'Content Gold' to Fuel Your Next Launch."
4) Content Warfare

Ryan Hanley is the mastermind behind the Content Warfare podcast. In all of his podcasts, he aims to show you how to create content that converts. Personally, 95% of his content is free, but he converts those into buying the 5% of his paid content.
Content Warfare includes guests from various marketing backgrounds and is released weekly. Each podcast varies between 8 minutes to 2 hours long, making it perfect whether you are going on a short run or a long road trip.
5) Learning With Leslie

Leslie wanted to become a biology professor, but didn't have a PhD. So instead, he blogged about biology topics and eventually became a professor without having to have a PhD. Since then, he has transitioned into full-time blogging.
If anyone can teach you about content marketing, Leslie can! He is a living example of how effective content marketing can work for you.
6) Six Pixels of Separation

Six Pixels of Separation is led by Mitch Joel, the President and Founder of the Mirum agency. With well over 500 episodes, you could spend days soaking up Mitch Joel's wisdom.
Many of his episodes also discuss personal marketing, with titles such as "Winning Body Language," and "The Value of Personal Branding."
7) The Marketing Companion

The Marketing Companion, a podcast by Tom Webster and Mark Schaefer, proclaims they are "the world's most entertaining marketing podcast."
Each show is approximately a half hour long. This podcast is particularly useful for understanding new marketing trends and how you can adapt to changes.
8) The Pivot

The Pivot is a different type of podcast in that its host, Todd Wheatland, interviews a new marketing professional every episode. His ability to get the real-life input from some of the world's top marketers is invaluable.
If you find you learn better from experiences, rather than formal knowledge, this is the podcast for you.
9) The Sophisticated Marketer

The Sophisticated Marketer podcast is broadcast by LinkedIn Marketing and hosted by Jason Miller. Jason interviews marketing professionals from around the world every two weeks with "no fluff, just marketing."
This podcast is ideal for anyone looking for global knowledge about marketing and who wants straight, to the point information.
10) Unthinkable

Unthinkable describes their podcast as taking your content from "meh" to exceptional. For anyone fueled by creativity, this podcast is for you.
The Unthinkable podcast by Jay Acunzo hits upon how to organize creative content. If you feel like you have the ideas, but are unsure of how to execute them efficiently, this podcast can prove extremely valuable.


Do you listen to podcasts? What recommendations do you have? If you don't currently listen to podcasts, then how do you learn about content marketing?