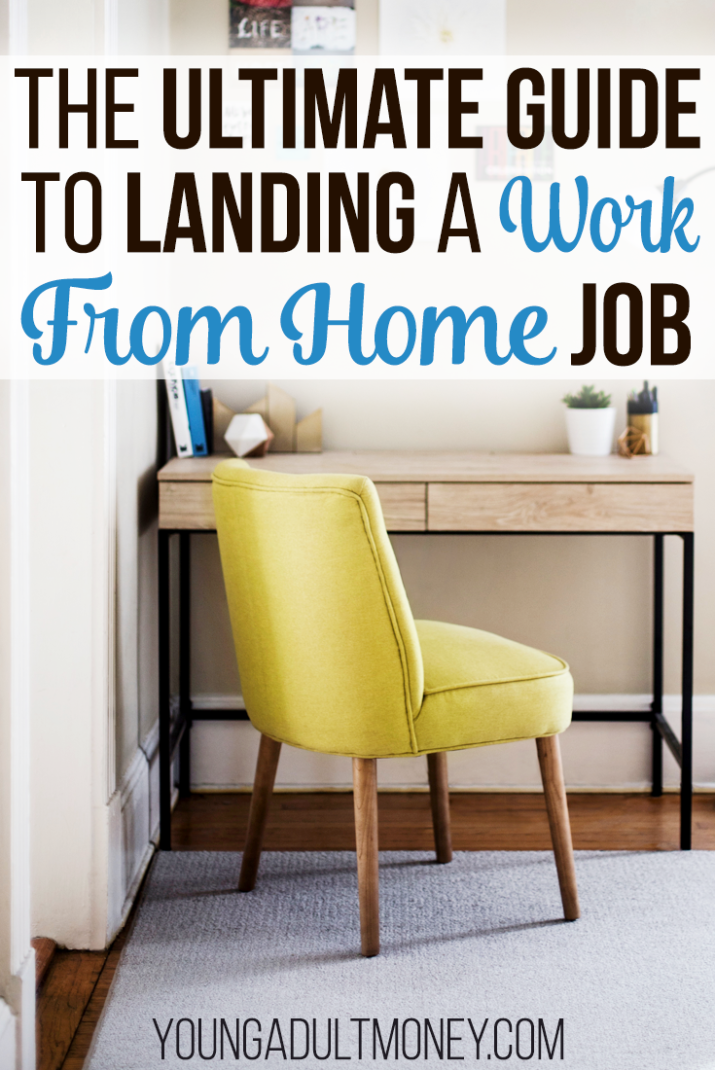 These days, working from home is certainly the trend. To most people, I'm sure the idea sounds intriguing.
Working from home can provide you with many benefits including a flexible schedule, location independence, being able to avoid a hectic commute and office logistics, and being able to see your family more just to name a few.
If you aren't happy with your traditional job or just want to earn some extra money on the side doing flexible work, getting a work from home job may sound like a great option even if you have no idea how to get started.
Landing a work from home job is not necessarily difficult, but it's not as easy as you'd think either. In fact, many people fail when it comes to finding a legitimate work from home job that they like.
This post will serve as a guide to walk you step-by-step through the process of finding the right work from home job that allows you to make real money.
Step 1: Determine Your Skills

First, you need to determine your skills and look at your experience because it will certainly play a role in what type of work from home job you're able to obtain.
These days, you can do many jobs from home as long as you have a computer and internet access.
Consider what field you'd like to go into and any requirements you may have to meet. Some jobs provide training, but others expect to have experience. Also, having experience can allow you to demand a higher pay rate.
For example, there are credible work from home transcription companies that hire transcriptionists and pay a higher hourly rate for team members with more experience.
Make a list of all your employable skills, credentials, and experience that is relevant to the job you are looking for.
Related: 15 Skills That Will Help You Make More Money
9 Websites and Apps for Learning and Developing New Skills
Step 2: Work on Your Resume

Next, you'll need to brush up your resume just like if you were applying for a traditional job. In some instances, you may not need a resume depending on the work from home job you're trying to get but if you intend to work with a legitimate company that hires virtual team members, you should expect the application process to be similar to any other job.
It's expected that employers are going to want to look at your job and education history so don't be surprised if you're asked to submit a resume and/or cover letter as you come across full-time and part-time job opportunities.
The application process may even be more intense since you most likely won't be able to meet with the potential employer in person for an interview. You may also need to take an assessment (depending on the field) and do a video interview or call after submitting your resume so keep this in mind.
Step 3: Consider Your Job Needs and Requirements

All work from home jobs are not created equal. While you may like the sound of having a flexible work schedule, that may include having an inconsistent work schedule as well.
Some work from home opportunities are part-time vs. full-time or geared toward contractors or freelancers so there are no employee benefits provided.
If you're looking to replace your full-time income by working at home, you'll need to keep this in mind.
Other jobs require you to work a set schedule or during nights and weekends even though you can work from home. Pay close attention to job descriptions and feel free to ask questions if you apply and receive a response from the employer.
Step 4: Search For a Job

Now, it's time to search for a job. Sometimes, your search may not be too extensive if you prefer to work in the same job field. You can start by asking your current employer if they will allow you to telecommute.
This option isn't always guaranteed, but it's worth a try if you actually like your job but just prefer to work from home. On the flip side, some job fields and companies are shying away from using telecommuters and prefer to have everyone come into the office for work.
It really depends on the company you're at, your job role, and the logistics of how the team works.
If you're like most people and switching from an in-office employee to a work from home employee is not an option for you, you'll need to consider finding a new job and you can start your search by checking out online job boards.
Some of the best job boards to find work from home jobs include:
Aside from job boards, you can also find work from home job leads by joining Facebook groups and reaching out to people in your network.
Don't underestimate the power of your network. Sometimes it pays off to tell friends and family that you are looking for a work from home position. You never know who may have a lead for you.
You can also follow companies you'd like to work for on LinkedIn and connect with recruiters to send a pitch or inquire about job openings.
If all else fails, conduct a search on Google to see if you can find an available work from home jobs in your desired field or reach out to the company directly to send your resume and see if they're hiring. Many companies don't post job ads online so it's important to keep that in mind.
To automate your search, you can sign up to receive job alerts from the online job boards mentioned above so you can be notified when there's an opening.
Related: 7 Ways to Get Over Your Fear of Networking
How to Network Effectively For a New Job
Step 5: Watch Out For Scams

When you're searching for the ideal work from home job online, it's important to be mindful of scams. Work from home jobs are highly desired and unfortunately, there are many illegitimate opportunities out there that aren't worth it. It someone asks you to pay money to start working or in order to take training, consider this a big red flag because if someone wants to hire you, they shouldn't ask you to spend any money.
Be sure to research the companies you come across by checking out reviews on sites like Glassdoor and seeing if they are listed and accredited with the Better Business Bureau.
Ultimately, if a job opportunity sounds too good to be true, it often is. Working from home is still work and any respectable employer or client will want you to apply and demonstrate your skillset first. Then, an offer letter or contract should be put in place to secure you actually have the job.
Don't fall for work from home scams and end up working for free or losing your money.
Step 6: Consider Quick Options to Make Money From Home

Finally, realize that after you've done your part in terms of research and applying, it may take some time to land the job you want. Be persistent and follow up while continuing to build your network.
Also, if you need to make money fast working from home consider an online side hustle as a quick fix. To earn extra money from home, you can:
Sell products on Etsy
Freelance
Take surveys online
Test websites with UserTesting
Pet sit

If you're looking for more ideas, here a post that includes 50+ Legitimate Ways to Make Extra Money From Home.
Knowing your skill set and utilizing online resources like job boards can definitely help you narrow down opportunities and find the right work from home job faster. Also, don't underestimate the power of word-of-mouth referrals either and realize that it's just as important to build your network for virtual jobs as it is for in-person jobs.


Have you ever had a work from home job before or thought about working from home? What are your best resources for finding job leads?