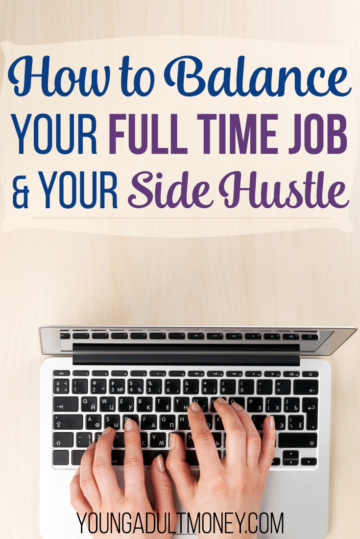 A side hustle provides an extra source of income that many of us need. However, it often leaves you with the responsibility of juggling your full-time job and other responsibilities with the extra work which can get difficult.
While you may not ever find the perfect balance between your side hustle and your full-time job, there are many things you can do to make your schedule manageable so you can side hustle successfully long-term and avoid burnout.
Today I'll go over a few tips and ideas to make a side hustle more sustainable for you.
Set an End Goal

Setting an end goal or even short-term goals with side hustling is something I think many people overlook. It's important to always keep your reasoning for side hustling at the forefront of your mind. You need to know why you're doing it and what you hope to achieve so you can remain motivated to keep going and know when to stop or slow down when it's appropriate.
When the extra money starts coming in, it's easy to get addicted to earning more, but you usually can't side hustle forever. If you're side hustling to pay down a car note or pay off your student loans, you'll know that when you reach those goals, you can probably stop your side hustle or take a break.
If you already hit some of your goals early in the month and have a busy week at work, you can confidently slow down on your side hustle if it's flexible.
This is something I did often when I was juggling my full-time job with my side hustle. At my full-time job, we earned an incentive for meeting a certain goal each month and thus, the last week of the month was super busy.
I worked hard on my side hustle during the beginning of the month so I could afford to slow down if need be toward the end of the month.
Related: 7 Things To Do With Side Hustle Income
Cut Something Out and Prioritize

Normally, when you add extra work hours to your schedule you need to cut something else out in order to have enough time. For some people, it may be television, sleep, social media, or even an exciting Friday night out.
These small sacrifices will help you gain back more time and energy to side hustle to balance things out. You'll have to prioritize your side hustle, full-time job, and the things that are most important to you but remember that you can't make everything a priority.
You'll have to be blunt and say no to some things so you can say yes to your side hustle.
Look at your current schedule and see what time openings you have to work on your side hustle. If you can't clearly block out enough time, create the time by cutting out time-consuming tasks/activities and prioritizing.
Make the Most of Down Time

Optimizing your down time is a great way to better balance your side hustle with your full-time job. Everyone has down time, and you don't have to dedicate all your downtime to your side hustle but even just 30-60 minutes per day can really help.
For starters, the most obvious amount of downtime you'll have will be your off day(s). Make the most of your days off from your full-time job to side hustle and catch up on other tasks on your to-do list.
Make it a habit to get up early or stay up late (depending on whether you're a morning or night person) so you can side hustle without and distractions. If you have a daily commute and a flexible side hustle, see if you can work during that time and be more productive.
You may even want to utilize your lunch break to work on your side hustle. I only had a 30-minute lunch break at my 9-5 back when I side hustled but I often used it to check and respond to emails and do a little writing so that I didn't have to do it when I came home from work.
Related: 15 Time Management Apps to Help Increase Your Productivity
7 Ways to Make Money on Your Lunch Break
Track How You Use Your Time With This Time Tracking Spreadsheet
Automate Tasks and Outsource

Finally, automating and outsourcing tasks will be extremely helpful when it comes to balancing your side hustle with your full-time job.
You should determine how much time you have to dedicate to your side hustle outside of your day job and live a comfortable life. Once you hit that maximum number of hours that you can dedicate to side hustling, consider automating or outsourcing some things.
I started outsourcing quickly after I began side hustling and it actually helped me be able to earn more money by freeing up some of my time.
If there's a task involved with your side hustle that you don't really like to do or wouldn't mind giving to someone else, outsource it to someone you can trust so they can take it off your hands.
You can even outsource other tasks in your life like cleaning your home, preparing meals (try a meal delivery service), babysitting, landscaping, dog walking etc.
When it comes to paying for outsourcing, set a budget and ask for referrals if you can. If you're going to be spending money, you'll want to make sure it's a worthy expense and that outsourcing will actually help you.
If you can earn more money or gain back more time as a result of outsourcing, it's usually worth it.
Outsourcing doesn't always have to cost you money seeing as you can ask friends and family to help out with certain tasks to lighten your load of responsibilities. In terms of automating, you can sign up for certain websites and apps that will allow you to schedule tasks out like Asana for example.
If you want to promote your side hustle to get find more work, you can use free tools like Buffer and Hootsuite to schedule out social media updates regularly. You can also track your expenses and send invoices if needed via websites like Freshbooks (offers a 30-day free trial) and Quickbooks.
Being Intentional With Your Time

Life is busy and when you throw a side hustle into your schedule, your time can seem extremely limited after already working an 8+ hour shift 5 days a week.
Focus on being intentional with your time and prioritizing what's important. You may not find the perfect balance, but what you're actually looking for may not be balance at all.
You want to feel like you have control over your schedule and enough time to meet your goals and enjoy what you value the most.
Follow these tips and strategies in order to get to that point.
Related: 50+ Legitimate Ways to Make Extra Money at Home
7 Reasons Millennials Should Start a Side Hustle
6 Skills That Can Be Turned Into a Side Hustle
15 Skills That Will Help You Make More Money
Do These 5 Things Before Starting a Side Hustle

Do you have a side hustle? If so, how do you balance it with your full-time job? When you've had to work extra hours in general, how did you adjust your schedule to make it more manageable?