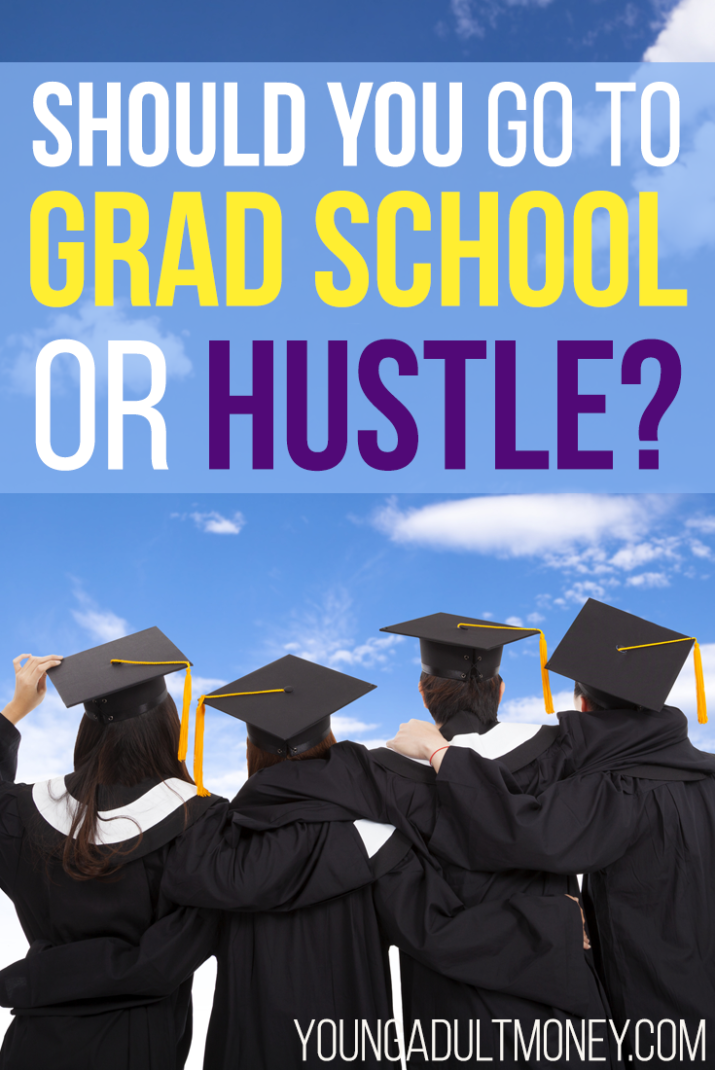 Ever since graduating college I've debated about whether or not I should go to grad school.
I work in finance so an MBA would be a natural grad degree to get.
At first I was sure I would get an MBA. It seemed like something I would need for my career.
So two years ago I studied for and took the GMAT, and then I applied to a part-time MBA program.
I was accepted and attended orientation. I signed up for classes and mapped out the next five years of classes.
But then something happened. I got a book deal and was faced with the reality that there was no way I could write a book while taking MBA classes.
So I delayed my enrollment a semester.
Fast forward to the next semester and I was again faced with the reality of what sort of time commitment was needed for the MBA program. Could I truly promote and market my book while also going to grad school? Did I even want to get my MBA?
Everyone who considers grad school needs to weigh the pros and cons. While having a book deal made it easier for me to decide, I think I knew all along what I truly wanted: I wanted to hustle!
Each person's situation is different. But first let's dive into two key questions that everyone considering grad school should ask themselves.
What Is Your End Goal?

Everyone who is considering grad school should ask themselves what their end goal is.
What do you hope to accomplish by getting a grad degree? Is your goal to be qualified for a job you otherwise wouldn't be qualified for? Is it to pivot out of your current career path into a new area? Or perhaps it's more ambiguous, such as "to help me progress my career."
Your end goal is important because it must justify the time, money, and energy you put into your grad degree.
In my situation getting my MBA was ambiguous. It was meant to help me continue to progress in my career. But for me, my career was – and still is – a backup plan.
In my ideal career scenario I see myself running a company that I started. I've known for a while now that I want to be an entrepreneur.
Corporate America is a safe backup plan, and getting my MBA *might* help me, but when push comes to shove getting my grad degree would actually hurt my ultimate goal of becoming an entrepreneur, for a couple reasons:
It would cost me about $50,000.

That $50k is after over $30,000 of employer tuition reimbursement (approximately $5k a year for six years). That either means more student loan debt or dollars diverted away from paying down other debt, building savings and investments, or even investing money into my business ideas.

One more note on the employer tuition reimbursement: you have to pay it back if you leave within two years of receiving it. So even if I left immediately after graduating I would have to give back approximately $10k to my employer.
It would take considerable time.

Time that is precious to me as I work on side hustles and continue to test business ideas. Time that ultimately is more of a loss than the dollar cost.

More likely than not I would have to sacrifice most – if not all – of my side hustles. That means no testing of business ideas and certainly a loss of exposure to upside.
My situation is unique from your situation, which is unique from the next person's situation. You may be able to relate to me, or not.
If you want to be a lawyer and that's what you are set on doing, you have to go to grad school. If you want to be a psychologist, you have to go to grad school. And if you want to be a business executive in corporate America, it certainly won't hurt you to add an MBA to your resume.
Force yourself to determine your end goal of getting a grad degree. And then weigh whether the sacrifice is worth it. For many people, it is. For many others it is not.
What Will You Do Instead of Grad School?

There are two broad camps people fall into if they are trying to talk themselves out of going to grad school. They are:
They have other things they want to pursue – such as a business idea or side hustle – that they would have to give up if they went to grad school.
They are concerned about whether grad school will get them to their desired end result. Will it truly be worth the money?
Those who fall in the first camp are typically entrepreneurial and the fact they have a business idea or side hustle in mind makes me think they should definitely pursue that first. You can always go to grad school later and you are much more likely to regret not pursuing your business or side hustle than you are to regret not going to grad school.
Those in the second camp should be honest with themselves: are they truly afraid that grad school won't get them to their end result, or is their concern an excuse to not put in the work and time grad school requires?
I've seen others pursue grad school who would otherwise be watching Netflix and hanging out in their spare time. While there's nothing wrong with relaxing, if you have a clear reason for going to grad school and you aren't sacrificing a business or career opportunity to do so, it just might be worth your time.
Obviously my thought process is geared towards those who are entrepreneurial, but that's because at the end of the day I think those individuals have an "easy" choice that they just need to have the guts to make.
For everyone else it's more difficult. It always makes me sad to see people who give up on grad school simply because they are comfortable where they are at now.
What about five or ten years down the road when you are in the same job and decide you want to move up or move on to something different? You may end up regretting not putting in the time, effort, and money a few years back and knocking out that grad degree.
Trying to Change Careers? Options Other than Grad School

Those who are trying to change careers are in a unique situation. Assuming you are not trying to move into a career that requires a grad degree (i.e. law school, counseling, etc.), you may be able to avoid grad school altogether.
In my post The One Reason Why Blogging is the Ultimate Side Hustle I made the argument that if you start a blog you will gain extensive content marketing skills. These skills can be leveraged to pivot into marketing, even if you have no background in marketing prior to that.
In today's digital world there are numerous opportunities to gain "on-the-job" learning if you are looking to shift into a new career field. I know a ton of people who have started a blog and moved to full time content creation (and made a lot more money, I might add).
This doesn't only apply to marketing or content, though. If you want to pivot into health care policy, you could be proactive and learn about health care policy through websites or books and ultimately network with those in the field to get a foot in the door. This could potentially save you $100k that would have gone towards a masters degree.
My point here is simple: consider non-traditional avenues for getting to your end goal. It's more popular than ever to hire someone who has non-traditional experience for a job, and it's worth your time and money to consider those other avenues.
Related: 4 Alternatives to Grad School
Are you considering grad school? What pros and cons have you considered? Do you have a hustle you would rather pursue?