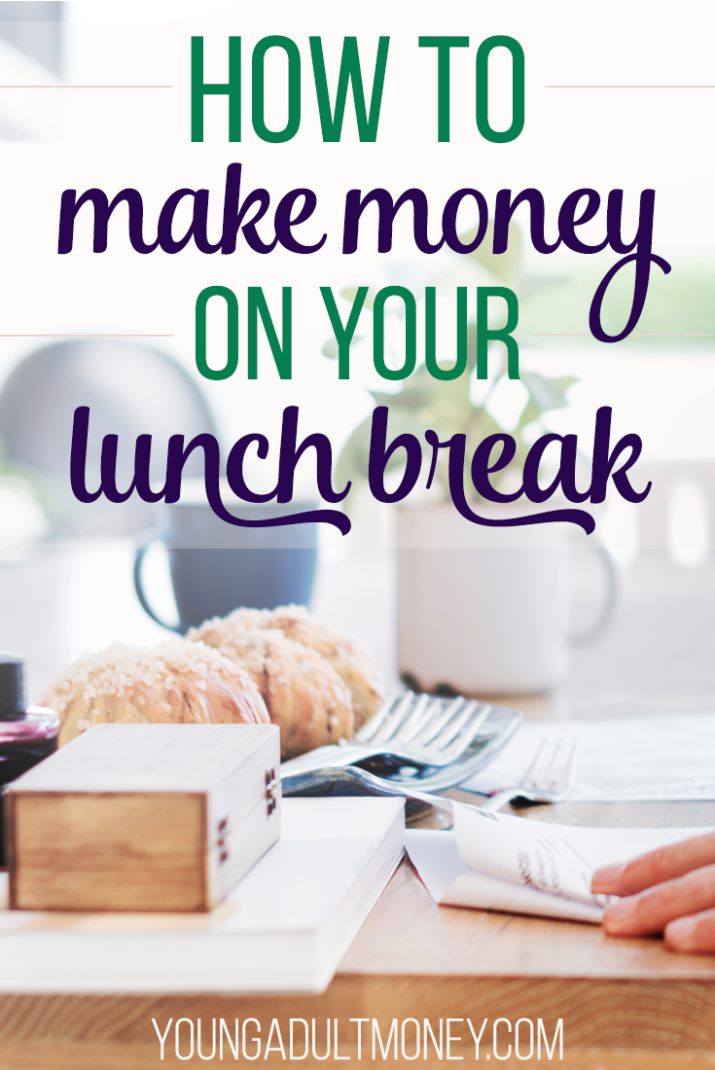 How do you spend your lunch break? If you're a hustler and eager to earn extra money, you're probably not content with simply eating and relaxing during your break.
If you're looking for a reliable way to earn extra money that won't take up a ton of your time and energy, it's best to start by identifying tasks that you can do during your lunch break. That way, you'll be less likely to get up super early or stay up too late to make extra money.
Whether your lunch break is 30-minutes or an hour-long, these 6 extra income ideas will help you make more money while still being able to enjoy your mid-day meal.
1) Swagbucks

Swagbucks is one of my favorite ways to earn a little extra money quickly on the side. Swagbucks allows you to earn money in a variety of ways whether it's shopping online, taking surveys, watching videos, trying out offers, playing games, or searching online.
At my one of my old jobs, I set the Swagbucks search engine as my default when I opened my browser so while I conducted research performed searches online throughout the day, I would earn extra points.
You can also watch videos during your lunch break or answer polls to earn extra points. Try doing this every day and you'll reach 2,500 Swagbucks in no time which will be enough for you to redeem a $25 gift card.
Related: 7 Websites and Apps For Making Extra Side Cash
2) Blog or Freelance Write

The reason so many people like blogging as a side hustle is because it can be done from anywhere, at any time. If you are efficient you can crank out a blog post over your lunch hour either for your own blog or for a freelance writing client.
If you had an hour lunch break every day of the week, you could potentially write up a draft of five blog posts a week during your lunch break. Even getting one or two blog posts done throughout the week could be a huge boost for your blog – and your time outside of work.
Not everyone enjoys writing during their lunch break, but there are still other ways to work on your blog during lunch. You can respond to emails, outline blog post ideas, comment on other blogs, or any other number of ways to improve your blog (here's 30+ ideas for improving your blog).
Related: How to Start a Blog Today
The One Reason Why Blogging is the Ultimate Side Hustle
3) Online Surveys

Taking surveys online is another great way to earn money during your lunch break. Most paid online surveys are 2-20 minutes leaving you plenty of time to eat and take 1-2 quick surveys for cash.
Pinecone Research is one of the best options and they pay you in cash for each survey you take. Pinecone Research pays up to $3 per survey and doesn't require you to go through the pre-screening process to see if you qualify to take a survey. With this site, you can get started earning money fast on your lunch break since time will be limited.
Harris Poll Harris Poll Online is one of world's oldest market research companies. You can take surveys on a variety of topics on their site and be comped in rewards to Starbucks, Amazon, and other partners.
VIP Voice survey site that comps you in points that can be used for a variety of rewards.
4) Selling Gigs on Fiverr

If you have a special service you can offer, consider selling it at a gig on Fiverr. You can edit, write, create graphics, research, etc. during your lunch break for extra money.
If you like to create graphics and know how to use online tools like Photoshop, you can create logos for customers during your lunch break if you have access to a computer.
If this is something you'd like to do but don't know how to do yet, consider taking some Photoshop training so you can learn. Creating graphics (especially basic logos) is fun and allows you to get creative.
You can sketch out ideas in the morning before work, then knock out 1-2 logos during your lunch break.
5) Run Errands with TaskRabbit

If you'd rather leave your job for lunch and get some fresh air, consider running errands for extra money. You can find work on sites like TaskRabbit, Door Dash and Postmates.
Door Dash allows you to deliver mostly food orders to local people. You pick up jobs via the app and set a timeframe for when you'd like to work. This could be a good option if you are near lots of restaurants.
Postmates is a similar service that allows you to deliver goods by car, bike or even on foot. Postmates deliverers earn an average of $25/hr plus tips. Again, this would be a good option if you are in a high-traffic area.
Running errands on your lunch break is best if you have a longer lunch break so you'll have a longer window to pick up jobs.
6) Mystery Shop

Want to earn extra money by visiting businesses and recording your experience? Mystery shoppers earn money by eating, making purchases at retail stores, trying out different services, etc.
Secret Shoppers perform market research by blending in with regular everyday shoppers but recording their entire customer experience in detail.
I used to be a mystery shopper back in college and it was fun and easy. Basically, you choose which assignments you'd like to take, and you answer specific questions based on your experience.
One time, I had to check out a local gym as a mystery shopping assignment and I simply called ahead, showed up for the tour, and asked specific questions. Then, I submitted my responses online to the mystery shopping company in less than 24-hours afterward. All in all, the assignment lasted 30 minutes and it took me 10 minutes to fill out the survey online detailing my experience.
Earnings can vary depending on what assignments you take on and where they're located, but I wouldn't accept any jobs that paid lower than $20.
Some of the best sites to find mystery shopping gigs include BestMark, SecretShopper.com, and MysteryShopperProgram.com.
7) Sell Stuff Online

If you have lots of items to get rid of, consider selling them online for a profit. I used to sell items online but I've gotten really bad at it lately. I like to declutter a lot and get rid of old things, and I realize it's important to recognize the fact that my old stuff can actually earn me money if I'd just list it online.
If you find yourself going through a bunch of old stuff one weekend, take pictures or it and create listings on sites like Amazon and eBay during your lunch break.
Related: 5 Items I've Sold Online For Quick Cash
The idea of taking time out of your lunch break to earn extra money may not sound ideal on the surface. However, if you're keen on making more money, you have to consider the fact that you'll be giving up some of your time anyway whether it's staying up late after work, getting up super early, or earning money on your off day.
To minimize the amount of time you'll have to spend side hustling outside of work, consider doing some of these things to earn extra money during your lunch break so you can have some availability to relax and spend time with family for a while when you get off work.
Related: 50+ Legitimate Ways to Make Extra Money From Home
9 Unique Side Hustle Ideas
5 Side Hustles That Make At Least $500 a Month
How to Make Extra Money In Your Slow Season


Have you ever tried any of these extra income ideas? Would you be willing to use part of your lunch break to earn extra money?