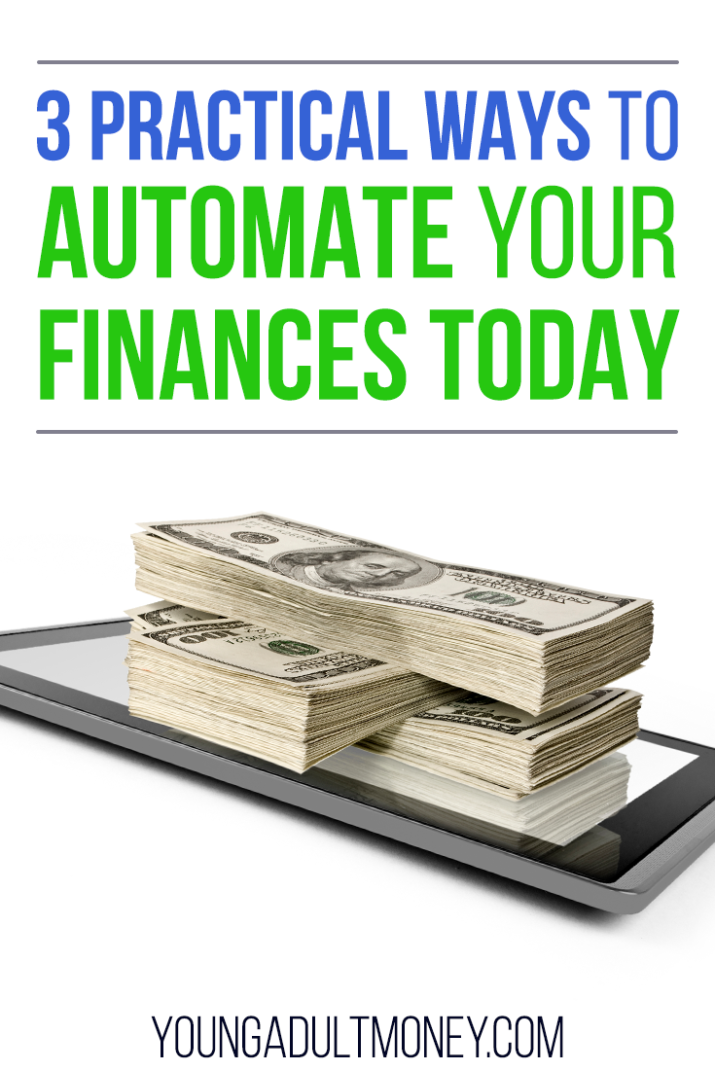 This post is brought to you by our friends at Chime.
When it comes to money, the phrase "over time" is extremely important.
Oftentimes having solid finances has more to do with being on the right trajectory, and not so much about daily decisions.
The easiest way to make sure you are on the right path with your finances is to automate them. The more automated good decisions are, the more likely you are to stick with them long-term.
For example if had to make the conscious decision every two weeks to set aside money from your paycheck for taxes, you may end up forgetting to do it for an extended period of time or not taking out enough. Because this is automated through your employer, you don't have to worry about manually setting aside the money, nor do you risk spending money that will eventually need to go towards taxes.
And to the freelancers out there: yes, I realize the burden of setting aside tax money is given to you, but I think you agree it's not an ideal process!
Today I want to give you three practical ways to automate your finances – including automating bonus savings. Who doesn't like getting bonuses?? You'll find out more when you make your way to #3 below.
All three of these are simple actions you can take today to automate good financial choices. If you follow through with these, you are going to benefit greatly over time.
1) Set Up Auto-Pay For Your Bills

Everyone has bills, so why not automate them? In fact today many companies that offer loans either require automatic bill payment, give an incentive for setting up automatic bill payments, or at minimum encourage customers to set up automatic payments.
This is a win for everyone involved. The company is much more likely to have their customers' pay their bills when they are due and customers save the time and effort of manually making payments.
While I generally encourage this automation as it saves time from a repetitive and menial task, I think that it's equally important to make sure you are reviewing your expenses each month. If you aren't keeping tabs on your finances you may miss an error or just generally be unaware of your financial situation. In other words you should automate, but remember to do your due diligence.
2) Automatically Set Aside Emergency Fund Savings

Most people have their paycheck hit their checking account, and most checking accounts allow you to set up regular transfers. For example you may set up a $100 automatic transfer from your checking to savings that will occur each month on the first day of the month.
Setting up automatic transfers is the easiest way to build an emergency fund because it takes the effort and thought process out of it. You only have to decide once that "yes, setting aside X dollars a month for emergencies is a good idea" and the automation will repeat that good financial choice over and over each month.
Already have a full emergency fund? Awesome! What you should do now is either increase the amount you are contributing to retirement accounts or set up additional savings accounts for known future costs. For example, you can set up specific savings accounts for your next vacation, your next car, or any other number of things.
Chime, the a mobile-first bank account that helps members automate their savings and avoid fees, has an option called "Save When You Get Paid" for it's members where you can automatically transfer 10% of your paycheck to your Chime Savings Account. This is a great way to quickly build an emergency fund, save for a down payment, or whatever else your current savings goal is.
3) Automate Bonus Savings

There's a lot of bonus and cash back programs out there, but most take some effort on the part of the user. Cue automated bonus savings from Chime.
Anyone who signs up for a free Chime Visa® Debit Card have the ability to receive a weekly automated reward bonus.
There are two parts to this: automated round-up savings on every purchase made with a Chime Card, and weekly bonus payouts from Chime.
Save When You Spend – Each time a member makes a purchase on their Chime Card, the transaction rounds up to the nearest dollar. That amount will be anywhere from $0.01 to $0.99, and will be transferred from the member's spending account balance to the member's savings account balance.
Weekly Round-Up Bonus – Every Friday you will receive a reward credit equivalent to ten percent (10%) of the total value of all round up transfers made since the prior Friday.
Combining both of these features creates a powerful automated savings strategy that works in your favor over time. Not only are you automatically saving money with each purchase, but you also get the extra round up bonus each week.
We all make purchases and transactions, so being able to save as you spend is something everyone can benefit from. Chime members who use their Chime card twice a day on average save about $400 a year – without even thinking about it!
Sound valuable? Find out more about the free Chime Visa® Debit Card and automated savings program to get started.

Have you automated your finances? What do you think about the automated savings bonus Chime gives their customers?