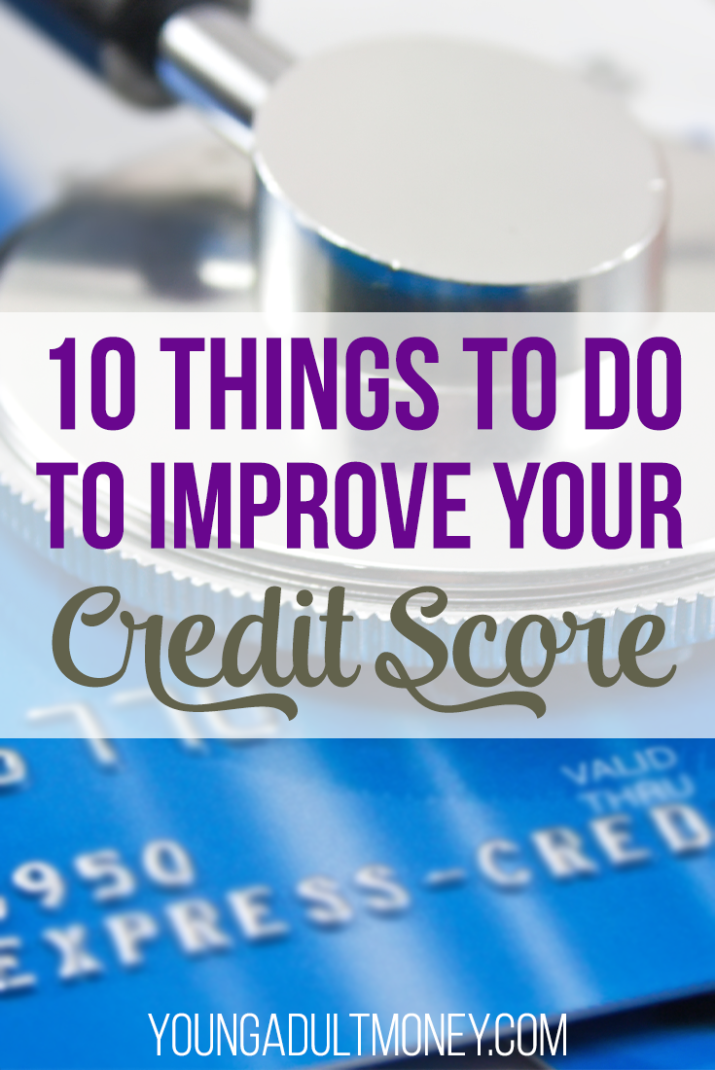 This post is part of our series 7 Weeks to Your Best Finances.
This series is meant to serve as a 7-week path to improving your finances. It will cover all the important topics like starting a budget, saving money, making money, investing, and more.
To find out more and see all the tips and ideas for improving your finances check out the dedicated 7 Weeks to Your Best Finances page.

Your credit score is a huge indicator of your financial health. It impacts most major financial decisions you'll make in life, such as applying for credit cards, obtaining a mortgage, getting a job, or even being approved for cable. A poor credit score will hold you back from living life as a financially free adult.
When we talk about credit scores, we mean the number that lenders and service providers are looking at to deem whether or not to offer you credit. The chart below varies slightly, but gives you an idea of what a creditor might think about your credit score:
<500: Very bad
500-549: Bad
550-599: Poor
600-649: Average
650-699: Good
700-749: Very good
>750: Excellent
Unfortunately, bad credit has no quick fix. You may have seen commercials or ads marketing services that claim to fix your credit score fast. These typically are scams, and will leave you worse off than when you started.
The only way to raise your credit score is to commit to fixing it. And in order to fix it, you'll need to do a financial overhaul. This includes reexamining your budget, focus on making more money, build your savings, and pay down debt. It's a long-process, but luckily, there are a few things to focus on to ensure you are raising your credit score.
1) Check Your Credit Report

The first thing you need to do before you can even begin to improve your credit score is to check your credit report. If you haven't checked your credit report, you can do so for free by going to annualcreditreport.com. There are a ton of companies out there that offer "free" credit reports, but they end up charging you to see anything other than the most basic of information. Annualcreditreport.com is actually free, and no strings attached.
Your credit report will show you which accounts you have open under your name, how much credit you have, and the amounts owed. Check to make sure everything looks correct. If there is a mistake on your credit report, it likely is majorly affecting your credit score, so it's vital to check your credit reports every few months.
2) Fight Any Inaccuracies

Should you find any mistakes on your credit report, you will need to dispute it with the credit bureau. This is not a fun process, but remember: your credit score can make or break your financial situation. If someone broke into your house, you would be sure to report it. And if something is inaccurate on your credit report, make sure to report it.
All 3 credit bureaus (Experian, TransUnion, and Equifax) are accepting online credit disputes. Simply go online, fill out their online dispute forms, and include copies of documents that support your argument. Clearly state which item(s) on your credit report you are disputing and why you are disputing it.
3) Pay Your Bills

Paying bills on time constitutes a huge portion of your credit report. In fact, payment history makes up more than 1/3 of your credit score. A single missed payment will stay on your credit report for 7 years.
Your credit score doesn't reflect your reasoning for missing payments, so it doesn't matter whether you missed a payment due to lack of funds or whether you simply forgot to pay a bill.
4) Negotiate

Creditors aren't typically friendly negotiators, but it doesn't hurt to try. Many people successfully negotiate with their lenders to come up with a solution that works for both parties.
Lenders are more willing to work with you if they see you are actively trying to pay them back. Show them your progress. For example, say you incurred massive credit card debt after you lost your job. If you were responsible with your credit card before you lost your job, creditors will sometimes take that into account. This won't likely result in debt being forgiven, but lenders might be willing to work with you by lowering your interest rate or removing a late payment from your credit report.
5) Pay Off Debt

This isn't something that can likely be done overnight, but paying down your debt will drastically improve your credit score over the long-term.
When you're viewing your credit card, use it to make a list of every account you have open. You'll want to check each account individually to see what the interest rate is on your debt in order to prioritize how you will pay it off.
Paying off debt is not an easy process, but it will not only improve your credit score, but it will improve your entire financial situation and your life!
6) Make Credit Cards Work for You

Believe it or not, credit cards can be an extremely useful tool to not only improve your finances, but responsible use of credit cards can actually increase your credit score. However, if you have a low credit score, you will want to seriously consider cutting up your cards.
Many people struggle with owning credit cards. They admit that they spend more with a credit card, as they don't physically see any money. It's okay and completely possible to stay away from credit cards if you don't feel confident that you can use them responsibly.
7) Automate Your Payments

Automatizing your payments is an easy way to ensure you won't miss any bills.
Many banks, loan providers, and credit cards allow you to set up automatic payments. This will allow you to have payments automatically taken out of your bank account. Further, many providers will send text or email payment reminders as a courtesy.
8) Stay Well Under Your Credit Limit

Your credit utilization, or the amount of credit you actually use relative to your credit limit, impacts your credit score the second most. So, any maxed-out credit cards are negatively affecting your credit score.
It is suggested to keep your credit balances under 30% of your credit limits, and lower if possible. So, for example, if you have a $10,000 limit on your credit card, you would ideally never carry a balance higher than $3,000.
If you have a much higher credit utilization, prioritize those payments to get your utilization below 30%. This isn't easy to do, but throwing any extra cash you receive from a side hustle or tax refund towards your debt.
If you're still not confident you can begin paying off your debt rapidly, talk to a debt counselor and consider a debt consolidation loan, which will allow you to pay off your debt in installments.
9) Stop Impulsively Applying for Credit Cards

Applying for credit cards should take a lot of time and consideration. Unfortunately, in today's culture, it seems like you cannot go through checkout at any store without being bombarded by excellent deals if you open a credit card.
If you are guilty of applying for credit cards at retail stores or ones you get in the mail, stop! Credit is not free money, like they often market it to be. While credit cards can be excellent tools when you handle them responsibly, decisions about them should not be made on impulse.
10) Focus on Making More Money

If you're struggling to meet even the minimum payments on credit owed, you should seriously consider ways you can make more money.
Earning more money could mean you ask for a raise at your full-time job, or you look for a higher-paying job.
Or it could mean starting a profitable side hustle, like blogging or freelance writing. Then take any extra money you make and immediately put it towards your debt.
Rebuilding your credit score is a long and difficult process, but every day, people are successfully increasing their credit score. If you're committed, educated, and work hard, you can and will increase your credit score.