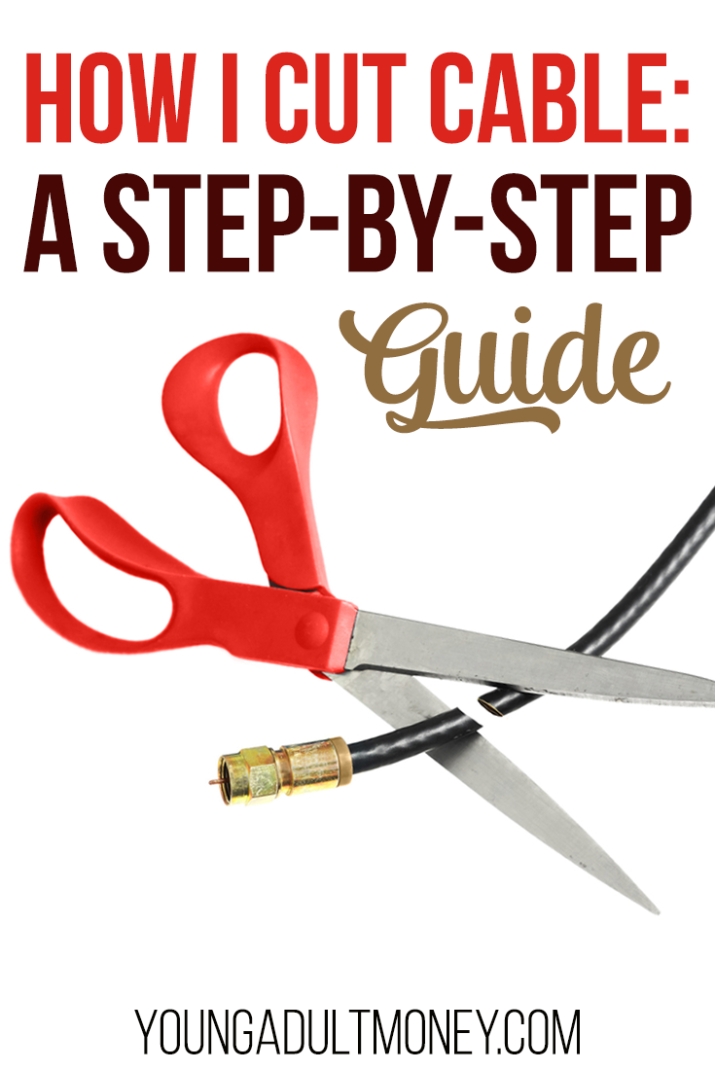 Considering how much we've written about cord-cutting on the site, many will be surprised to hear that it wasn't until 2017 that my wife and I decided to cut cable.
We aren't alone, though: as of a couple years ago there was still approximately 100 million households that subscribed to some type of paid TV service purchased through either a cable, satellite, or phone company.
For us, the amount of money we spent on cable was simply unsustainable. My wife and I are frugal and don't like to spend a ton of money on entertainment.
A concert or sporting event once in a while are good, but spending $160 a month for cable and internet? No thank you.
And let's not forget the games that you have to play when you have cable. It's the one industry that is explicit about it's desire to absolutely screw their loyal customers whenever possible.
I will not miss the annual phone calls asking why my rate was increased by $30 or watching my bill like a hawk each month in case Xfinity tried to sneak in an increase.
Despite the millions of subscribers they currently have, cable is a completely outdated industry that needs to change or die. Thankfully we live in a time of innovation where more and more competitors are answering the cry for straightforward pricing, affordable options, and great content.
In this post I will give you a step-by-step guide of how I cut cable in 2017, including what I replaced it with and what sort of savings we are looking at because of the cut (spoiler alert: the savings are huge!).
Step 1: Get a Digital Antenna
The first thing you want to do is get a Digital HDTV Antenna. This will allow you to receive all the free channels that don't require cable or another service to view in your home.
These digital antennas aren't what they used to be. In my attack at home literally the entire center is filled with this MASSIVE beast of an antenna. It's unbelievable.
Flash forward forty(?) years and we have paper-thin digital HDTV antennas that are transparent.
What a day to be alive.
I purchased the 1byone Window Antenna 50 Miles Super Thin Amplified Digital HDTV Antenna. It cost me approximately $30 (was on sale from $47 when I purchased).
There is also a 13-mile version that is listed for $30 (as I write this it's on sale for $14).
The antenna looks like this: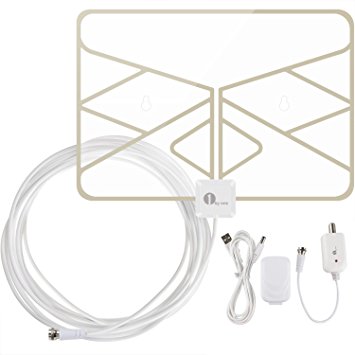 The antenna sticks to a window. This picture is essentially what it looks like – just a thin transparent sheet on your window.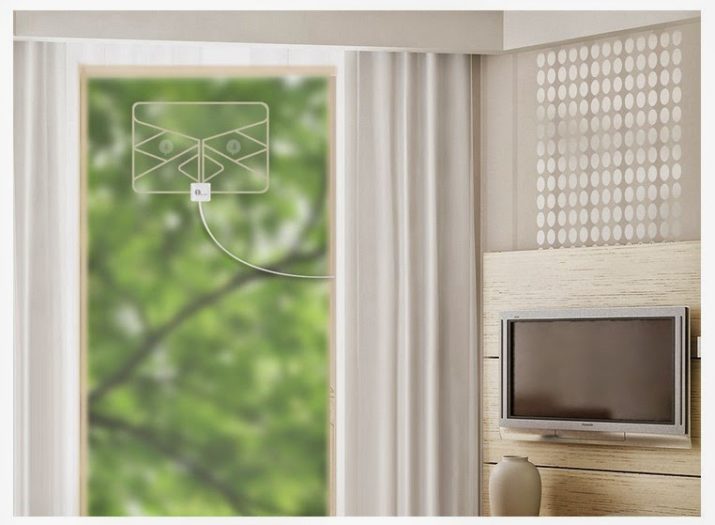 This antenna comes with a 20-foot coaxial cable to give you plenty of space from where you hang the antenna and where your TV is located.

Easy first step, right? On to the next one.
Step 2: Get a Roku
The next step in cutting cable is getting a Roku.
I think it's important to understand what a Roku is and what a Roku is not. A Roku isn't a magical device that gives you access to unlimited free, premium content. I think of the Roku as more of a hardware/software platform that allows you to stream things like Netflix, Amazon Prime Video, and any other number of streaming options.
Nevertheless, Roku is something you should purchase if you are going to cut cable. It has a simple, sleek user interface that I think most people will really enjoy.
Now the Roku has two solid options. If you want to save money and don't want or need the top-end product, go with the Roku Streaming Stick. It will cost you less than $50.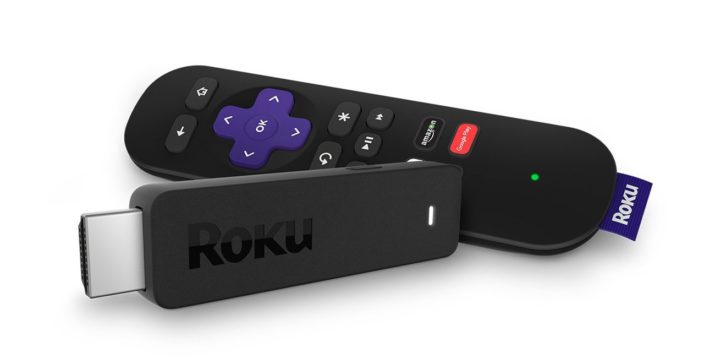 The second option is to go with the latest Roku model with all the bells and whistles. The Roku 4 is compatible with 4K and is loaded with all the latest features you'd want in a streaming media device. The downside is that it will cost you around $100 (currently on sale for $90, list price is $115).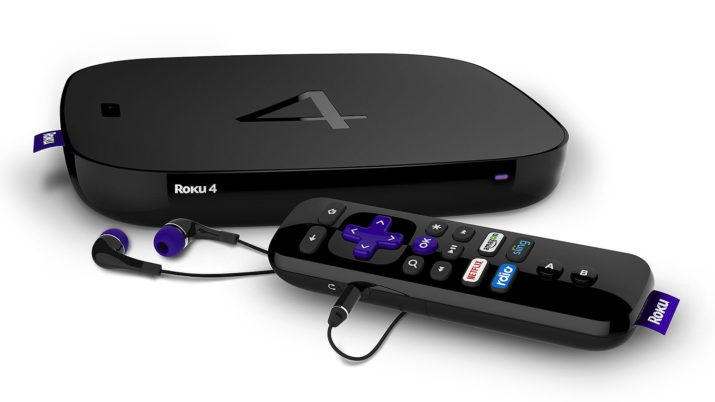 If you aren't sold on the Roku, a comparable option would be the Amazon Fire TV Stick with Alexa Voice Remote. It's only $40 and, while I haven't tried it, the Alexa voice remote sounds pretty cool.
Purchased your streaming device? Then you're ready for the next step: picking your streaming options.
Step 3: Pick Your Streaming Options (aka Cable Alternatives)
While cost and awful customer service are two big reasons people are ditching cable, another is the availability of streaming options.
This step isn't mandatory, but typically makes cutting cable more enjoyable. Depending on what sort of video content you consume, some may not even feel a difference when they switch from cable to streaming options.
Here are three streaming options that my wife and I utilize and recommend to others.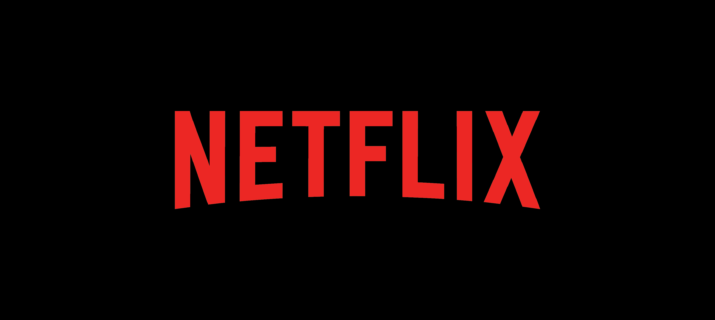 Netflix seems bent on world domination of the streaming space, and for good reason. Not only do they have a massive and constantly updated collection of television shows and movies, they also have been creating original content at a breathtaking pace.
As someone who loves television shows more than movies, and likes binging more than watching a new episode of a show each week, Netflix is arguably more valuable than many cable channels combined.
Netflix is also relatively affordable. For just $10 you get HD access to their entire library, on demand, and can even watch on two screens at the same time. When you are sharing a Netflix account with a spouse or other family member, this is a nice perk.
Below are the pricing options: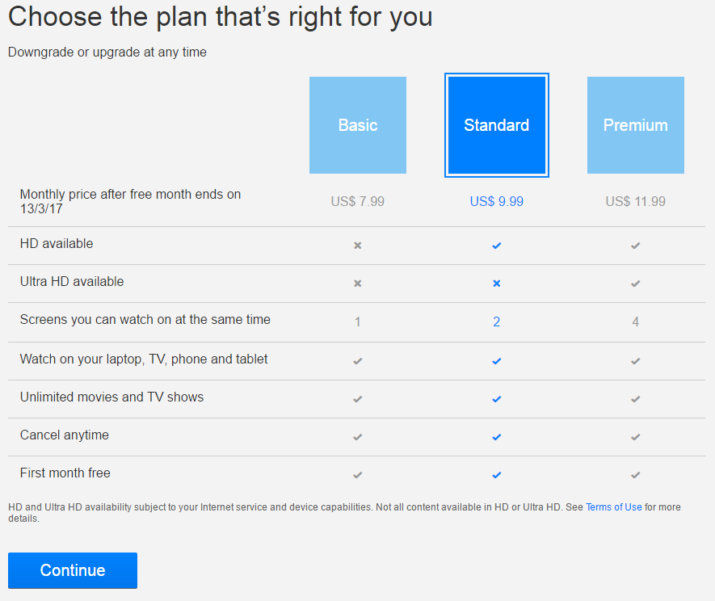 My wife and I actually have had
Netflix
for quite some time now, but if you don't have it and plan on cutting cable, I would highly recommend getting it.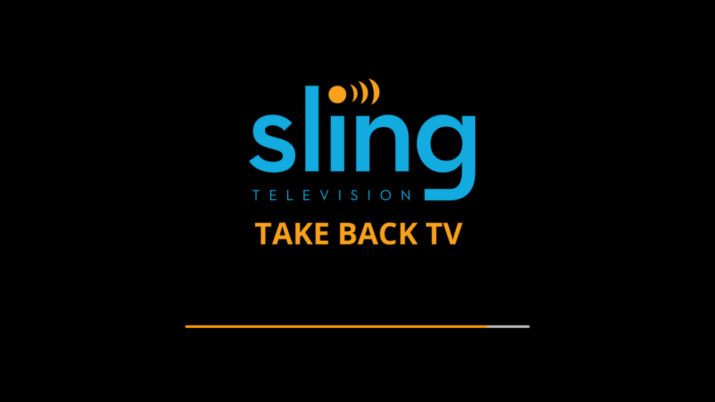 When I think of services that were the tipping point for cord cutting, I think of Sling TV. Sling TV offers three different "skinny bundles" as well as a wide variety of add-on packages to choose from.
The best thing about Sling? No contracts.
While I'm sure it was a mountain of a task to put together the contracts that allow them to offer these skinny bundles, it wasn't difficult for Sling to define their competitive advantage. All they needed to do was have straightforward, uniform pricing, and no contracts.
The three basic Sling packages are $20, $25, and $40. You can see them below (the channels in the $20 bundle are highlighted):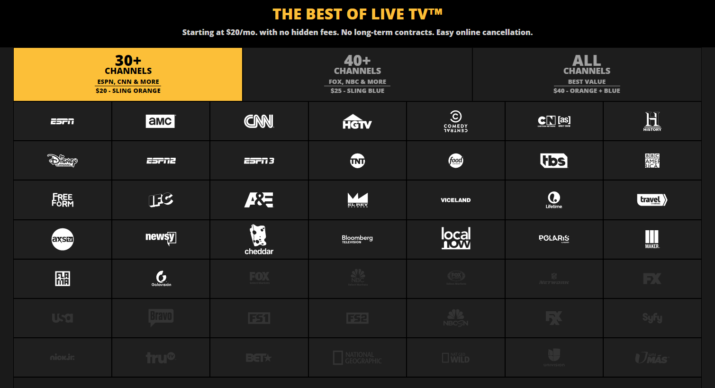 As I mentioned, there is also a wide variety of extras you can add on. Between the channels included in the bundle options and the sports add-on extra, the number of sports channels in particular is impressive.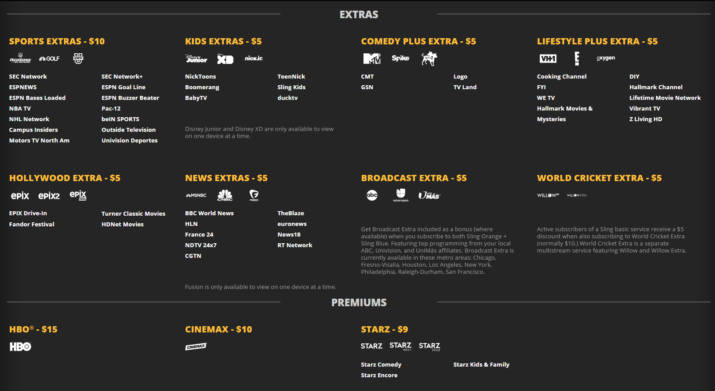 If you really want to take the edge off of cord-cutting, give Sling TV a try. Just be careful that you don't choose too many add-ons or you may end up paying the same as you did for cable!
Amazon Video is something I haven't utilized nearly as much as I should have. Similar to Netflix, Amazon Video has a wide variety of movies and TV shows you can watch on-demand.
I had signed up for Amazon Prime before Amazon Video was even a thing, so having Amazon Video is just one more perk of having Amazon Prime.
I first purchased Amazon Prime years ago for the free 2-day shipping, but I have found some things on Amazon Video that make it worth including in my cable alternative streaming "stable."
One thing I love about Amazon Prime – and in turn, Amazon Video – is the free 30 day trial
. It's a good opportunity to test out Prime and all the perks that come with it.

These are certainly not the only options available, but they are the three that we use. Hulu Plus is another popular option, and I'm sure we will see a variety of "skinny bundles" like Sling TV come out over the next few years.
Step 4: Purchase a DVR
Purchasing a DVR is another optional step, but as someone who used to record a lot of shows using my cable DVR, it was an important feature for my cord cutting setup.
There were two things I were looking for in a DVR: no monthly fee and a large amount of storage.
I found both of those in the Tivo Roamio. With 1 TB of storage capacity and no monthly fees, I was sold.

Your digital antenna will plug directly into the Tivo Roamio, and it provides a nice TV guide for viewing live television. It's setup for recording TV shows can be confusing at first, but once you understand the user interface you will find it easy to use. It almost provides too many options, but in the end that's better than too few options.
The Tivo Roamio will cost you $400, but sometimes it's on sale for $370 or $380. Unfortunately for me it wasn't on sale when I purchased it, but I still think it's well worth the money, even at $400.
It can record up to four shows at once, up to 150 hours of HD programming. You will love the commercial skipping technology it has built in – much easier than Xfinity's DVR fast forward option.
Two things I feel are important to point out: you cannot record Sling TV using this DVR. In fact, as far as I know there is no way to record shows over Sling TV. Anything that comes in through your digital antenna is fair game, though.
The second thing I wanted to point out is that this is an "over the air" DVR. The worst feature of this is that you cannot start watching a show until the recording is finished, or else it will jump to the live stream of the show. Meaning, if you wanted to start watching the Bachelor at 8PM CT after it's halfway in, you will have to wait until 9PM CT when the recording has finished, or miss the first hour. This may or may not have happened at my household…
In the end you have to decide whether this is a deal-breaker or not. Considering the only alternative right now is keeping cable, I think you will ultimately come to the same conclusion as me: this is a small sacrifice for the money you will gain over time from cutting cable.
Of course the Tivo Roamio is not the only DVR option, but it's what I found to be the best option on the market.
Step 5: Cut Cable!
Calling the cable company is never fun, and if you're like me you have made many calls over the years and been forced to play their game of constantly putting existing customers through the ringer, squeezing every last dollar out of you until you are shaking with rage.
In an ideal situation you would be cancelling all services from your current cable provider. But for many of you the call will consist of asking for a service downgrade.
This was my situation with Xfinity. It was not an enjoyable call because the pricing games continued.
To prepare for the call I went to the Xfinity website and looked for rates that would be offered to someone moving into my house. This is an essential step I would take prior to calling to end your cable service. It ended up being vital for me.
After calling and having the agent twice offering me bundle deals, despite me telling him I wouldn't accept even if they were dirt cheap, he said the best deal he could give me at my current internet speed of 100 mbps was $74.99/month.
My first thought was: this is insane!
I tried to stay calm but it's tough when you've been through this before. I told him I had a screenshot that showed a new customer would receive a rate of $59.99 for 12 months with no contract.
I also told him I could literally cancel right now and with one click my wife would be set up with the lower rate, so why don't we save each other time (and money – for them!) and just honor the rate?
We then went back and forth for over five minutes of why new customers are given better rates. It was ridiculous and really blows your mind that they are still able to get away with it.
It wasn't until I said these pricing games and awful treatment of existing customers are the main reason we are getting rid of cable, and if they don't honor the rate right now we were leaving for a competitor's offering.
I was put on hold and magically I was given the offer I asked for.
Bottom line: always be prepared when it comes to the cable company. Arm yourself prior to your call and know what rates they are offering to new customers.
The Savings
You are virtually guaranteed to save money by cutting cable out of your budget, even if you tack on extra streaming options like we did.
Our cable bill was $157/month. Even more unfortunate is that this is on the "low" end of cable and internet bundles. Keeping it this low required annual calls to Xfinity and one time a very real threat to cancel all our services with them (internet included). If you're reading this you are likely all too familiar with the games they make you play.
Our new cost is $60/month for 100 mbps internet. It's no contract, which is great as I like the flexibility and leverage it gives me.
Now we clearly have some add-on costs, as described in step three above. They include:
$10 Netflix
$20 Sling TV
*Note that I excluded Amazon Prime from this list because we would purchase Amazon Prime regardless of whether they had their Amazon Video option or not.
This comes to a total add-on cost of $30, and an overall total monthly cost of $88.
This gives us an overall savings per month of $67.
Not too bad! And if you really want to save money you don't have to purchase a skinny bundle from Sling TV, nor do you have to purchase Netflix.
Let's not forget that we purchased some equipment to make the switch possible – or I should say easier since the only thing you truly need is a digital antenna. Everything else is to make your experience as similar as possible to your previous cable days.
Here's a recap of our spend:
$30 Digital Antenna
$90 Roku 4
$400 Tivo Roamio OTA DVR
These one-time purchases come to $520.
While that may seem like a big number – and it is – remember we are saving $67 a month by cutting cable. The payback period of these purchases ends up being just under 8 months, and from then on the $67 in savings is true savings.
$67/month in savings translates to $804 a year. If you take Netflix and Sling TV out of the equation we are talking savings of $97 a month or a whopping $1,164 a year!

Cutting cable has never been easier, nor has there ever been so many alternative entertainment options. If you've ever thought of cutting cable, now is the time!
If you have any questions for me please feel free to ask in the comments. Happy to answer any questions you may have about cutting cable once and for all.

Do you have cable? If you do, when do you plan on cutting the cord? If you don't, what are your favorite entertainment options?
Product Roundup
Because this was a massive post, here's a quick summary of everything I purchased and recommend purchasing to cut cable: