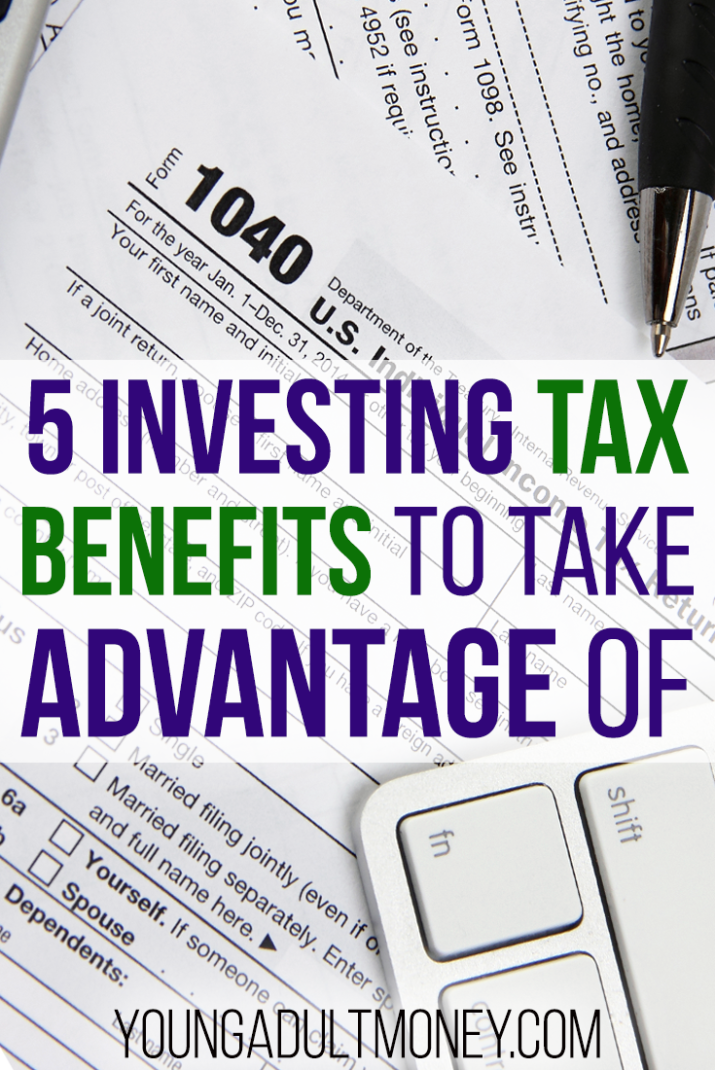 This post is part of our series 7 Weeks to Your Best Finances.
This series is meant to serve as a 7-week path to improving your finances. It will cover all the important topics like starting a budget, saving money, making money, investing, and more.
To find out more and see all the tips and ideas for improving your finances check out the dedicated 7 Weeks to Your Best Finances page.

Tax season is upon us and while this may not be your favorite time of year, you can make filing your taxes less painful by taking advantage of some tax breaks if you invested last year.
The U.S. tax code includes many benefits and tax breaks for investors that you should take advantage of.
In this post, I'll highlight and simplify some of the best investing tax benefits so you
1) Lower Your Tax Bill With 401(k) Contributions

When you contribute to your 401(k) for retirement, you do so with pre-tax dollars from your paycheck which then causes your taxable income to decrease.
As of 2016, if you are under 50 years old, the maximum contribution amount is $18,000 and if you are 50 or older, you can make an additional catch-up contribution of as much as $6,000 for a total of up to $24,000. This year, the limits are bound to go up to keep up with inflation.
Contributing to retirement is always a great habit to get into but it can really pay off in terms of lowering your taxable income so you which will also reduce the amount you have to pay in taxes.
While your 401(k) contributions are taxed in retirement, there are different tax brackets for each portion of your income you withdraw which is why an employer-sponsored 401(k) plan is best for individuals who plan on having a lower income than their current income during retirement.
Related: How to Start Investing In Your 20s
2) Claim the Retirement Saver's Credit

If you contribute to a 401k, 403(b), 457 plan, a Simple IRA, Traditional IRA, Roth IRA or a SEP IRA, you may be able to qualify for the Retirement Saver's Credit formerly known as the Retirement Savings Contribution Credit.
Depending on your income and filing status, with this credit, you can claim 50%, 20%, or 10% of the first $2,000 you contribute during the year to a retirement account which makes the maximum credit amounts that can be claimed $1,000, $400 or $200.
Generally, the higher your income is, the less of the credit you'll be able to claim and you'll need to file using a 1040A, 1040 or 1040NR to claim the credit.
For 2016 contributions, the maximum adjusted gross income for Savers Credit eligibility is $61,500 for a married couple filing jointly, $46,125 for a head of household, and $30,750 for all other taxpayers.
It's also a non-refundable credit meaning while it can reduce the tax you owe to zero, you still won't get a refund.
3) Local Exemptions for Municipal Bonds

When you purchase a municipal bond, you're actually lending money to a state or local government entity and the money is used to do things like build schools, highways, hospitals etc.
In turn, the government promises to pay you back a specified amount of interest (usually paid out twice per year) and return the principal to you at on a specific maturity date.
If you have municipal bond ETFs or mutual funds, a portion of the dividends paid by mutual bond funds may be exempt from state and local tax which could leave more money in your pocket.
The rules vary from state-to-state, so you'll need to speak with your accountant or tax adviser to make sure see if an exemption applies in your situation.
4) Reinvested Dividends

This isn't really a tax credit or deduction, but simply a tip that can help you save if you have mutual fund dividends that are automatically reinvested and used to buy additional shares.
You should also include reinvested dividends to your tax basis because it can reduce the taxable capital gain (or loss) when you redeem shares. If you forget to do this, you could end up paying taxes twice on dividends – once when they are paid out and reinvested and again when they're included in the proceeds of the sale.
If you invest with a brick and mortar or online brokerage firm, they may already track this for you but it's good to be on the safe side and double check.
5) HSA Triple Tax Advantage

If your employer offers you a high-deductible health care plan, you may want to consider opening an HSA (Health Savings Account). Contributing to an HSA is a tax-efficient way to save and pay for current and future qualified medical expenses including expenses that pop up during retirement.
The maximum annual contribution that can be made for 2016 is $3,350 for individuals enrolled in self-only coverage and $6,750 for individuals enrolled in family coverage.
Individuals over the age of 55 can also make catch-up contributions.
Having an HSA can provide you with a triple tax advantage in the forms of contributions, earnings, and withdrawals.
For starters, HSA contributions are treated as pre-tax so every dollar you contribute is a reduction in taxable income. Next, qualified medical expenses aren't taxed.
Once you have money in an HSA account you can use it for what the IRS considers "qualified" medical expenses and the amount you use is untaxed.
The third tax benefit includes the fact that investment gains aren't taxed. If you don't use all the money in your HSA each year, you can invest it and As long as you use the funds for qualified medical expenses, these gains are not taxed.
Related: What You Need to Know About Your HSA
Why an HSA Is The Absolute Best Retirement Account
Investing Can Pay Off
Investing tends to pay off in more ways than one. By investing you can do things like build wealth and prepare for retirement, but you can also take advantage of some of the beneficial tax advantages as well.
Try to max out your retirement and HSA (if you have one) accounts each year and be sure to talk to your tax advisor to learn more about the specific investing tax benefits you can take advantage of when you file your taxes.