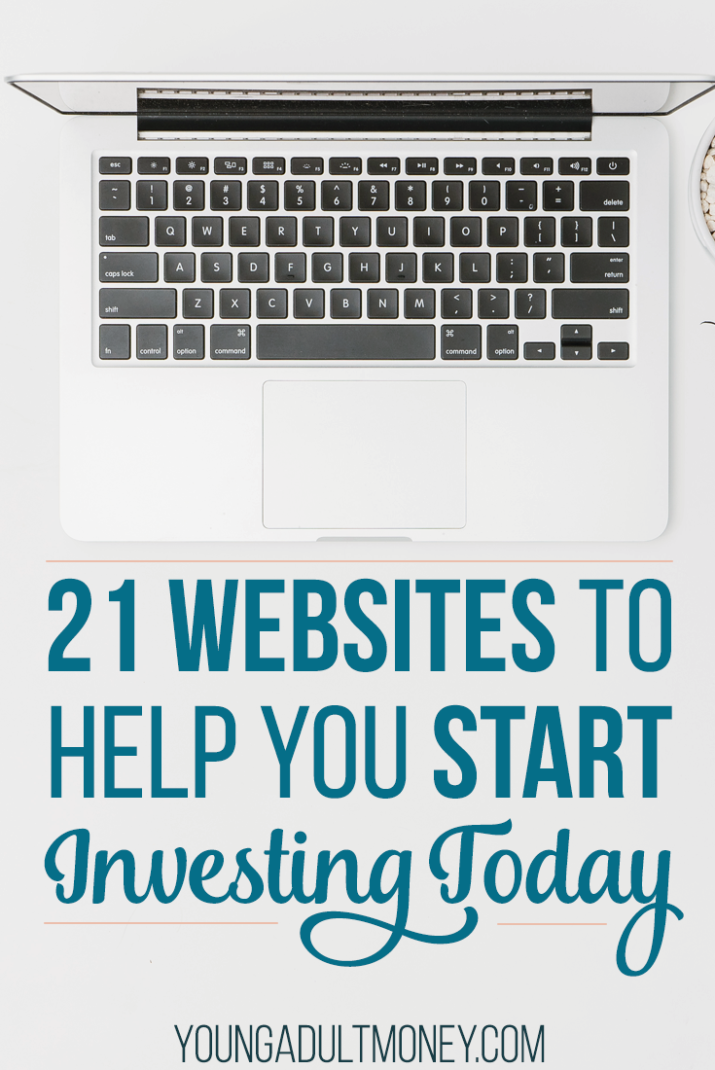 This post is part of our series 7 Weeks to Your Best Finances.
This series is meant to serve as a 7-week path to improving your finances. It will cover all the important topics like starting a budget, saving money, making money, investing, and more.
To find out more and see all the tips and ideas for improving your finances check out the dedicated 7 Weeks to Your Best Finances page.

Investing can be an intimidating thing to start. With so many options, how do you know what is right for you?
Not only are there so many different kinds of investing, but there are so many ways to do so.
Whether you're looking to invest in retirement accounts, stocks, money markets, real estate, or even small businesses, there is an overwhelming amount of good (and bad) information.
Luckily, there are websites and apps that not only are excellent resources to teach you the ins and outs of investing, but that are actually tools to get you started.
Here are 21 websites that will help you start investing today, split up into the various investing categories.
How to Start Investing for Beginners

Investing is overwhelming, and there is no shame in admitting that! If you're just starting to consider investing, but aren't sure what your options are, here are a few resources that provide a general overview of investing.

Retirement Account Investing

Investing for your retirement is a huge investment in your future. While it might be tempting to skip over saving for retirement when you are young, the best time to start saving is right now.
Starting an employer sponsored 401k or an IRA are both great options to insure your future. These websites are excellent resources to help you better understand how to invest for retirement.

Personal Investing

Personal investment accounts give you the power to make the most of your extra savings. If you're looking to invest in electronic transfer of funds, mutual funds, or any individual stocks, consider setting up a brokerage account with any of the following companies:
Health Savings Accounts

A health savings account, or HSA, is perhaps the most underrated form of investment. Contributing the max to your HSA is an investment in your health. In 2017, the maximum contributions to a health savings account are $3,400 for individuals and $6,750 for families.
The best part about a health savings account versus a traditional FSA is that the entire amount rolls over year after year, meaning it is a tax-free investment on your health.

Peer-to-Peer Lending

Peer-to-Peer lending, or P2P lending is a somewhat new type of investing. People apply for loans and individual investors, or peers, buy a stake in their loan.
The loan's interest rate depends on the credit score of the person applying for the loan, so anyone with a lower credit score will be require to pay a higher interest rate.
Real Estate

Real estate might not be the type of investment that comes to mind, but don't write it off completely. Real estate can be an excellent investment for those willing to educate themselves and put in the time and effort.

In order to be a successful investor, you need to educate yourself. Luckily, there are so many resources available to teach yourself every detail you need to know about how to invest and make your money work for you.

Related:
How $5,000 Can Turn Into $1,000,000 For Retirement
How Motif Investing Works – Get $150 Free
Why We Pursued Rental Income and How You Can Too
Top 5 Places to Open an IRA
How a Conversion Ladder Can Help You Retire Early
4 Quick and Easy Ways to Start Investing in the Stock Market