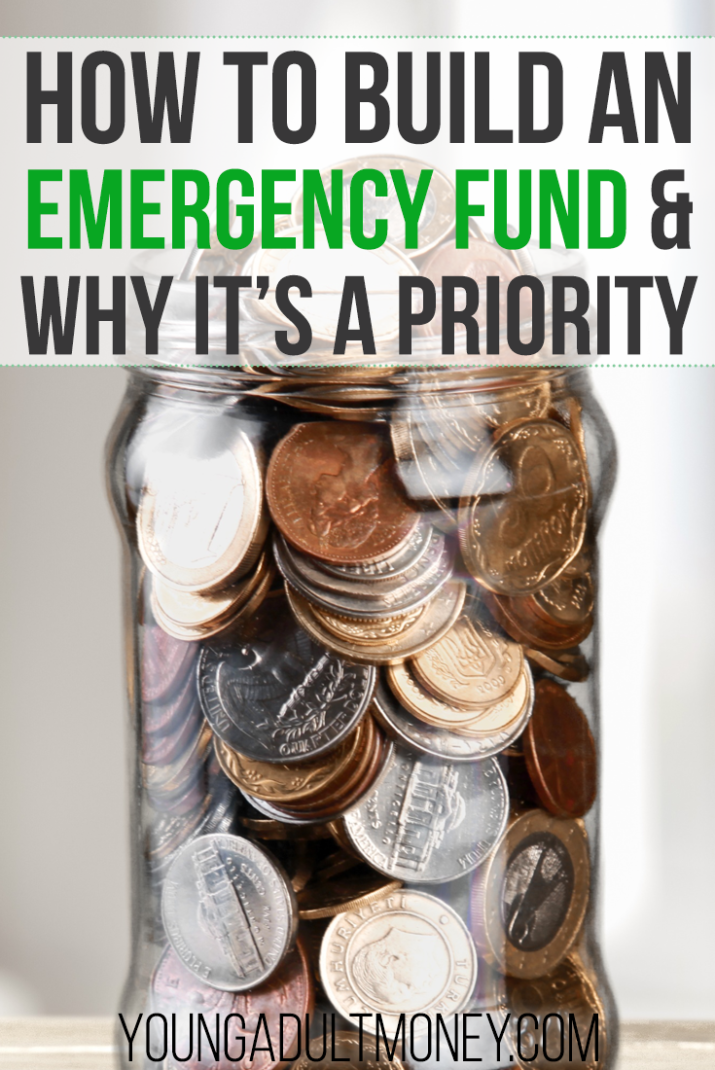 This post is part of our series 7 Weeks to Your Best Finances.
This series is meant to serve as a 7-week path to improving your finances. It will cover all the important topics like starting a budget, saving money, making money, investing, and more.
To find out more and see all the tips and ideas for improving your finances check out the dedicated 7 Weeks to Your Best Finances page.

No matter where you are in your financial journey, you need to have an emergency fund. Whether you're starting to pay your way out of massive debt, or you are debt-free and high income, an emergency fund is a literal life-saver.
Why do we all need an emergency fund? Without one, how do you pay for an unexpected expense? It may be a car repair, a job loss, a major medical bill, or even just a $100 emergency. But having an emergency fund prevents you from putting any of these expenses on a credit card or from ruining your budget entirely.
An emergency fund acts as a buffer to keep you secure when you most need it. Think about a time that a true emergency came up. Wouldn't you rather focus on fixing the emergency rather than worrying about how to pay for it?
Not only does an emergency fund protect us, it gives us peace of mind if and when an emergency happens. Starting an emergency fund is one of the best decisions you can make for yourself and your family. But how do you actually start one? Here is everything you need to know about starting an emergency fund.
Decide How Much to Save

So how much money do you actually need saved? Well, the answer varies. But a good rule of thumb is to have 3-6 months of expenses in your emergency fund.
Having 3-6 months of expenses in your emergency fund can cover you for almost any short-term disaster. If you lose your job, for instance, this gives you enough money to last until you find a new job.
But 3-6 months of living expenses can be challenging to save, especially for someone loaded down with a lot of debt. The good news is that even an emergency fund of $500-1000 will save you from many surprise expenses and will prevent you from going into debt.
With your goal in mind, calculate how much you need to save every month. If that number doesn't work with your budget, you might need to figure out where you can cut back on expenses, or extend your goal to a later date. And that's okay! While it's important to have a savings goal in mind, the most important step is to simply start saving.
Figure Out Where to Stash Your Emergency Fund

Emergencies can happen anywhere at any time, so having easy access to your money is necessary. However, you don't want to keep it in your everyday savings account because you don't want to be tempted to spend the money on things other than emergencies.
Online bank accounts, like Capital One 360, are a great option for emergency funds. Not only do they give you a higher interest rate than traditional banks, but they allow you to automatically deposit money into them every month, making saving for your emergency fund a breeze.
Look for Additional Ways to Save

The quickest, and most painless way, to build an emergency fund is to save above and beyond what you allocated for your emergency fund every month.
Take a hard look at your budget and see where you can cut back. Sacrifice one meal out and save that $50 instead. You'll be surprised how quickly you can reach your savings goals when you make it a priority! Remember, money means so much more when you actually need it. Money in an emergency should be a higher priority than luxury spending right now.
Commit to putting any extra cash into your emergency fund. Did you get a big tax return? Put it directly into your emergency fund. A few dollars cash left over at the end of the month? Emergency fund. Even saving your change and putting that into an emergency fund counts!
Make More Money

Making more money will not only help build your emergency fund quickly, but it will provide you more financial security for your future.
Who wouldn't enjoy having more money in their budget? Many people limit themselves to thinking they can only earn what they are currently making at their full-time job, and that is so far from the truth.
You can work a second job, start a business as a side hustle, begin freelance writing, or start a blog. All are great ways to bring in extra cash!
Remember the Point of an Emergency Fund

Having extra money sitting in an emergency fund can be a whole lot of temptation. Knowing you do, in fact, have the cash for a last minute flight somewhere, or money for when you spend a little too much for Christmas gifts can be very dangerous.
Set stipulations for what constitutes an emergency. Getting into the habit of dipping into this fund for non-emergencies means that money might not be there when you truly need it, and defeats the entire purpose.
Emergencies are never fun or expected, but you can prepare for them by starting an emergency fund today. Your future self will thank you for it!
Related: How to Quickly Build an Emergency Fund
10 Tools that Help You Budget
5 Ways to Lower Your Interest Rate on Your Debt
7 Ways to Lower Your Fixed Monthly Expenses