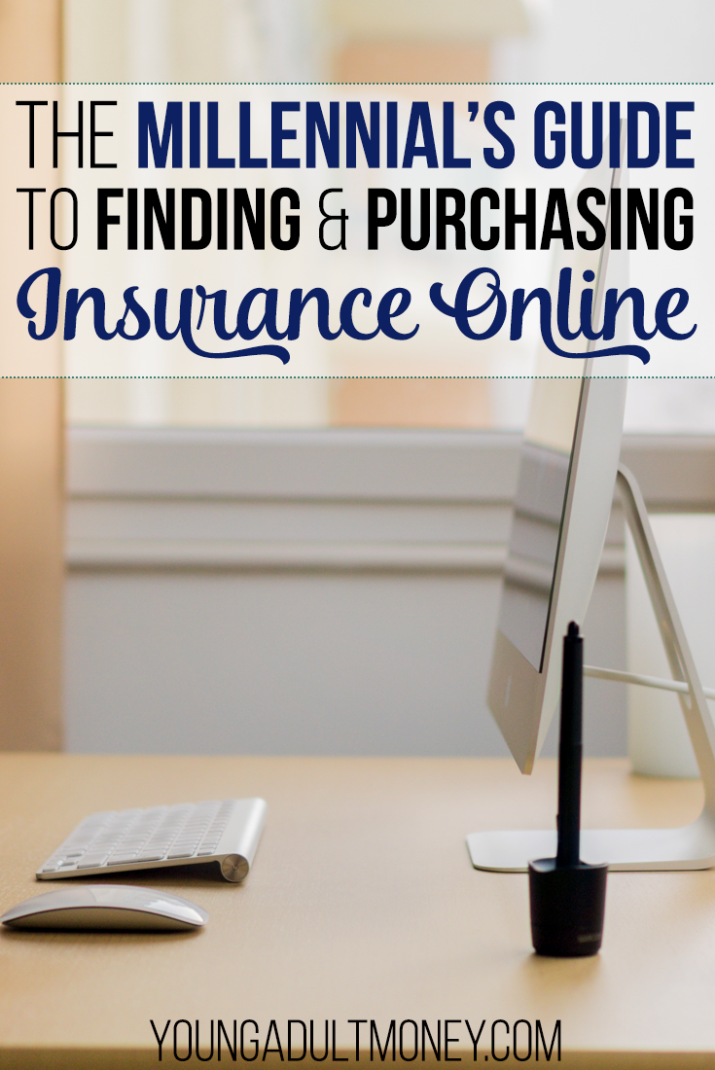 This post is part of our series 7 Weeks to Your Best Finances.
This series is meant to serve as a 7-week path to improving your finances. It will cover all the important topics like starting a budget, saving money, making money, investing, and more.
To find out more and see all the tips and ideas for improving your finances check out the dedicated 7 Weeks to Your Best Finances page.

Obtaining insurance is probably the last thing on a busy millennial's mind.
However, signing up for insurance is just another part of adulting that may pay off in the long run.
I know when I was 18, I didn't think much about insurance, until I needed it.
I got into a car accident during my first year of college and it really shook things up. Luckily, myself and the other driver were fine but I didn't have auto insurance at the time of the accident and had to pay for it bit time.
In addition to paying for the accident fee, I had to pay out of pocket to fix my car, appear in court, take an online traffic class and sign up for an SS-22 for three years.
While I'm glad that experience is now behind me, I don't want other people to learn about obtaining the right insurance the hard way like I did.
On the bright side, finding and purchasing insurance is pretty easy and won't take up too much of your time since most people can sign up online these days.
If you aren't yet insured or are considering switching your insurance, this post will serve as a quick guide to walk you through the steps you need to take to find and purchase insurance online.
First, Determine If You Need Insurance

I know this may sound silly, but there are several different types of insurance and you may not actually need all of them.
For example, while everyone who owns a car needs to purchase car insurance, you may not need to purchase renter's or homeowner's insurance if you don't rent or own a home. Health insurance is mandatory or you could face a tax penalty, but you may already be insured under your parents' policy if you are under the age of 26.
When it comes to life insurance, the choice is really up to you. While there is no age requirement or limit to obtain life insurance, some people may need it more than others. If you are married and have kids, you may feel more inclined to sign up for a life insurance policy than someone who is a single student and doesn't really have any dependents or assets yet.
If you have a high amount of student loan debt, you might want to consider getting a life insurance policy since in some cases, your student loan debt may not be discharged if you die.
Insurance isn't a fun topic to think about because it generally makes you consider what could go wrong, but it's best to be prepared instead of getting blindsided.
Decide How Much Insurance You'll Need

Insurance policies vary depending on your needs. If you need more coverage, you may have to pay a higher premium but at least you'll be covered in the worst case scenario.
With insurance, you'll pay what's called a premium each month and you'll have a deductible which represents the maximum amount of money you would have to pay out of pocket if you had to file an insurance claim to cover an expense.
Auto Insurance
With auto insurance, you'll need a policy that can cover you for any bodily injury or property damage that occurs after an automobile accident. Liability auto insurance coverage is required by law but won't cover expenses for your vehicle if you were in an accident but your policy would cover the other person's vehicle, bodily injuries etc.
Full coverage auto insurance
is a bit more costly, and don't assume that it covers everything.
Full coverage just means it provides comprehensive coverage for your vehicle and the other vehicle(s) should you end up in a car accident. Full coverage is often required by banks and lenders if you don't own your car outright and financed it instead.
Renter's/Homeowner's Insurance
If you rent or own a home, insurance is a must. One of my friends didn't get
renter's insurance
and unfortunately, her apartment caught on fire after a candle was left on at night and she almost got sued for the damage. Just because you live in an apartment and your landlord provides maintenance and pays for some of your utilities doesn't mean they will pay for damages that occur to your home or replace any of your items that get lost, damaged, or stolen.
Renter's and homeowner's insurance will protect your property and your belongings. Renter's and homeowner's insurance doesn't cover everything, but as you compare policies, you can determine which one would be best for you.
Health Insurance
Health insurance is probably the most expensive types of insurance right now. There are so many plans to choose from and you must weigh factors like any pre-existing conditions you have, which doctor(s) you'd like to see, how many people you wish to include in the policy, and whether your employer can provide you with a plan.
Employer-sponsored plans are usually cheaper than obtaining health insurance on your own, but you must check read through the policy in detail to determine if it will meet your needs and whether it includes additional insurance like vision and dental. If you are a freelancer there are options for you as well.
Life Insurance
With life insurance, you can choose between a term policy and a whole life policy but it all depends on how much would be at stake. Term life insurance policies are usually much cheaper but they end in terms like 10-30 years for example.
A popular rule of thumb when purchasing life insurance is to purchase an amount that is seven times your annual income so if you earn $50,000 per year, for example, your policy should be for at least $350,000.
Compare Quotes

Once you know what type of insurance you want to get and how much coverage you need, make you sure compare quotes online to determine which premiums will fit in your budget. Here are some of the best websites to use to compare insurance quotes online:
You also might want to consider how insurance costs are determined. Usually, there are quite a few factors that will contribute to the quotes you receive and the actual amount you'll have to pay. For example, life insurance is usually cheaper for younger people and auto insurance is usually cheaper for people who are over 25.
Other factors may include things like your overall health, family and medical history, your lifestyle (alcohol and tobacco use), your credit (for auto insurance) and so on. You may also be able to ask the insurance company if they have any discount programs or if they could offer you a reduced premium if you purchase another type of insurance through them.
The Final Step: Purchasing Insurance

When you're happy with your quote and ready to sign up, you'll need to apply for the policy and complete any other requirements in order to activate it. If you're signing up for auto insurance, renter's insurance, or homeowner's insurance, signing up online should be easy and after you submit all your application materials, you'll just need to set up a method of payment for your policy.
Most times, you can pay your insurance month-to-month or 6-months at a time or even for the whole year if you wish. You can set up automatic withdrawals for your insurance premium, opt to call in and pay by phone, or even place your payments online.
With other types of insurance like health and life insurance, you have to go through an underwriting process where you may need to submit additional paperwork or speak with a representative and answer a few extra questions if you're not able to do so online.
Once all your application materials are sent in and verified and you've answered any follow-up questions, you'll be able to enroll and activate your insurance policy.
Don't Delay Getting Insurance

Obtaining insurance is may not be the most enjoyable process but thanks to modern technology and the ability to compare quotes quickly and apply online, the process has been streamlined and made much easier for you.
If you know you need to get insurance or make changes to your policy, take a few minutes out of your day to work on obtaining the proper coverage. You never know when you might need it.
Related: Why and How I Got a Million Dollar Life Insurance Policy at 27
7 Reasons Millennials Need Life Insurance ASAP
How to Get Life Insurance Online – My Experience