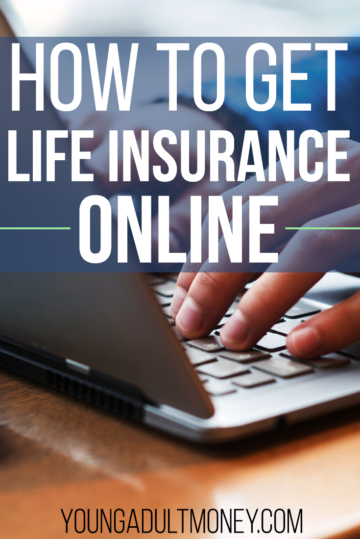 This post is part of our series 7 Weeks to Your Best Finances.
This series is meant to serve as a 7-week path to improving your finances. It will cover all the important topics like starting a budget, saving money, making money, investing, and more.
To find out more and see all the tips and ideas for improving your finances check out the dedicated 7 Weeks to Your Best Finances page.

A little over a year ago I signed up for life insurance.
I shopped for and signed up for life insurance online, which was unthinkable just a few years ago.
Anyone who knows me knows that I always prefer to purchase things online, and I think many can relate.
Life insurance historically has been one of those things where you had to work directly with an agent. Thankfully the market has changed and you no longer need to meet in-person with an agent. You can find, compare, and purchase life insurance online quickly and easily.
I've talked in the past about why millennials need life insurance. I've also talked about my personal reasons for getting a million dollar life insurance policy at 27.
This post isn't about why you should get life insurance, but instead about how I got life insurance online and my experience with PolicyGenius. If you are curious about why life insurance is important or why I ended up signing up, please consider checking out the two posts I just mentioned.
Where You Can Find Life Insurance Online

Finding life insurance online is becoming more of the norm, which is great for everyone involved (except perhaps insurance salesmen and companies who don't offer competitive rates).
I found and purchased life insurance through PolicyGenius. PolicyGenius is an insurance marketplace, meaning they provide rates from a variety of companies.
When you first go to PolicyGenius you simply need to answer a few basic questions to get an estimate. It takes anywhere from five to fifteen minutes to complete the process and see what sort of rates are available to you, and what companies are offering the rates.
The best thing about shopping life insurance rates online is that there is a very low level of commitment required. And I meant that from both a time and money standpoint.
You don't have to sit down and go over your goals with an insurance salesperson, who then looks for options for you, and then presents them to you. With an online insurance marketplace you can commit very little time and no money before getting your quotes.
My Experience with PolicyGenius

I ended up purchasing a $1 million term life insurance policy through PolicyGenius approximately a year ago. The process was simple enough and I'll give you insight into each step.
Getting life insurance quotes was the easiest part of the process. I went to PolicyGenius and chose the coverage and term I was looking for. I did play around with this feature to see what it would cost for life insurance that lasted various number of years (10, 20, etc.) and amounts ($500k, $750k, etc.), as these two variables have the biggest impact on your rates.
At the end of the questionnaire I was able to see what each company was offering me for rates on life insurance. There was a number of insurers (I believe 10+) that were quoted. I went with Prudential because it had the best rate.
The process from this point on was more in-line with traditional insurance. I went through the underwriting process where I had to confirm various things – mostly what I had already submitted in the process of getting quotes.
They did want to go through this confirmation on the phone, but I wanted to see what would happen if I asked to do it another way. They said okay and sent me a paper version that I ended up signing and putting in a pre-paid envelope they provided, thereby making this process entirely through email and, one step, through snail mail.
I did have to have a physical, which involved a urine and blood sample. I also pushed the boundaries a bit with this one as they had a nurse practitioner call me to set up the appointment, but I texted back (I rarely can take calls throughout the day when I'm at work) and we ended up setting up the appointment via text.
They offered to either come to my work or to have the physical at home. I ended up having it done at home. The experience was an easy one and the nurse practitioner was courteous of my time and completed everything in a timely manner.
Fast forward a couple weeks later and I received the official policy in the mail. I signed and paid for the first year and that was it! I now have a million dollar thirty year life insurance policy with a locked-in rate.
Compare Life Insurance Rates on PolicyGenius

If you've procrastinated life insurance, you aren't alone: looking into life insurance was on my "to do" list for over two years prior to signing up through PolicyGenius.
Once I set aside ten minutes to fill out the questionnaire on PolicyGenius, it was easy to move forward with purchasing a plan. They gave me rates as soon as I finished the process and the heavy lifting is really done at that point.
If you are curious how much life insurance would cost you and what rates you would get from different companies, go to PolicyGenius or get started by choosing your coverage and term in the widget below.


Related: Why (and How) I got a Million Dollar Life Insurance Policy at 27
7 Reasons Millennials Need Life Insurance ASAP


Have you considered getting life insurance? Why or why not?