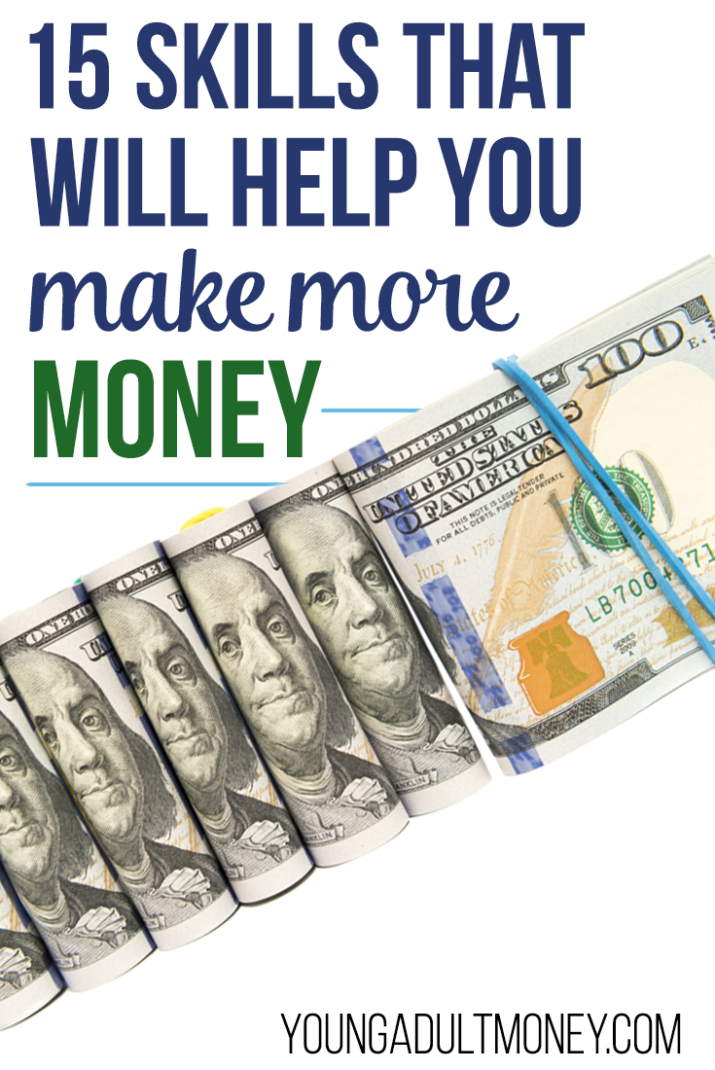 This post is part of our series 7 Weeks to Your Best Finances.
This series is meant to serve as a 7-week path to improving your finances. It will cover all the important topics like starting a budget, saving money, making money, investing, and more.
To find out more and see all the tips and ideas for improving your finances check out the dedicated 7 Weeks to Your Best Finances page.

Have you ever really observed someone you think is successful and wealthy? What traits and skills do they seem to have?
While not all wealthy people are the same, most of them have mastered very similar skills. If you're looking to looking to earn more at your 9-5 or at your side hustle, there are many skills to build upon to get there.
All of these skills and traits are incredibly transferable. So no matter what you do, learning or mastering these skills will not only bolster your knowledge, but will help to increase your income in the long-term.
You'll also find that many of these skills transfer directly into our personal life, making you more efficient, organized, and just plain happier! Here are 15 skills that will help you make more money.
1) Public Speaking

For some, public speaking comes naturally, while for others, it can be a difficult (and even terrifying) skill to learn.
While you may be able to avoid public speaking for a while, undoubtedly there will arise a time in your career that you will be required to get a public announcement or speech with or without notice. So conquer those fears now to prepare yourself.
Toastmasters is a fantastic group to teach you and encourage you on your public speaking. There are Toastmasters groups all over the country, so find your local one and join.
2) Coding

No one is asking you to become the Mark Zuckerburg by any means, but having an understanding of coding can really set you apart.
With the increasing reliance on technology, any technical knowledge you can display will get you ahead, no matter what job you have. Even if you have no need for coding at all in your job, your employers will know that you have the technical skills, which always leads to further money.
And there is so much opportunity for freelance work as a coder, resulting in the opportunity to earn even more. There are many free resources to learn coding, like Codecademy, so check it out!
3) Languages

Just like coding, learning another language can set you apart from the competition when interviewing for jobs. And having knowledge of another language can offer you more money at a job where it is in demand.
Language, especially in any customer service role, makes you extremely valuable to your employer, and I bet they are willing to pay to show you your worth.
You can even turn your knowledge of another language into a lucrative side hustle by offering private or group tutoring sessions. Tutors can charge anywhere from $25-100 an hour, making it very worthwhile.
4) Writing

As a writer, I can tell you firsthand how writing has helped me make more money.
Writing was a highly desired skill for my full-time job, and I believe that my ability to write set me apart from any other applicants. I enjoyed writing so much that I started a blog and started earning money by freelance writing.
Writing is valuable for so many job aspects. Whether you need to write grants, create presentations, write press releases, or create an executive summary, writing is an imperative skill to learn.
Related: The One Reason Why Blogging is the Ultimate Side Hustle
5) Organizational Skills

As people work their way up in their career, they soon realize how vital organization is. Organization is the key to balancing multiple tasks, projects, and deadlines all at once.
The ability to be organized really does allow you to achieve more in less time. You'll operate more efficiently and overall, will improve at your job and side hustle, allowing you to make more money.
6) Ability to Handle Ambiguous Tasks

Can you take ownership of a task without much given direction or guidance? Are you okay to start projects you're unsure about or to handle figuring it out as you go?
While some people are able to dive right in, others prefer a lot of direction. Asking for direction isn't a bad thing, but if you're able to do a job or task without much guidance, you'll get a lot more credit.
Editor's Note: I can attest to just how much this is valued in business. Time is money, and anyone who can take ambiguous tasks and run with them is saving their manager a lot of time that otherwise would be spent working through the task with them.
7) Social Media

Everyone has some idea of how social media works, but proving that you're professional, active, and followed on social media speaks wonders about you.
Even if it's just your personal accounts, employers want to know you're professional. Clearly, you can lose money (or a job!) by having an unprofessional social media account.
Having in depth knowledge about social media proves that you are technologically savvy and that you have excellent PR skills. If you work in any sort of marketing capacity, you need to prove that you are able to maneuver social media.
One way to set yourself apart from the competition and ensure a higher starting pay is to start a blog! With a blog, you learn how to write, code, market and use social media, and run your own business. All of which are skills to get you ahead.
You can also use your knowledge of social media to offer your services as a social media manager for other companies.
8) Excel and Spreadsheets

Excel isn't just for finance and accounting anymore. Everyone needs to know how to use Excel. Most of us claim we are skilled in Excel, but the resource has the ability to do much more than most of us realize.
There are cheap, and sometimes free, courses all the time to educate yourself in-depth about Microsoft Excel. Check out your local library and Find a Seminar to enroll in a class. Or just get a book from the library and start working through it.
Editor's Note: As someone who uses Excel over twenty hours a week at their day job and has consulted for companies on spreadsheets, I would highly recommend "just getting started."
Like most things worthwhile, developing Excel skills can take a while. I would highly recommend getting a book like Excel 2010 Bible and forcing yourself to go through a few pages each day.
9) Interpersonal Skills

No matter what you do – even if you are a sole practitioner, you need to have interpersonal skills.
People with people skills get hired. They get promoted and they get more opportunity. Because they know how to relate to others and work as a team.
No one wants to promote that guy who is an expert, but is so difficult to work with. Think about the most successful person you know. Whether or not you want to admit it, having genuinely good people skills can set you apart and get you further.
If anything, it's vital to work on communication to ensure your ideas and projects are always understood.
10) Project Management

Can you take a project and see it through from start to finish? Are you able to ensure every detail and deadline is met?
You don't need to be a professional project manager to use project management skills. Any job you have will benefit enormously from project management. While many people are excellent brainstormers, they often can struggle with actually seeing the project through. Working on those skills to bring an idea to life are invaluable.
11) Negotiation
We are all told that we should negotiate our starting salary, but there are so many other ways negotiation can help you make more money.
Being able to simply negotiate in a job will yield you more cash. So many people are intimidated with negotiation, so those who can do it well are in high demand.
Numerous jobs require negotiation with vendors, clients, or even other departments. Being able to advocate for the best outcome for your position is priceless.
12) Graphic Design

Graphic design skills can make for a profitable side hustle, but can also make you more money in a full-time career.
Most jobs today would view basic graphic design skills as an asset, especially being able to maneuver design software. Any design skills will set you apart from the competition while job searching.
And graphic design can provide limitless ways to make money while side hustling. You can create website graphics, sell printables on Etsy, or take on design freelance projects for websites, newspapers, or companies.
13) A Desire to Learn

Complacency doesn't get us anywhere, no matter what job we have. If we have no desire to learn more or no motivation to improve ourselves, we won't take the initiative to improve our skills.
Employers want employees to be motivated, excited, and encouraging. Whether you feel their support or not, it's true. Because a motivated employee doesn't only do more work, but they set the example for others to work just as hard.
14) Ability to Sell

Sales is the foundation of all businesses, so having a sales skills will always set you apart. No matter your role, you are always selling! More importantly than selling a product, you need to sell your ideas.
A solid foundation in sales is hard to find, and can give you a big one-up in your job. Though sales might seem intimidating to learn, in reality, anyone can learn it.
Sales are imperative to any side hustle success. Not only do you have to sell a product, but you have to close the sale by marketing yourself to a client.
A derivative of this is "user acquisition" or "lead acquisition." Online lead generation is now a big part of just about every business, and if you are able to help a company generate leads and/or sales, you are a valuable asset.
15) Ability to Take Initiative

Apply your ambition to the workplace. Taking initiative, no matter your job, will yield more opportunities, pay, and success than you can imagine.
Employers love to see their staff taking initiative, because then they don't have to tell their employees what to do. It's easier on the employer and freeing for the employee.
If you've been thinking about starting a side hustle, take initiative to start and reach out to potential clients. Take initiative by doing more than asked, and you'll always receive business.
Instead of being stagnant and hoping you make more money, take initiative to learn some new skills and market them to earn more money. You'll find that when you are invested in continuous development of yourself that you will earn more money as well as live a happier and healthier life.
Related: 9 Websites and Apps For Learning and Developing New Skills
50+ Ideas For Making Extra Money
How to Start a Blog that Makes Money
10 Things to Focus On if You Want a Raise