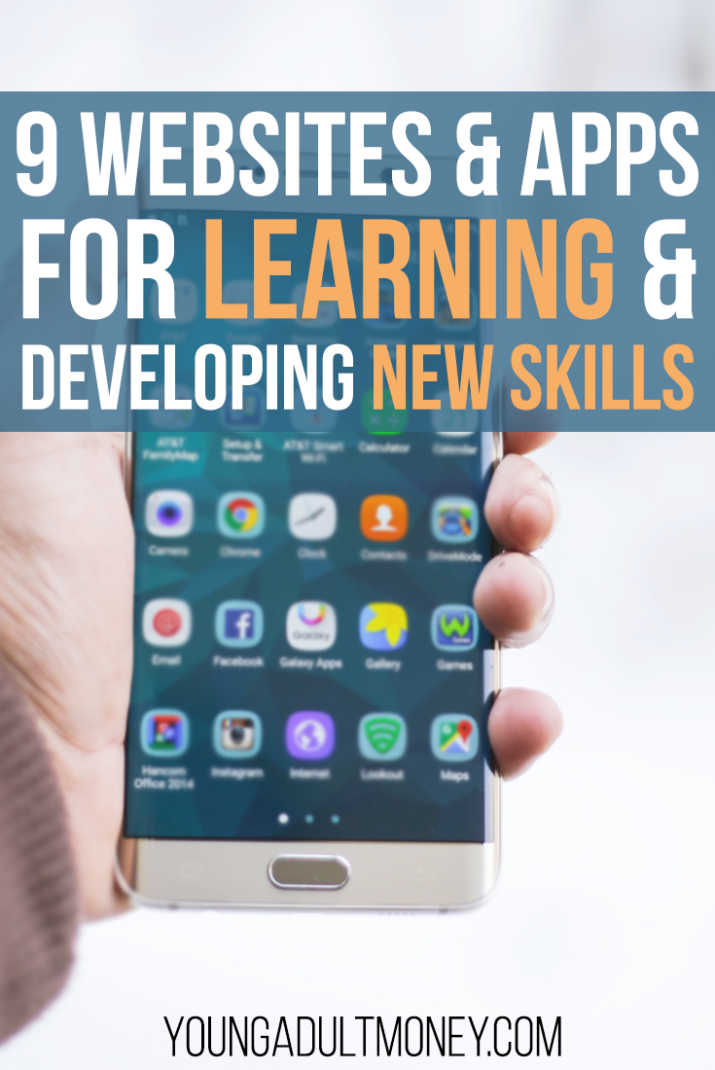 This post is part of our series 7 Weeks to Your Best Finances.
This series is meant to serve as a 7-week path to improving your finances. It will cover all the important topics like starting a budget, saving money, making money, investing, and more.
To find out more and see all the tips and ideas for improving your finances check out the dedicated 7 Weeks to Your Best Finances page.
Some of the most successful people tend to have one thing in common. They never stop learning and developing.
Just as it's important to set goals and try to improve various different aspects of your life each year, it's also important to keep growing and mastering new skills.
Your new skills can turn into a hobby you love, land you a new job, or even help someone out who's in a bind.
Usually, you'll learn valuable skills that you can use on your job. However, if you want to pivot or explore new territory, you don't always have to consider going back to school and investing a ton of money in your education as your primary option.
You can also consider websites and apps so you can learn new things online on your own time.
Here are the top websites and apps to try if you're looking to learn something new and develop more skills.
1) Coursera

If you're interested in taking online classes, Coursera is one of the best options. Coursera is an online school with a mobile app so you can learn location independently. Coursera was founded in 2012 by two Stanford Computer Science professors who wanted to share their knowledge and skills with the world.
Now, there are more than 145 university partners, 22 million learners, and more than 130 different specializations to study. You can also earn certificated by taking courses on Coursera, since you'll be studying material from real colleges and universities. Most courses on Coursera are free but if you want the certificate there is a fee.
2) Curious

Curious is a website that allows you to grow your skills with online video lessons. Users can choose to achieve their learning goals in just 5, 10 or 15 minutes per day. Curious has thousands of lessons on topics like STEM, humanities, relationships, mind and body, entrepreneurship, marketing, and more.
Curious is free to join and you need to answer a few questions about your goals and interests to build your profile.
3) Udemy

Udemy offers more than 42,000 courses that you can also access from your mobile phone. Only a select number of courses are free but most are paid and cover topics like web development and design, Photoshop, business, business, office productivity, marketing, health and fitness, and more.
As an added bonus, if you have any special skills to share you can create your own course and sell it on Udemy.
4) CodeAcademy

Back when I worked at a web design company, CodeAcademy was a free website almost everyone used to brush up on coding skills. Coding can be a tricky concept to grasp, but if you desire to work on websites or even run a blog of your own, you'll need to learn some basic coding.
If you get really good at it, you can even market your skills to others and earn good money as a freelance programmer. CodeAcademy offers a ton of free lessons and tutorials to walk you through various different tasks like creating a website, learning JavaScript, learning HTML and CSS and more.
5) CreativeLive

Want to improve your creative skills? CreativeLive is one of the best websites to help you master photo and video, photography, and music and audio among other skill sets.
CreativeLive also offers self development skills for people looking to improve their communication skills, fulfill their creative purpose, and maintain a healthier life balance.
All courses on this site are paid but sales and discounts are offered often. Right now, students can take 25% off any course they wish to take on the site.
6) Lingvist

If you're interested in learning a new language quickly, Lingvist if your go-to solution. Lingvist is free to use and great for people of any age, skill, or fluency level. Their system adapts in real time during learning sessions to match your progress and memory pattern, guaranteeing the shortest possible learning time.
Right now, they only teach the following languages: French, German, Russian, and Spanish. However, they are accepting requests to learn other languages so they may be putting together more lessons soon.
7) TED-Ed Lessons

You might have heard of TED Talks before. With TED-Ed, you can view lessons created by those popular and powerful talks that you might have seen on YouTube.
TED-Ed has more than 200,000 lessons covering almost every topic you can think of. Most video lessons are just a few minutes long so it's perfect for quick learning.
8) TradeHero

TradeHero helps you learn how to trade stocks with a virtual community of stock traders. With this free app for iOS and Android, you can create a portfolio and trade different stocks. You can 'play' with members online or even friends and learn more about stock trading, investing, and bidding. Quotes are even provided across 22 major stock exchanges.
This is a fun and interactive app to try out in place of your usually Candy Crush game if you want to learn how to build wealth with investing.
9) Khan Academy

Khan Academy is a website and mobile app that allows users to watch videos, subscribe to classes, and take lessons to boost their skill set.
Most content on this app leans toward STEM topics but there are also classes on subjects like economics, entrepreneurship, humanities and more.
There are plenty of short video lesson on the app (10 minutes and under) so you can learn when it's convenient for you.
_________________________________________
When it comes to developing new skills, you have so many online options depending on what you're interested in. Whether you're looking for a course, a quick lesson or to become certified in something, be sure to check out one of these budget-friendly resources to get started.
You May Also Like These Posts:

Have you ever used any of these websites or apps before? What skills are you looking to develop this year?