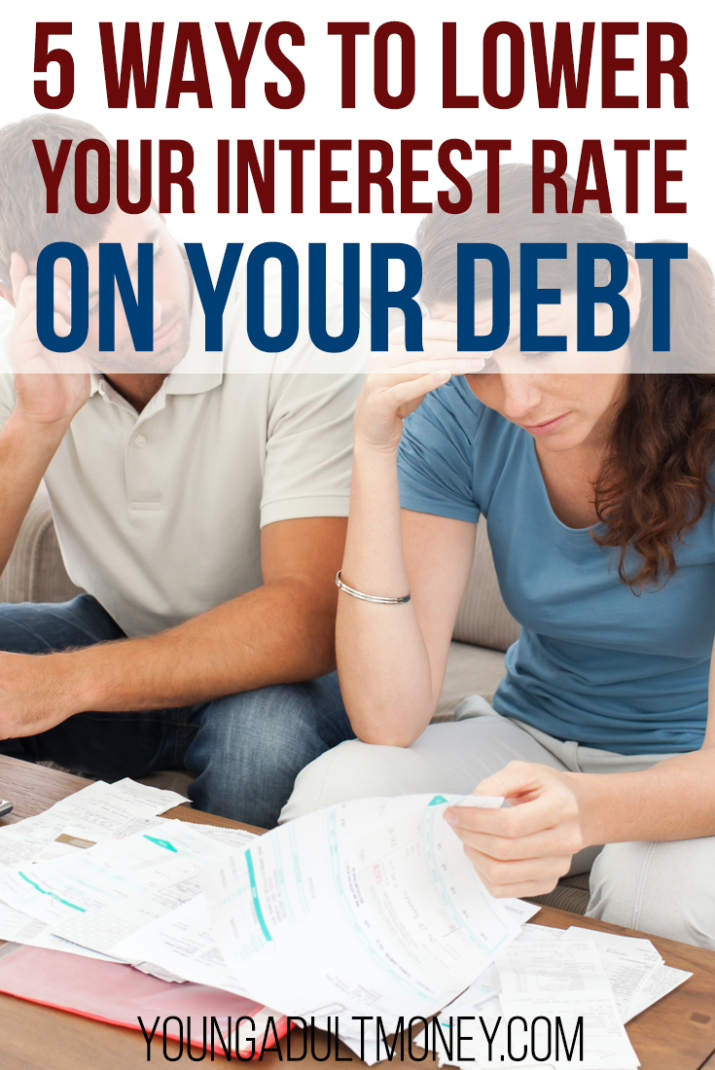 This post is part of our series 7 Weeks to Your Best Finances.
This series is meant to serve as a 7-week path to improving your finances. It will cover all the important topics like starting a budget, saving money, making money, investing, and more.
To find out more and see all the tips and ideas for improving your finances check out the dedicated 7 Weeks to Your Best Finances page.
Debt can be all-consuming. And paying it off is never fun.
Not only are you paying back what you borrowed, but you are paying back interest owed. While many of us feel like we have control over the total debt amount, the interest rates can be a shocker.
Debt like car loans, student loans, and credit cards can kill us with the interest payments. So what can we do about it?
The good news is that it is possible to lower your interest rate on your debt. Here's how.
1) Refinance Your Student Loans

Student loans can be a huge sum of money, and often times, we borrowed from several different lenders. Refinancing your student loans with a private lender can result in lowering your student loan interest rates drastically.
Refinancing means taking out a new loan to pay of old loans. If you have multiple student loans, you can refinance by taking out a new, lower-interest loan to pay off the sum of all your old loans.
While it may seem frightening to take out yet another loan, refinancing is a great way to lower your student loan payments and simplify your repayment process. Instead of having multiple loans, many of which may be from different providers with different interest rates, you take out one loan to cover all of these payments. If you just have one student loan, you can refinance that as well.
Ideally, you would refinance for a much lower interest rate. Currently, rates through Sofi, a student loan refinancing service, fixed rates start as low as 3.375% APR and variable rates start
as low as 2.185% APR.
Check out Sofi to see if refinancing could be the best option for you.
2) Refinance with a Personal Loan

Just like you are able to refinance student loans, personal loans are a solid option for anyone with credit card or medical debt. You can take out one big loan to cover all your smaller loans.
A personal loan works well for anyone having a hard time keeping track with multiple loans all at different interest rates. And if the numbers are what are important to you, you'll often find lower interest rates overall on a personal loan than whatever rates you currently have for credit card debt.
Companies like Sofi and Payoff Loan offer fixed rates starting as low as 5.94%
3) Negotiate Your Interest Rate

You may feel stuck in your current interest rate, but most lenders are open to at least negotiating about it.
Credit card companies know you have hundreds of options for credit cards, and rates are competitive. Ideally, you wouldn't incur any interest on your credit card if you pay it off every month. But for anyone with current credit card debt, going through the effort to negotiate a lower interest rate could be worth the while.
If you have a balance on your card, try calling your credit card company's customer service. Tell them you are thinking of doing a balance transfer to another card that offers 0% interest for so many months. Though it isn't guaranteed to work, your current company wants to keep you as a customer and can likely lower your interest rate a bit.
It is also recommended to negotiate car loans. When buying a car, negotiate with the salesman. Everyone knows they get a commission from the sale and they want you to buy. They are more likely to lower your interest rate than to give you a lower price overall on the car.
When negotiating, remember to do your research and know what a feasible current rate is. Talk to each company to let them know your personal situation. And know that you can always walk away from a sale or a company if they aren't giving you what you want or need.
4) Use a 0% Transfer Credit Card

If you are 100% committed to paying off your credit card debt, transferring your credit card debt to a new card with an introductory 0% interest can be a great option for you.
Balance transfers work like this. If you have credit card debt, you likely are paying very high interest on that debt. If you transfer the balance of all your credit cards to a new credit card that offers 0% interest for a period of time (usually a year or more), you will pay zero dollars in interest that year.
Transferring your debt can free up a ton of money. Instead of paying massive amounts, only to have most of that go to interest, you are able to forgo any interest and pay down the principal itself.
Seems like a great deal, right? Many personal finance experts and writers would not recommend this method for fear that people will transfer their debt and put off making any payments at all. But for those who are fully committed to paying off their debt, transferring a credit card balance can be a great tool.
There are many credit cards available for balance transfer. Here is everything you need to know about when and how to transfer your credit card balance.
5) Enroll in Automatic Payments

Student loans can be a hefty burden, but one easy way to slightly lower your interest rates is to enroll in auto-pay. Yes, you can lower your interest rates simply by having your payment automatized!
Student loan servicers like to know when they can expect your payment, and they especially like to know that it will be paid. So auto-pay ensures them that you will be paying on your student loans. In exchange for the commitment of enrolling in auto-pay, they often times will give you a small discount on your interest rates, usually by 0.25%.
Simply login to your provider's account and enter in your checking account information. You will have to agree and sign to allow them to automatically withdraw your student loan payment every month from your checking account.
0.25% may not seem like a huge savings, but in the long-run, it can really add up. And as a bonus, setting up auto pay ensures that you never miss a payment and helps you to stay on top of your debt repayment.
BONUS TIP: Make Extra Debt Payments
While this doesn't necessarily lower your interest rates, making extra debt payments certainly lowers the amount of interest you'll pay overall.
Pay off that debt. The faster you pay it off, the less you'll pay. If you aren't in a position yet to make hefty extra payments on your debt, at least consider splitting your payments into multiple, smaller payments throughout the month. This ensures you pay a little less towards debt.
For example, if you have a $300 student loan payment every month, and that's all you can pay, split it up into paying $150 twice a month, or even $75 once a week. This little change helps to pay down the principle faster, making you owe less money in interest.
Always remember, while there are small tricks that help you pay off debt faster, the only way to become debt-free is to commit to throwing all of your extra money towards debt. If you're struggling to pay more than the minimum payment, consider finding a way to make extra money. You can start a well-paying side hustle, like blogging or freelance writing, and make extra debt payments with the income. Every little bit of income helps!
Repaying debt doesn't happen overnight. But finding and implementing ways to lower your interest rate can help you pay less money and become debt free much more quickly.
Check out all the 7 Weeks to Your Best Finances posts for more tips on improving your finances!