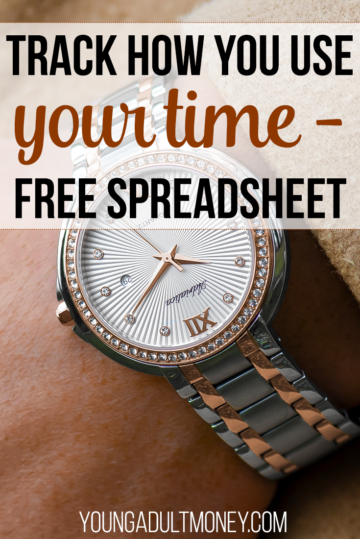 Time. The one thing we can't get more of, but desperately want more of.
We are all confined to the same 24 hours in a day.
Needless to say most people are looking to make better use of their time.
Everyone is looking to fit more stuff into the same number of hours in a day. The struggle is real.
Similar to how you can't know whether you are spending your money properly unless you track it, you also can't know whether you are using your time efficiently unless you track it.
Going through the exercise of tracking your time – even if only for a week or a month – can provide helpful insights.
I was listening to a podcast recently where a career coach had people track their time for four weeks. At the end of the four weeks they reviewed how much time they spent on various things such as work, commuting, and entertainment. Most of the participants were surprised at how few hours they worked and how much time was spent on things that weren't meaningful to them, like television or commuting.
I've taken a look at some of the time-tracking spreadsheets on the internet and I was underwhelmed, so I decided to create my own time tracking spreadsheet.
Let's go over some of the features and at the end of the post you'll have an opportunity to download a copy for your own use.
Time Tracking Spreadsheet

The time tracking spreadsheet is made of 30-minute increments. For each 30-minute time slot you should assign what you did with the time, or simply put "other" in the box.
The spreadsheet accommodates up to 10 weeks of time-tracking, and creates summaries that show total hours per week, average hours per day, and % of week, by category.
When you download the spreadsheet you will notice that week 1 is pre-populated. This is simply to show what a populated week looks like and how it flows through the spreadsheet formulas on the summary tabs.
Below is an example of a populated week (you can see the full week in the download file):


The data on each weekly tab flows to each of the three summary tabs. Below is the "average hours per day" summary tab: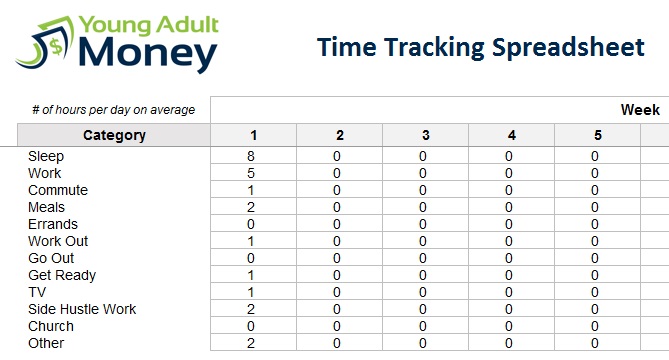 Here's another summary tab, the % time per week. This is useful to see exactly how much of your time each week goes towards certain activities.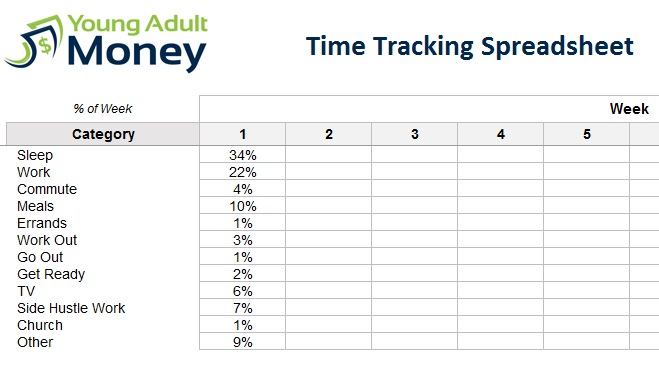 If you need to add a new category to the summary tab, simply add it to the list, highlight the formulas to the right, and copy/paste next to the new category. They will then pull in any time spent on that category. Simple as that!
What Can Be Gained from Tracking Your Time?

Similar to tracking our money, there are many insights that can be gained from tracking our time. For example, perhaps you struggle to find time to work out but you spend 20 hours a week watching TV. That may be an extreme example, but seeing the data forces you to reconcile with reality.
Tracking your time can help you find opportunities for adjusting your schedule so that you spend more time on the things you care about. This is a common problem for people who side hustle, as they
In my book Hustle Away Debt I talk extensively about the need to schedule your time and use it efficiently when you side hustle. The reality is that there is a limited amount of time to side hustle, so if you aren't scheduling it into your calendar and actually prioritizing the work, it's unlikely that your side hustle will yield the results that you are looking for.

To get the time tracking spreadsheet fill out the form below. You'll get the spreadsheet delivered directly to your email inbox.


Join our Online Community to Receive your FREE Time Tracking Spreadsheet
Have you ever used a time tracking spreadsheet? What do you do to make sure you are using your time effectively?
Check out all the 7 Weeks to Your Best Finances posts for more tips on improving your finances!